printer friendly version
Selecting appropriate pressure gauges
September 2018
Pressure Measurement & Control
All process and ambient factors should be considered when selecting and installing pressure measuring devices. The following is intended as a guideline from SA Gauge to assist with selecting the appropriate instrument.
The use of pressure transmitters as the primary source of pressure measurement in sophisticated process applications is very popular. However, as a backup to the electrical readings, and as a local display, mechanical dial indicating pressure gauges are still used on many systems.
Today's mechanical pressure gauges mostly employ age-old proven technology in the form of a bourdon tube soldered or welded to a socket with the tip of the bourdon tube connected to a geared movement, indicating pressure applied via a pointer and dial.
Since the pressure gauge is a purely mechanical instrument, process conditions must be carefully considered before selection to ensure the best accuracy and to maximise the instrument's service life.
To ensure accuracy and safety, best practice measuring recommends special consideration when dealing with process conditions such as extreme process or ambient temperatures, corrosive or solidifying media, vibration, pulsation and overpressure.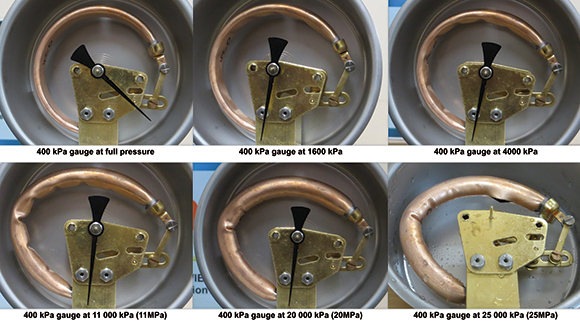 Temperature
Maximum permitted process temperatures for pressure gauges with brass wetted parts are 70°C. For stainless steel wetted parts maximum process temperature should not exceed 100°C. Ambient temperatures are permitted from -20 to 60°C. Errors in accuracy need to be considered when using gauges above or below calibration conditions – usually 22°C.
For applications where process temperatures exceed permissible levels, the media needs to be cooled down before entering the instrument. Accessories like cooling towers, siphon tubes, capillary assemblies and diaphragm seals are typical devices used to separate and protect the instrument from the process heat source.
Corrosive and solidifying media
Some aggressive or corroding process media will attack copper-alloy or stainless steel 316, or will solidify and obstruct the pressure port of the gauge. Diaphragm seals are designed to isolate the pressure gauge from the media to ensure accurate and reliable pressure readings. The wetted parts of the diaphragm seal are made from process appropriate materials such as stainless steel 316, hastelloy, tantalum or PTFE.
Vibration
Due to the purely mechanical nature of pressure gauges, vibration is one of the main reasons of premature gauge failure. Linkages, gears and bushings are all parts suffering from excessive wear when exposed to vibration. Pointer oscillation makes accurate reading difficult but can be avoided by filling the gauge with glycerine or silicone oil. Liquid filling of gauges lubricates all the friction points, ensuring longer instrument life.
Pulsation
Dynamic load cycles of pumps and valves that cause a rapid change in pressure in a system causes metal fatigue in the elastic bourbon sensing element, resulting in gauge failure. Whilst glycerine filling of the gauge will assist against pointer flutter, it cannot prevent the damage caused by pulsation to the bourdon tube. A flow restricting device is the best option here. Pulsation dampers such as inlet restricting or piston type snubbers restrict the pressure pulsation.
Over pressure
Over pressure typically occurs when a pressure gauge is subjected to a sudden rush of process pressure, such as when full bore valves are quickly and completely opened under load. This short period 'spike' in the system subjects the gauge to more pressure than it is designed for, resulting in permanent damage. To prevent this SA Gauge manufactures an overpressure protector that can be adjusted and locked to shut the process pressure off at a given set pressure. The spring loaded overpressure protector automatically opens again once the over pressure condition has passed. On certain ranges there are diaphragm operated gauges available, capable of coping with five times over pressure without any permanent damage.
For more information contact Chris du Plessis, SA Gauge, +27 31 579 2216, chris@sagauge.com, www.sagauge.com
Credit(s)
Further reading:
Pressure sensors for Industry 4.0
Technews Industry Guide: Industrial Internet of Things & Industry 4.0, Turck Banner , Pressure Measurement & Control
Turck's new pressure sensors of the PS+ series offer complete access to sensor parameters via IO-Link.
Read more...
---
New monoflange design prevents fugitive emissions
July 2019, WIKA Instruments , Pressure Measurement & Control
The new WIKA model IVM monoflange for connecting pressure measuring instruments to the process is particularly suitable for applications involving critical liquids, gases and vapours. Special seals also 
...
Read more...
---
Pressure transmitters for mobile equipment
June 2019, Turck Banner , Pressure Measurement & Control
In order to provide solutions for use in mobile equipment, Turck has expanded its portfolio of pressure sensors with the introduction of the PT1100/2100 transmitters. This includes mining, forestry, agricultural 
...
Read more...
---
Understanding accuracy specifications
May 2019, EOH Process Automation Solutions , Pressure Measurement & Control
Pressure measurement device accuracies are commonly specified as percentage of full scale, or percentage of reading, and the difference is significant. If an accuracy statement simply names a percentage 
...
Read more...
---
Miniature IR thermometer for plastic film
May 2019, Instrotech , Pressure Measurement & Control
Temperature is a key physical variable for ensuring quality in the production of plastic film. The application of non-contact temperature measurement technology poses the challenge that films with a thickness 
...
Read more...
---
Pressure sensor with IO-Link
May 2019, WIKA Instruments , Pressure Measurement & Control
WIKA has a new, flexible pressure sensor with IO-Link in its portfolio. The model A-1200 is used for pressure monitoring or as a PNP/NPN switch, especially in intelligent machines. The new pressure sensor 
...
Read more...
---
Pressure and level transmitter
Africa Automation Fair 2019 Preview, Morton Controls , Pressure Measurement & Control
The Anderson-Negele L3 pressure and level transmitter is designed for measuring variable process pressure or hydrostatic applications in the hygienic industry. It can be viewed at Stand C13. Features 
...
Read more...
---
SA Gauge receives SANAS accreditation
April 2019, SA Gauge , News
Temperature and pressure gauge manufacturer, SA Gauge recently received the South African National Accreditation System (SANAS) accreditation conforming to the ISO/IEC 17025 standard for temperature calibration. 
...
Read more...
---
Hoses and fittings for water blasting
April 2019, Parker Hannifin Sales Company South , Pressure Measurement & Control
Water blasting is the use of water with high pressure and high speed to clean and treat various surfaces. It can also be used to cut through different solid materials like steel and concrete. The advantage 
...
Read more...
---
New pressure sensor with IO-Link
April 2019, ifm - South Africa , Pressure Measurement & Control
Besides continuous process value monitoring via IO-Link, the new PV type pressure sensor from ifm electronic offers two switching outputs. It also features a compact design with G ¼ process connection 
...
Read more...
---