printer friendly version
Sensorik 4.0 provides added value for intra-logistics
Technews Industry Guide: Industrial Internet of Things & Industry 4.0
Sensors & Transducers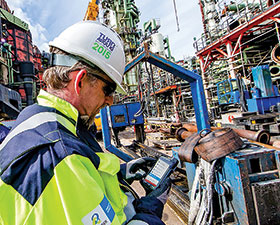 Experts agree, Industry 4.0 and the smart factory of the future have arrived. The drivers behind the development, even in logistics, are the best possible levels of flexibility, transparency, plant availability and increases in productivity.
The digitisation of intra-logistics and supply chain requires high-performance bidirectional communication and data security, even at field level. Pepperl+Fuchs is tackling these challenges with its Sensorik 4.0 portfolio, which includes sensors for detection and measurement tasks, as well as identification and infrastructure.
Comprehensive communication capability is achieved with the IO-Link interface and thus fulfils a crucial requirement for Industry 4.0 components. IO-Link allows a standardised data exchange between field devices and control systems. In addition to sensor measurement values or setpoints for actuators, information on the identity and status of components can be exchanged, while adjustment parameters can be transmitted from the controller to the sensor or actuator.
Components such as the optical sensors of the R100, R101 and R103 series, can be adapted and optimised for various use cases with a wide range of parameter settings. IO-Link enables various process-relevant sensor parameter sets to be stored in the automation system. During operation, these can then be loaded into the sensor on the conveyor line or in the rack storage without losing any time. Any number of sensors can be adjusted flexibly and simultaneously directly from the controller by downloading parameters such as sensing range, hysteresis, and switching threshold. This saves time, avoids errors, and can be documented at any time.
Tools such as SmartBridge are available for visualisation, testing, and optimisation of parameter settings. The SmartBridge adaptor can be used as a smart data-logger for recording sensor data over extended periods of time. It can also be mounted in a plant temporarily to spot intermittent faults.
Self-diagnosis optimises availability
Smart sensors, such as the R2100 multi-beam 2-D LiDAR sensor, are robust and are used in warehousing and material handling to check for occupied spaces, among other things. They also calculate diagnostic information internally, such as a functional reserve value, which can be evaluated as a measure of reliable sensor operation. This makes it possible to record environmental influences such as dust, cardboard abrasion, moisture and vibration, which automation components are exposed to continuously in intra-logistical systems.
If one of these smart sensors indicates that the automation system is experiencing, or will experience, a functional impairment, remedial measures such as cleaning or readjustment can be initiated promptly before plant downtime occurs.
If sensor replacement is required, this can be carried out quickly and easily through the IO-Link communication: after connecting the replacement sensor, this is tested and confirmed by the automation system. Then, the last valid application-specific data from the previous sensor is taken from its digital twin and transferred directly into the new device. Additional manual settings are not required, meaning the conveyor or buffer section is available again with little or no downtime.
Smart sensors relieve automation systems
Through increased use of digitised and decentralised sensor information, functional local control loops can be established. In doing so, Sensorik 4.0 is pioneering technology for the self-organising factory. In conjunction with other communication-capable and intelligent sensors or actuators, self-contained functions can be carried out. For example, if a smart 3-D camera sensor like the PickFinder from VMT Bildverarbeitungssysteme detects the position and orientation of picking items in a storage container, it can send this information directly to an intelligent gripper, which picks up the parts individually and puts them in a picking container or shipping carton. Alternatively, in the context of human/machine collaboration, it could pass this information to the picker. Once this is done, the automation system simply receives an OK signal, meaning that the next process step can be started. This means the automation system itself is no longer burdened with directly controlling the autonomous detection and gripping function.
RFID – pioneering the digitisation of logistics processes
In hindsight, RFID technology in particular can be seen as the pioneer of digitised business processes in intra-logistics and the supply chain. Long before standard sensors were capable of bidirectional communication, RFID tags were able to exchange information with material flow computers and plant control systems, as well as carrying and updating process-relevant data on the object.
Write heads and control interfaces, such as IDENTControl, are available for all industry-standard frequency ranges (LF/HF/UHF), mixed operation in a range of frequencies is also possible. This allows a variety of identification tasks to be completed in an individual and intelligent manner. The RFID solutions from Pepperl+Fuchs offer additional future-proofing through their ability to be networked with higher-level information systems and thus also effectively support the digitisation of logistics processes in the implementation of Industry 4.0.
Added value with sensor data in the cloud
The programmable logic units typically used on the controller level are optimised for reliable control of processes with hard real-time requirements. They are not suitable for storing and processing large amounts of data recorded over long periods of time, due to their storage and computing capacity. Such tasks are the domain of IT systems with database-based structures.
With the multi-protocol enabled IO-Link master module ICE1-8IOL and an edge gateway, sensor data can be provided to higher-level IT systems, both local and in the cloud, as well as being transferred to the controller.
This is heralding a paradigm shift in the design of intra-logistics systems, since essential information is now available to generate digital twins of products and processes, allowing the mapping of logistical processes in a transparent and consistent manner. Digitised logistics is dependent on added communicative value, such as that provided by the Sensorik 4.0 portfolio.
A wide variety of applications can be implemented in IT systems using the parallel data provision. Asset management, condition monitoring, and predictive maintenance are examples of this.
Asset management based on end-to-end communication documents the components installed in an intra-logistical plant and keeps itself up to date. Differences between 'as planned', 'as installed', or 'as maintained' are thus eliminated.
Diagnostic data supplied by sensors can be used in analysis apps in order to detect possible faults, and avoid them through predictive maintenance. Service intervals can be optimised on per-cycle basis, for example by making use of pre-planned downtime on a material flow system or industrial truck for cleaning, maintenance, or component replacement. In this way, condition monitoring can have a direct impact on the availability of the entire intra-logistics plant.
Another obvious application in higher-level IT systems is visualisation of sensor status data and settings on HMI terminals. At a glance, a machine operator can recognise how a sensor is currently working, which switching thresholds are configured, and how a sensor is operating with respect to any critical tolerance values.
Sensorik 4.0 opens up disruptive perspectives
The potential benefits of smart sensors and communication modules are of an incremental nature – focused on step-by-step efficiency gains in existing tasks. As an example, with their communication capability and distributed intelligence, they are able to perform individual intra-logistical functions autonomously and thus generate important added value for the material flow itself as well as the accompanying data flow. At the same time, Sensorik 4.0 opens up disruptive perspectives because it makes data available centrally in the Internet of Things, as well as the Internet of Services, supporting the concepts of intelligent objects and networked logistical systems and processes.
The rise of Industry 4.0 and industrial connected working
With wireless connectivity becoming more widely used in the workplace, the potential use of Bluetooth, LTE and other systems in industrial environments is growing significantly.
With the rise of Industry 4.0 and the Internet of Things throughout many offshore locations, big companies like Shell and BP, have found ways to share data wirelessly while on the move. Sharing digital data and information as well as communicating with others in real-time is one of the key advantages to this new way of working. Field Mobile Workers no longer need to go back to control centres to inform their colleagues on temperature, pressure and other field conditions. They just need their mobile device, like a tablet or smartphone, and can synchronise the required information immediately. This enables engineers to continuously monitor production and make quick decisions on how to best extract oil and spot any problems, such as blockages.
Today, Smart Field Technology is helping to improve and increase the efficiency and productivity of operations, thus reducing the costs and the expenditure of time. With the help of real-time communication technology, problems and incidents could be solved right at the spot, significantly cutting down on the amount of man-hours that are spent onsite.
In addition to these benefits, mobile technology enables solutions to provide accurate information about the workers in case of emergency and accidents. Lone Worker Protection Solutions, whether included as hardware or as an app solution, are a key factor to maintain the highest possible safety levels for mobile workers.
Whether for intra-logistics or the supply chain, the paradigm shift triggered by intelligent and communication-ready sensors is in full swing.
For more information contact Pepperl+Fuchs, +27 (0)87 985 0797, info@za.pepperl-fuchs.com, www.pepperl-fuchs.co.za
Credit(s)
Further reading:
Mobility for Industry 4.0 ­challenges
Africa Automation Fair 2019 Preview, Pepperl+Fuchs , Industrial Wireless
The Tab-Ex 02 series of tablets from Pepperl+Fuchs has innovative features that make Industry 4.0/IIoT applications easy to implement.    The DZ1 version ecom has a range of applications that are unique 
...
Read more...
---
Vision sensors
Africa Automation Fair 2019 Preview , Sensors & Transducers
The VG series vision sensors utilise images captured by integrated industrial camera lenses to determine a target object's presence, colour, size, shape, orientation, patterns and more. On show at Stand 
...
Read more...
---
Radiometric density system
Africa Automation Fair 2019 Preview, Mecosa , Sensors & Transducers
On show at Stand D08 is the new DuoSeries LB 475 radiometric density system from Berthold, which is designed for the cementing and hydraulic fracturing industries. The density transmitter is a state-of-the-art 
...
Read more...
---
IO-Link infrastructure components
Africa Automation Fair 2019 Preview, Pepperl+Fuchs , Sensors & Transducers
Pepperl+Fuchs has on show a range of IO-Link infrastructure components. As a globally established communication standard that is system- and fieldbus-independent, IO-Link offers many advantages. The universal 
...
Read more...
---
High performance sensors
Africa Automation Fair 2019 Preview , Sensors & Transducers
The LE46C sensors from Leuze electronic are reliable and cost-effective, with high performance reserves and large ranges. On exhibit at Stand J13, these sensors are ideal for use in conveyor and storage 
...
Read more...
---
Leak detection in coal-fired power stations
Africa Automation Fair 2019 Preview, Instrotech , Sensors & Transducers
Instrotech's advanced acoustic leak detection system, Inspecta FFT, can detect boiler tube leaks in coal-fired utilities and in oxygen plants and gasifiers. The technology and equipment is in use in power 
...
Read more...
---
Load sensing by light
May 2019, SKF South Africa , Sensors & Transducers
SKF's new optical sensing technology takes monitoring to the next level, providing engineers with new insights into machine performance. SKF Fibre Optic Sensing uses optical fibres to measure forces, 
...
Read more...
---
Contact-free optical communication
May 2019, Countapulse Controls , Sensors & Transducers
Optical data transceivers are the appropriate choice for any application where data needs to be transmitted without cables and without interference. The Leuze DDLS 500 data transceiver makes contact-free 
...
Read more...
---
Get your sensor data faster
Africa Automation Fair 2019 Preview, VEGA Controls SA , Sensors & Transducers
VEGA's Tools App enables sensor parameters and configuration settings to be read and adjusted via Bluetooth on any smartphone or tablet. They are easy to operate and all data is permanently available 
...
Read more...
---
Indoor air quality management
Africa Automation Fair 2019 Preview, Atlas Industrial Systems , Sensors & Transducers
Atlas Industrial Systems (AIS) is the sole supplier of the Honeywell, a first in mobile-supported, indoor air quality management. Regulated by ICASA, this system is user-friendly and has proven valuable 
...
Read more...
---