printer friendly version
Every drop counts
October 2017
Mass Measurement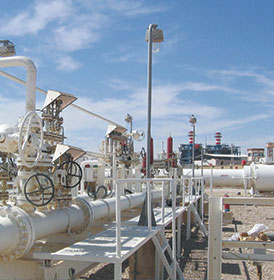 With oil price remaining stable on a plateau and no immediate spike on the horizon, stakeholders are focusing on improving plant efficiency and productivity by optimising operations and reducing costs.
This is a great opportunity for end users and distributors of petroleum products, especially the liquid kind, to explore ways of increasing accuracy of measurement. Due to huge volumes transacted, even miniscule improvements result in a significant impact on the bottom line.
Yokogawa's custody transfer metering systems
Yokogawa offers bespoke custody metering solutions that address the specific needs of each application. These include supplying a new metering skid or upgrading an existing one, to improving accuracy and reducing OPEX, especially in these challenging times of low oil prices for hydrocarbon producers.
That is why several major hydrocarbon customers have approached Yokogawa, not just as a metering solution provider, but also viewing Yokogawa as a consultant to resolve complex metering problems in the field.
Rotamass Coriolis flowmeter approved for custody transfer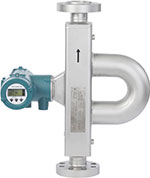 At the heart of any well designed custody metering system is the flowmeter. The Rotamass Series 3 flowmeters are approved by NMi in accordance with European MID 2004/22/EC (Measuring Instruments Directive) and in compliance with OIML R-117 or the equivalent US accreditation body NTEP (National Type Evaluation programme).
When given a choice to select the flowmeter in a metering system, Yokogawa always chooses Coriolis devices.
Coriolis flow meters provide direct mass flow rates, mostly independent of fluid properties. In contrast, measurement from volume meters like turbine, DP, PD and ultrasonic, is affected by density, viscosity, flow rates, pressure and temperature, which means results need to be corrected, or compensated for, to be acceptable for billing purposes.
From a mechanical design point of view, the meters are least affected by pipe stresses, thanks to their unique box-in-box feature. This allows pipeline vibrations to be transmitted from inlet to outlet via the external box (enclosure) without affecting the sensors.
Moreover, Rotamass employs a bent tube design, superior to that of a straight tube. Bent tubes have more allowance to expand if there is an increase in process temperature causing the tube to be unstressed and the resonance frequency to be unaffected.
Maintenance-friendly scalable solutions
There is no rotor in Coriolis meters as in the case of turbine or PD meters, and therefore no wear and tear on internal parts. This means there is no need to stock huge amounts of spares. Moreover, accuracy of the meter remains stable over long periods of operation, eliminating the need for frequently removing the meter from the line for maintenance. Traditional mechanical meters are opened for maintenance every time the meter deviates from true values. Due to the above two activities being highly labour intensive, the Coriolis meter is considered to be a true friend of the plant maintenance manager, allowing personnel to be able to spend their maintenance budget in more critical areas.
Whether it is a highly demanding liquid petroleum product loading or unloading skid, or continuous measurement for pipeline measurements, Yokogawa has the appropriate solutions utilising comparative benefits of various metering technologies.
The metering packages can be expanded to include an entire range of in-house solutions for Terminal Automation Systems (TAS) and products that stand out in the market in terms of quality, performance, scalability and reliability.
Metering systems that integrate well with plant networks
Yokogawa's metering systems use state-of-the-art Coriolis meters and transmitters, and supervisory systems available from the in-house product portfolio.
The EJA/EJX brand of transmitters and Stardom/Fasttools PLC-scada are well known in the industry. The flow computers can be supplied from a wide range of options available in the market, matching specific applications and customer preferences.
Today, all pipeline networks and plant production or distribution centres are connected to central control stations and data acquisition systems for Management Information Systems (MIS) purposes. The flow data from Yokogawa metering systems at various locations can be monitored and controlled centrally via the customer's business enterprise systems.
The broad compatibility enables seamless integration with host systems and meets site-specific configurations for field interface, accounting, operational safety, archiving, reporting and printing purposes.
Lifecycle management
Yokogawa's comprehensive lifecycle management approach eliminates the concerns of lifecycle support for the entire skid. This removes the hassle of working with multiple vendors for various components in the metering system. Regardless of the application or meters and accessories used, availability of spare parts and smooth migration to next models or software versions is guaranteed.
The sales and after sales centres located near customer locations help address the service needs with quick response time by way of utilising factory trained engineers in the country or from our regional headquarters in Bahrain.
Diagnostics to reduce downtime and predict health of the metering systems
The Rotamass Coriolis meters have built-in advanced diagnostics that assist the operator to monitor the meter's health and predict failure before it happens. The following diagnostics features are available as a minimum, while more elaborate features are available on demand.
Corrosion detection: Rotamass is constantly checking the measuring tubes' conditions. An alarm can be triggered at a pre-determined value in order to avoid undesirable readings and alert for possible corrosion. This allows for preventative maintenance and reduces downtime.
Density variation alert: The instrument checks the density values through inbuilt density detection and generates an alert if a particular batch deviates from the prescribed density range configured in the beginning.
Autozero fluctuation of detection: determination the process conditions by judging the zero fluctuation value. If the autozero procedure has been carried out according to the requirements and the result is not within specification, this indicates there may be possible installation errors.
Diagnostic output: Once an alarm is triggered, the local indicator will display the alarm, as well as show corrective counter-measures on how to solve the problem. No special tool is necessary to set up these diagnostics. Outputs can be sent through to asset management software by using HART, Foundation Fieldbus or Modbus RTU.
Conclusion
As cash registers of high volume hydrocarbon transactions, Yokogawa's metering systems are the first choice by many when highly accurate, repeatable, and stable measurement is demanded. Maintenance and operator friendly functionality are de facto features of the metering solution.
For more information contact Christie Cronje, Yokogawa South Africa, +27 (0)11 831 6300, info@za.yokogawa.com, www.yokogawa.com/za
Credit(s)
Further reading:
Water resource sustainability management
Yokogawa South Africa System Integration & Control Systems Design
One way Yokogawa is successfully pursuing its sustainability goals is through its service to the global water industry.
Read more...
---
Digital twin for refinery production
Yokogawa South Africa IT in Manufacturing
Within Repsol's Industrial Business, the development of a refinery digital twin leads the digitalisation program. The digital twin maximises production while optimising energy consumption.
Read more...
---
Expert advice for a stress-free digital transformation journey
Yokogawa South Africa IT in Manufacturing
The journey begins with a digital roadmap, which is a strategic plan to bring change to the company. It is all-encompassing in the organisation and goes beyond technology, IT and OT."
Read more...
---
Make bin level sensors redundant
DRH Components Mass Measurement
Today it is critical to know and understand inventory down to the last unit in order to be efficient.
Read more...
---
Best practices in measurement
Yokogawa South Africa Maintenance, Test & Measurement, Calibration
Operating envelopes are changing and the impact of these changes on instrumentation must not be underestimated. Instrumentation with a design rating of a particular capacity is heavily stressed when the load is increased.
Read more...
---
The digital twin explained
Yokogawa South Africa IT in Manufacturing
The digital twin defined
A digital twin is a virtual, digital copy of a device, system, or process that accurately mimics actual performance in real time, is executable, can be manipulated, and allows 
...
Read more...
---
How investing in a niche market placed Yokogawa aboard the International Space Station
Yokogawa South Africa News
While the world was abuzz with excitement over the revival of U.S. manned spaceflight, another equally promising space endeavour flew under the radar. On 20 May, the H-II Transfer Vehicle (HTV-9), affectionately 
...
Read more...
---
Belt conveyor weighing applications
Loadtech Loadcells Mass Measurement
Loadtech's LT1320 is a precision digital indicator for belt weighing applications. The unit takes the weight and speed information from a belt conveyor system and accurately calculates the rate and total 
...
Read more...
---
Positive displacement vs Coriolis meters
Soliflo Mass Measurement
Positive displacement (PD) is a practical and accurate method to achieve volumetric measurement of refined hydrocarbons, according to tests undertaken by Brodie International in the USA.
Read more...
---
Ultra-compact weighing electronics
Siemens South Africa Mass Measurement
Siwarex WP351 is Siemens' newest solution for intelligent weighing automation. Measuring 20 mm width by 65 mm height, the module is one of the smallest weighing electronics units available. The device's 
...
Read more...
---