printer friendly version
Industrie 4.0 – training for the factory of the future
Technews Industry Guide: Industrial Internet of Things 2017
Training & Education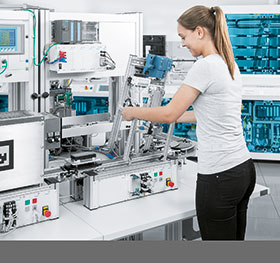 Industrial production has gone through a dramatic transformation during the last 200 years, and will continue to change with future technologies as well.
On the cusp of the fourth industrial revolution
When Edmund Cartwright developed the mechanical loom in 1784, he laid one of the cornerstones for industrialisation. The use of electricity in production at the end of the 19th century led to further fundamental change: the birth of the assembly line was a prerequisite for modern mass production. Automation with programmable logic controllers at the end of the 1960s was another turning point in the industrial revolution, and still has a huge influence on today's work environment.
After mechanisation, industrialisation and automation, industry is on the cusp of its next step into the future: digitisation and networking. Modern information and communication technologies are enabling companies to improve and optimise their traditional production methods, and network them intelligently. Every company, regardless of its size, will benefit from this development because by creating intelligent production processes they can remain competitive in the global market. Future industrial production will be characterised by high levels of product individualisation, with the advantage that the products are manufactured and sold for the same prices as mass produced goods. Customers and business partners are integrated directly into the business and value creation processes by digital networking, and their needs are immediately taken into consideration.
New technologies are changing production
Worldwide digitalisation of industrial production will be essential for this evolution. This is achieved, for example, by the cyber-physical system through which intelligent machines, storage systems and operating equipment autonomously exchange information, trigger actions, and control each other. Products in these smart factories are intelligent and clearly identifiable, their locations can be easily pinpointed and they know their own production histories. The various steps of the value chain, from ordering to production and delivery, are networked so that individual customer requirements, malfunctions, or changes in production and delivery, can be acted on quickly. The smart factory opens up opportunities for creating new business models and smaller production facilities.
No (r)evolution without qualified staff
However, it is not just products, machines, storage systems and operating equipment that must be networked for Industrie 4.0. In particular, tomorrow's industrial production depends above all on well trained staff capable of monitoring and intervening in this process, and improving it where necessary.
In order to make current and future employees fit for the new workflow and requirements, Festo Didactic has developed suitable training and education programmes, as well as an integrated learning system for Industrie 4.0.
Students are gradually introduced to the fundamentals of control technology, the pallet transfer system with RFID technology, all traditional training topics on automation technology, and all the knowledge necessary for an intelligent pallet transfer system so that they can put it all into practice immediately. At the end of the four advanced levels, they are introduced to the smart factory using the CP transfer system with plug & produce. Thanks to its expandable modules, the I4.0 project workstation can be built step-by-step to form a real, practice-based Industrie 4.0 component.
Starting small and progressing rapidly: the comprehensive learning system, from the basics to the smart factory
This Industrie 4.0 learning system developed by Festo Didactic can be used throughout, starting with the modular I4.0 project workstation and the CP Lab, which joins several project work-stations into a realistic, industrial pallet circulation system, all the way to the universally networked CP Factory. All the learning content necessary for future production can be conveyed in a step-by-step and practical manner, while future work processes – from the assembly line to logistics, manufacturing, production planning and control, lean production, and quality assurance, right on up to IT systems and security – can be learned and researched.
The CP Lab can be linked to the CP Factory via Robotino or the sorting module. This gives future skilled employees the opportunity to expand their knowledge to include the overall process, system networking, information flows in complex systems, process planning, and data processing systems (MES).
The CP Factory, which represents the stations of a real production system, can be flexibly configured and adapted to various learning scenarios in just a few minutes. Pupils and students work at the individual stations in interdisciplinary teams to further explore previous content, and incorporate various other topics such as robotics, CNC, manual assembly, energy monitoring, and cloud computing. Aspects which are important for the industrial value chain, such as manufacturing, production planning and control/MES, lean production, logistics, and quality assurance, can be learned and explored with the CP factory. RFID technology, plug and produce, MES, autonomous transport robots and CAD/CAM products, as well as complex IT systems and IT security are at the heart of the industrial learning platform.
Festo Didactic's smart factory model provides integral learning systems for Industrie 4.0. Its mobile, modular factory modules, standardised industrial sequence, plug & produce methods, and digital training content exemplify future production requirements. In order to ensure that learners are always kept up-to-date, Festo Didactic also offers an accompanying seminar concept for the CP Factory and Industrie 4.0 applications.
This new learning concept meets one of the main prerequisites for the fourth industrial revolution. Not only does it optimally prepare machines and systems for new requirements – networking, modularity, transformability and efficiency – but future skilled staff as well. Thanks to digitalisation, these employees will be able to concentrate more on value creation processes in the future instead of on tedious routine procedures at their workstations.
For more information contact Kershia Beharie, Festo, 086 003 3786, kershia.beharie@festo.com, www.festo.co.za
Credit(s)
Further reading:
Experience digitalisation at the Festo Virtual Exhibition
June 2020, Festo South Africa , News
Festo is breaking new ground with its first-ever Virtual Exhibition scheduled to take place from the 15-16 July. Visitors will get to experience digitalisation as never before. This exhibition will be 
...
Read more...
---
Festo TechTalk: Energy efficiency thanks to smart products
July 2020, Festo South Africa , IT in Manufacturing
This year's TechTalk focused on smart products that help companies to produce energy efficiently, educational measures that empower employees for lifelong learning as well as for the digital working world 
...
Read more...
---
Festo online configurator tool simplifies sizing of process valves
April 2020, Festo South Africa , Valves, Actuators & Pump Control
From manually operated to automated process valves, the new configurator tool for process valves from Festo makes selecting the right solution easy and less time-consuming.
Read more...
---
Seamless integrated connectivity for electric automation from Festo
April 2020, Festo South Africa , Fieldbus & Industrial Networking
The cloud is everywhere. We save data on the cloud and access it on our phones and computers from anywhere at our convenience. The same applies to seamless connectivity in industrial automation from your 
...
Read more...
---
Festo's digitalised product world
January 2020, Festo South Africa , System Integration & Control Systems Design
HoloLens, mobile phones, 3D printing and smart glasses – the gadgets that captured the public imagination in the blockbuster movie 'Back to the Future' over 30 years ago have now become a reality, all thanks to digitalisation.
Read more...
---
World record for Festo's BionicOpter
December 2019, Festo South Africa , News
The Festo BionicOpter will be included in the 2020 Guinness World Records. The chapter 'Robots' presents the most amazing records from the world of super robots and artificial intelligence. The Festo 
...
Read more...
---
Adapting education to the fourth industrial revolution
September 2019 , Training & Education
In order to establish a firm value proposition for Industry 4.0, it has to start at the FET (Further Education and Training) level, in schools and TVET (Technical, Vocational Education and Training) colleges, at the HET (Higher Education and Training) level, in universities, and all training providers.
Read more...
---
Festo inspires with smart digital solutions at the Automation Expo
September 2019, Festo South Africa , News
Festo hosted the first leg of the Automation Expo in Johannesburg at the Sandton Convention Centre, while the second took place in Port Elizabeth at the Boardwalk Convention Centre. Both ended on a high 
...
Read more...
---
Productivity Master points the way to digitalisation
September 2019, Festo South Africa , System Integration & Control Systems Design
Seamless connectivity of handling and software solutions developed by Festo.
Read more...
---
Automation education and training in South Africa – Part 3: Funding model
August 2019, SAIMC , Training & Education, SAIMC
In the final article of this series, we present a possible funding model to achieve the ideas outlined in the previous two parts.
Read more...
---