printer friendly version
A digital technological revolution drives innovation at Festo
May 2017
Pneumatics & Hydraulics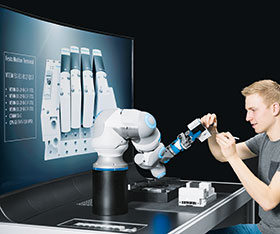 Digitalisation is providing Festo with new opportunities for technological leadership and innovation, and will increase efficiency both in the processes within the company and for its customers. Russell Schwulst, head of business development for Festo SA says, "On the one hand our core business, in which we can better network our own processes with those of our customers and partners, is of course at the focus of our attention. However, we will also develop and market new products with embedded intelligence, which can connect via the Internet, for example the Festo Motion Terminal. To us, digitalisation also means pursuing new business models such as condition monitoring, energy efficiency and configuration."
Festo will also be giving its customers comprehensive consultation in the virtual world in future. "Our customers will benefit from the fact that sales and consultation processes will be more continuous and the supply chains more transparent, more stable and safer," says Schwulst. "In future, customers will be able to configure their machinery more rapidly via a consistently structured digital interface and test their interaction and functioning in advance by means of simulation tools together with manufacturers and operators. Embedded sensors in the products will warn against malfunctions or production stoppages before they can occur. The objective is to provide a virtual solutions consultant that bundles knowledge of our products and their interaction into a system and is at the disposal of customers and partners."
The future of pneumatics: Festo Motion Terminal
With the Festo Motion Terminal, the company has developed a universal automation platform for highly flexible and adaptive automation with digitalised pneumatics.
"With the fusion of hardware and software, we have achieved a genuine technological leap," says head of future motion solutions management Dr Julia Duwe. "Over the three-year course of development not only an intelligent pneumatic automation platform for Industry 4.0 has arisen, but in fact a key innovation for future production. A wide variety of valve functions can now be programmed and addressed via apps. The Festo Motion Terminal, which combines the functions of over 50 individual components, is a door-opener and enabler for companies that want to make their production fit for Industry 4.0."
Innovations from the Bionic Learning Network in 2017
A bionic approach to robotics
The projects of the Bionic Learning Network serve as development platforms that bring together a wide variety of technologies and components. "This year we are presenting future-oriented robot concepts on the basis of pneumatics," says head of corporate bionic projects Dr Elias Knubben. "All projects show what hazard-free, direct human-robot collaboration could look like in future. At the focus here are bionically inspired lightweight robots with natural movement patterns that make them highly suitable for collaborative working spaces; in future they could represent a cost-efficient alternative to classic robot concepts. For instance, such robots can be used as assistance systems for relieving the human operator in monotonous or dangerous work processes."
BionicCobot – a pneumatic lightweight robot with human movement dynamics
The movement patterns of the BionicCobot are modelled on those of the human arm, from the shoulder via the upper arm, elbow, radius and ulna down to its gripping hand. Each of its seven joints makes use of the natural operating mechanism of the biceps and triceps – the efficient interplay of flexor and extensor muscles. It can thus execute very delicate movements, just like its biological model. This is made possible by the pneumatic automation platform – the Festo Motion Terminal – which unites high-precision mechanics, sensors and complex control and measuring technology within a very small space. Depending on
the task to be carried out, the BionicCobot can be fitted with different gripping systems, such as the OctopusGripper. The operations are intuitively carried out by means of a specially developed graphic user interface where the user can teach the BionicCobot the actions to be performed, and parametrise them.
BionicMotionRobot – a lightweight robot with natural forms of movement
Festo also sought inspiration from nature for its second lightweight pneumatic robot. An elephant's trunk and an octopus's tentacles can move in a highly flexible way, thanks to their intricately detailed kinematics. The BionicMotionRobot effortlessly emulates these fluent movement patterns with its flexible pneumatic bellows structure and corresponding valve and control technology. The concept of inherently flexible kinematics is derived from the Bionic Handling Assistant from 2010, which received the German Future Award. A new type of outer skin made from a 3D textile knitted fabric now enables the BionicMotionRobot to fully deploy the great force potential of the entire kinematic system. The bionic robot arm thus has a load bearing capacity of almost three kilograms – with around the same net weight.
OctopusGripper
Festo's OctopusGripper is based on the design of an octopus's tentacle. The gripper consists of a soft silicone structure that can be pneumatically controlled. If compressed air is applied to it, the tentacle bends inwards and can wrap around the object being gripped in a form-fitting and gentle manner. Just as with its natural model, two rows of actively and passively controlled suction cups are arranged on the inside of the silicone tentacle.
For more information contact Kershia Beharie, Festo, 086 003 3786, kershia.beharie@festo.com, www.festo.co.za
Credit(s)
Further reading:
RS adds self-adjusting double-acting air cylinders
December 2019, RS Components SA , Pneumatics & Hydraulics
RS Components has expanded its offering from factory automation manufacturer Festo to include new double-acting pneumatic cylinders in the DSBC product range. Aimed at both machine builders and maintenance 
...
Read more...
---
Festo's digitalised product world
January 2020, Festo , System Integration & Control Systems Design
HoloLens, mobile phones, 3D printing and smart glasses – the gadgets that captured the public imagination in the blockbuster movie 'Back to the Future' over 30 years ago have now become a reality, all thanks to digitalisation.
Read more...
---
Refrigeration compressed air dryers
January 2020, Artic Driers , Pneumatics & Hydraulics
The R Class range of compressed air refrigeration dryers and RSXW chemical adsorption dryers have consistently low dew points, with an attractive entry price and a low cost of ownership once in operation. 
...
Read more...
---
World record for Festo's BionicOpter
December 2019, Festo , News
The Festo BionicOpter will be included in the 2020 Guinness World Records. The chapter 'Robots' presents the most amazing records from the world of super robots and artificial intelligence. The Festo 
...
Read more...
---
Festo inspires with smart digital solutions at the Automation Expo
September 2019, Festo , News
Festo hosted the first leg of the Automation Expo in Johannesburg at the Sandton Convention Centre, while the second took place in Port Elizabeth at the Boardwalk Convention Centre. Both ended on a high 
...
Read more...
---
Productivity Master points the way to digitalisation
September 2019, Festo , System Integration & Control Systems Design
Seamless connectivity of handling and software solutions developed by Festo.
Read more...
---
Parker enhances H Series ISO valve portfolio
September 2019, Parker Hannifin Sales Company South , Pneumatics & Hydraulics
Parker Hannifin has added an expanded range of features and capabilities to its H Series ISO valve platform as part of its global focus on factory automation. Designed with a new universal manifold, the 
...
Read more...
---
SMC is here to stay
August 2019, SMC Corporation South Africa , Pneumatics & Hydraulics
Kim Roberts [KR]: How does SMC SA fit into SMC's global vision and strategy?
Peter Findlay [PF]:
SMC entered the South African market directly in 2015 as a subsidiary of SMC UK, and in turn as a subsidiary 
...
Read more...
---
How the latest pneumatics can reduce plant costs
August 2019, Parker Hannifin Sales Company South , Pneumatics & Hydraulics
The implementation of predictive maintenance has become a high-held ambition for many modern plants, a strategy that avoids the costs of both reactive and scheduled preventative maintenance by only deploying maintenance routines exactly when needed; namely, shortly before a pneumatic component is predicted to fail.
Read more...
---
Boltight hydraulic bolt tightening from BMG
August 2019, Bearing Man Group t/a BMG , Pneumatics & Hydraulics
BMG's Nord-Lock bolting solutions now include Boltight hydraulic bolt tensioning tools, which are used to tighten bolts simultaneously, ensuring even preload in industrial applications and extreme environments, 
...
Read more...
---