printer friendly version
Pressure measurement converter for harsh conditions
December 2019
Pressure Measurement & Control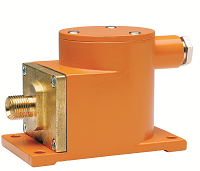 Kobold's PNK pressure measurement converter is used for the remote electrical transmission of pressure signals. For use in heavy machinery, engines, shipbuilding and automotive engineering, this robustly constructed unit must work reliably whilst withstanding strong vibrations and widely varying ambient temperatures. Physical size must also be kept as small as possible, so that several of the units can be arranged in confined spaces.
Principle of operation
When subjected to pressure, the Bourdon tube deflects laterally. The degree of deflection is converted into a proportional electrical measurement using a contact-free differential transformer. The integrated amplifier offers an analog current output of 0(4)-20 mA or a voltage of 0-10 V.
The compact PNK unit comprises a pressure measuring element (Bourdon tube), the inductive tapping system and the downstream amplifier. The electrical supply is connected via screwed cable glands. The aluminium alloy casing is saltwater-resistant and is designed for easy access to pressure connections, cable entry points and terminals. Other features include:
• Measuring ranges: -1 to 0 bar and 0 to 100 bar.
• Measuring accuracy: 1% of full scale.
• Pressure: maximum 160 bar; temperature: maximum 80°C.
• Process connection: M16 x 1,5 with conical nipple, R1/4 R11/2, 1/2" NPT.
• Material: brass connection, salt-water resistant aluminium casing.
For more information contact Instrotech, +27 10 595 1831, sales@instrotech.co.za, www.instrotech.co.za
Credit(s)
Further reading:
Pressure sensors with touchpads
December 2019, Turck Banner , Pressure Measurement & Control
Turck has launched its new PS+ series pressure sensors, a modular range that enables access to reliable measuring instruments with intuitive operation. The sensors are easily commissioned and overhead 
...
Read more...
---
Electronic position indicator with Ethernet interface
December 2019, Instrotech , Sensors & Transducers
Instrotech now offers the Siko AP20 position indicator, equipped to detect the position of spindle adjustments in machines. It displays the corresponding positional data to the operator and passes it 
...
Read more...
---
Self-cleaning flow indicator for liquids
November 2019, Instrotech , Flow Measurement & Control
To check the flow processes in pipeline systems and for insight into the interior of process pipes, many flow indicators are used in which the flowing medium sets a rotor turning and thus to a large extent 
...
Read more...
---
Eliminate power outages caused by steam leaks
November 2019, Instrotech , Maintenance, Test & Measurement, Calibration
The current system Inspecta FFT, first released some 20 years ago, is reaching its end-of-life, and Instrotech's design engineers felt the time was right to upgrade to newer technology, by combining their 
...
Read more...
---
Ultrasonic sensor for remote water level measurement
October 2019, Instrotech , Level Measurement & Control
Instrotech has available the Senix ToughSonic CHEM range of ultrasonic sensors, in service around the world in some of the most demanding and corrosive industrial environments. They measure a wide variety 
...
Read more...
---
Why does water hammer affect pressure gauges and transmitters?
October 2019, SA Gauge , Pressure Measurement & Control
Water hammer is a high pressure surge or wave created by the kinetic energy of moving fluid when it is rapidly forced to stop or change direction, altering the liquid's velocity. Rapid stopping or starting 
...
Read more...
---
Clamp-on ultrasonic flow measurement
October 2019, Instrotech , Flow Measurement & Control
Kobold's portable DUC-MP and the stationary DUC-MF are designed for continuous flow measurement. They are highly accurate and drift-free operating flowmeters for liquids in filled pipes. The devices are 
...
Read more...
---
Tough OEM pressure switch from WIKA
October 2019, WIKA Instruments , Pressure Measurement & Control
The PSD-4-ECO pressure switch from WIKA is designed for harsh ambient conditions, and is optimised for OEM integration. With a diameter of 29 mm, the model is very slim and through the arrangement of 
...
Read more...
---
Accelerometer for vibration monitoring
October 2019, Instrotech , Maintenance, Test & Measurement, Calibration
Monitran has introduced the General Purpose Monitoring Sensor range, for use with PLCs and other industrial controllers, which provide users with a continuous output of vibration, usually as a 4-20 mA 
...
Read more...
---
Compact IR camera with industrial accessories
October 2019, Instrotech , Sensors & Transducers
Optris has announced additions to the Compact Line, the Xi 80 and Xi 400, now with new industrial accessories for use in rough conditions. The system has a modular design and as a result, the water cooled 
...
Read more...
---