printer friendly version
SAIMC: From the President's desk
November 2019
SAIMC
The end of the year is almost upon us. Have you taken the opportunity to ask yourself what has really changed for you this year? In some areas we have seen significant and exponential change. Automation and Industry 4.0 have shown significant and exponential development. But has this changed anything for you as an individual? Or, maybe the best question to ask is if you understand the impact it has on your future? Are things changing and you are not realising that you are adapting? Or maybe resisting the change?
We are part of a great time in history where innovation is happening at such a rapid pace that we can almost not predict what will happen two years from now. We now have technologies that enable us to use tremendous amounts of data to solve our daily problems. But, I think we have to ask ourselves if we are using this era optimally? Are we collaborating and using every opportunity to be part of multi-disciplinary collaborations to solve problems efficiently? Perhaps a difficult question to answer, especially in the business world, where you might not be the decision maker choosing the way forward.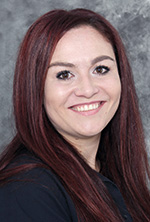 Within education we are seeing a big drive for change and collaboration between industries to ensure that our educational institutions provide for the future skills needed. We still have a long way to go, but there is hope. People are indeed challenging the old ways of doing things. We are all on a journey of change and each needs to take it at a pace that they can handle. The SAIMC has multiple individuals working towards a common goal to be the 'voice of automation', which guides the country to prepare and adapt. If you ever want to be part of this, I urge you to get into contact with us and tell us where you want to contribute.
Sometimes however, it can all be overwhelming. Just dealing with normal life can be a challenge. But, as South Africans, we are very adaptable and have shown the ability to innovate, even in conditions where others would lose hope. So, don't be too hard on yourself. Take it one day at a time.
Yours in automation,
Annemarie van Coller.
Credit(s)
Further reading:
SAIMC: Tshwane branch
November 2019, SAIMC , News
Industry expert talks about importance of continuous learning
Learning from industry experts is a vital component of any student's training. Such an expert is Thabo Lekgowane, a robotics engineer from 
...
Read more...
---
SAIMC: Obituary - Eugene Sithole
November 2019, SAIMC , SAIMC
It is with deep sadness that the SAIMC heard of the death of dear friend and esteemed colleague Eugene Sithole, who passed away suddenly on 7 September.    Thanduxolo Eugene Sithole was born on 13 September 
...
Read more...
---
SAIMC: Johannesburg branch
November 2019, SAIMC , SAIMC
Why use wires?
   At the technology evening on 11 September, Rudi Erasmus of Phoenix Contact walked us through when and why wireless communication is preferred to cabled communication.    Communicating 
...
Read more...
---
SAIMC: Vaal branch
November 2019, SAIMC , SAIMC
This month's presentation at the Vaal branch covered the basic principles and fundamentals of SIL. It included the common misconceptions about SIL, risks, accidents, processes, random and systemic failures 
...
Read more...
---
The technology landscape: insights from 2019 conferences
November 2019, SAIMC , Editor's Choice
Industry leaders and governmental agencies across the globe recognise technology as the cornerstone for economic development. President Cyril Ramaphosa famously posited: "The clear implication for South 
...
Read more...
---
SAIMC: From the President's desk
October 2019, SAIMC , SAIMC
It is spring again in South Africa and what a gorgeous time of year. Within the SAIMC, there is also continuous improvement, working towards our 2023 strategic goals.      
SAIMC structure changes
As the 
...
Read more...
---
SAIMC: Johannesburg branch
October 2019, SAIMC , SAIMC
The August technology evening we was hosted by Yokogawa at the Bryanston Sports Club. The theme was to find out more about the difference between a PLC and a DCS, where the PLC came from, some PLC theory, 
...
Read more...
---
SAIMC: Secunda branch
October 2019, SAIMC , SAIMC
At the technology evening on 1 August, Katlego Setwaba from Pepperl+Fuchs gave a presentation on 'Explosion protection with a focus on purge and pressurisation'.    The effects of accidental fires or 
...
Read more...
---
SAIMC: Vaal branch
October 2019, SAIMC , SAIMC
At the August Technology Evening, Busisiwe Zikalala from WIKA gave a presentation titled: Sensor protection methods.    Process sensors come in many forms. In addition to the big four: temperature, pressure, 
...
Read more...
---
SAIMC: Durban branch
October 2019, SAIMC , SAIMC
The Durban branch's September technology meeting was opened by our COO, Johan Maartens, giving a brief overview of the reasoning behind the changes to the SAIMC's organisation. He clearly and concisely 
...
Read more...
---