printer friendly version
Control systems vendors see opportunities in cloud-based IIoT data services
February 2017
Editor's Choice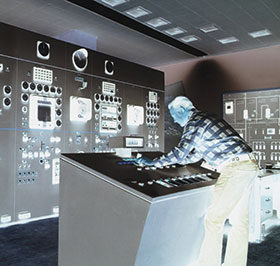 The last year saw all the major DCS and process control systems suppliers reassess their business positioning, in the face of the turndown in capital spending as a result of the continuing recession and fall in commodity prices, led by oil.
Their problem is that their main business cycles between feast and famine, as it is dependent on investment project business. Harry Forbes of the ARC Advisory Group notes that automation companies will do nearly anything to protect their installed user base, because that is where they believe future revenues will come, and come more easily than winning projects. So the way to survive the famine is to provide on-going services to these asset owners, to maintain the business relationship, and be better positioned when capital investment returns. Plus they stop competitive suppliers gaining a foothold via similar service contracts.
The current area of interest for most manufacturing plants is the IIoT, and so the automation vendors have been focusing on this, plus Big Data and analytics, offered via remote 'cloud-based' services. The different suppliers come from different market positions, and so their approaches, while offering the same, are tailored in different ways.
Emerson
Peter Zornio of Emerson expressed his very clear view of this market back in April at the company's Global User Exchange in Brussels. Emerson is involved in the IIoT: this does not include the 'Smart Cities' that Siemens and ABB talk about, nor Industrie 4.0, which extends from production back up into design concepts – IIoT, in this case, is just 'Manufacturing'.
I believe Emerson also recognise that its process control systems cannot be a part of the IIoT, they must be fenced off, with firewalls etc, to prevent cyber-security worries, and blocked from external inputs. But this does not stop them transmitting information outwards, and the whole Emerson approach of 'Pervasive Sensors' – its major new topic for 2015 – is now an important feed into IIoT analytics.
The resulting offering is a cloud-based service developed in cooperation with Microsoft, using its Azure IoT Suite of cloud services. Having worked with Microsoft for over 20 years, the Windows 10 IoT technology will be incorporated into both the DeltaV and Ovation control systems, and in data gateways to serve plant data to the Azure IoT Suite. Emerson will then provide the data analysis services that feed information and recommendations to the relevant plant personnel, for example about plant performance or equipment maintenance. Zornio described this as a remote service similar to the 'Monitoring Centre' typical of the electricity generation industry, or the 'iOps centre' typically described in the oil and gas industry – which shows the areas of focus for the Emerson control system business.
Since then, Emerson restructured its widely separated divisions, Process Management and Industrial Automation, into one business, Emerson Automation Solutions, under newly appointed president Michael Train. This brings in the factory automation aspects covered by the old Industrial Automation Division and extends the potential for the same IIoT monitoring into other areas of the manufacturing plant, such as power supplies, packaging, and even discrete manufacturing. Walt Boyes speculates that the Emerson financial muscle might make an acquisition in this factory/discrete automation area likely in the short term, maybe in Europe: particularly after receiving $4 bn from the sale of its Network Power business in December.
Rockwell Automation
Rockwell Automation has a totally different customer profile, perhaps the reverse of that described for Emerson, having great strength in factory automation, food processing and discrete process control in general. Its product portfolio is strong on motor control, actuators, energy management etc., using Ethernet based systems and controllers, which give simple interfaces to remote data systems.
Steven Meyer reported Rockwell South African MD Barry Elliot commented at the Electra Mining Show that the challenge is "to do more with the assets the organisation already owns." He added, "In most cases the data already exists: our challenge is to implement systems that enable us to turn this into actionable information to streamline productivity and efficiency." Just what the customer audience wanted to hear.
In November, Rockwell launched its 'FactoryTalk Analytics for Machines' cloud application, based on the Microsoft Azure cloud enabled capability – yes, them again! OEMs using Rockwell/Allen Bradley controllers on their machinery can embed a FactoryTalk Cloud gateway device to interface to this Rockwell remote analytical service. Back at corporate level, the new Rockwell CEO is Blake Moret, and his attention is also on developing the oil and gas process systems business that was actually doing well, but is smaller than that of rivals like Emerson: so he has acquired Maverick Technologies, one of its system integrator customers. First, this gives Rockwell access to Maverick's five years of experience in supplying remote operations support as a service. Second, Walt Boyes points out that Maverick has craftily recruited many otherwise retiring process experts from such companies as Dow, DuPont, ExxonMobil and other first tier companies, amassing a couple of hundred very valuable grey heads with continuous process management expertise. These are very useful for remote service support and advice, supplied even from their retirement homes!
ABB
Maybe ABB will have an alternative approach? ABB has a concept described as the Internet of Things, Services and People (IoTSP). Last year the company joined the steering committee of the Industrial Internet Consortium, an organisation founded in 2014 by AT&T, Cisco, General Electric, IBM and Intel. Then in September ABB recruited Guido Jouret as its chief digital officer – he was at one time the general manager of the Cisco Internet of Things division. October, however, brought things back into line with Rockwell and Emerson, when the new ABB Ability offering was announced as standardised on Microsoft Azure, "expanding the ABB leadership in energy and the fourth industrial revolution." ABB will "take full advantage of Azure services such as Azure IoT Suite and Cortana Intelligence Suite to capitalise on insights gathered at every level from device, to system, to enterprise, to cloud." Although ABB says it has had many years of successful collaboration with Microsoft, from the website it appears Ability is a new venture – looking for applications in transport infra-structure, digital power substations, fleet management services, Smart buildings etc.
Yokogawa
Yokogawa started 2016 with two acquisitions, first 'Data-as-a-Service' provider Industrial Evolution, which provides cloud-based plant data sharing services, followed by KBC Technologies, which specialises in offering oil and petrochemical production plants the advanced software needed for process optimisation and simulation. These two were combined to create the new Industrial Knowledge Division.
Executive VP Satoru Kurosu commented, "The key strategic objectives of Yokogawa's Transformation 2017 plan are to expand the solution service business, focus on customers, and co-create new value with customers through innovative technologies and services".
It then followed up with a strategic investment in FogHorn Systems, a Silicon Valley specialist in fog computing – said to be the solution to faster processing of IIoT data in the cloud. At the yearend, Yokogawa made a further significant investment into IIoT technology, first with a $900k investment into Bayshore Networks, a specialist in cyber security which has developed the Bayshore IT/OT Gateway for use in the cloud, separating IT Departments from OT (Operational Technology) infrastructure networks.
More than that, Yokogawa announced the establishment of a new Architecture Development Division in California, to pursue the development of the core technologies needed to establish the robust and flexible architecture required to improve operational efficiency and productivity when using the IIoT. Its aim is to expand this US engineering centre to over 50 staff in the next five years. Obviously Yokogawa has major ambitions to develop and offer IIoT cloud data services with the best in technology and cyber security.
In conclusion
With so many major suppliers stepping up to offer cloud-based IIoT data analysis and reporting services, what do the plant managers do? Steven Meyer's report on the recent conference on the topic organised by the African branch of the Manufacturing Enterprise Solutions Association (MESA) highlighted the recent PricewaterhouseCoopers report ( http://tinyurl.com/jqdofcg) showing that South African companies plan to spend around R6 bn per year, until 2020, to implement the ideas of the fourth industrial revolution. In a keynote speech, local PwC director Pieter Theron made the telling comment that companies will need to find the right collaboration partners in order to improve their business efficiency through the technologies of the fourth industrial era – very few have the capability to go it alone. There are several interesting potential partners to evaluate!
Acknowledgements: Walt Boyes, The Insider Newsletter December 2016 ( www.IAInsider.com), and Steven Meyer, editor of SA Instrumentation and Control.

Nick Denbow spent thirty years as a UK-based process instrumentation marketing manager, and then changed sides – becoming a freelance editor and starting Processingtalk.com. Avoiding retirement, he published the INSIDER automation newsletter for 5 years, and then acted as their European correspondent. He is now a freelance Automation and Control reporter and newsletter publisher, with a blog on www.nickdenbow.com
Further reading:
Loop Signatures 10: Digital controllers – Part 2: Testing controller operation
Michael Brown Control Engineering Editor's Choice
There is a commonly held belief in control circles that all PID controllers are similar and relatively simple. This is a dangerous fallacy.
Read more...
---
A review of the 2021 MESA Africa conference
MESA Africa NPC Editor's Choice
The overarching lesson from this year's conference: yes, we have problems now and solutions are on the table, but we need collective action!
Read more...
---
Cybersecurity for operational technology: Part 5: Cybersecurity threats to critical information infrastructure.
Editor's Choice
CII describes infrastructure that is essential to the functioning of a country's society and economy
(2)
. Local examples include energy (Eskom), government (SARS, judiciary), police and defence (SAPS, 
...
Read more...
---
The ultimate control valve
Valve & Automation Valves, Actuators & Pump Control Editor's Choice
Zwick has designed its TRI-SHARK range of Triple Eccentric Valves to be used in control or throttling applications as well as for pure on/off functionality.
Read more...
---
From the editor's desk: 2022 must be the year SA gets its vaccination act together
Technews Publishing (SA Instrumentation & Control) Editor's Choice News
This is his last
"From the editor's desk"
that Steven Meyer wrote before his death in early January 2022.
Read more...
---
What to do when fragmented systems get too complex
Absolute Perspectives Editor's Choice
With proper planning, a strategic approach, careful vendor selection and a systematic project methodology, you can successfully upgrade to a future-proof ICT infrastructure that supports ongoing digital transformation.
Read more...
---
Case History 180: Fuel gas pressure control problem
Michael Brown Control Engineering Editor's Choice
The problem with the pressure control was that it seemed to work intermittently and seldom got to setpoint, resulting in large and unacceptable variance on the control.
Read more...
---
Cybersecurity for operational technology: Part 4: Practical recommendations to reduce cybersecurity risks for OT systems
Wolfpack Information Risk Editor's Choice
It is essential that IT professionals are able to clearly articulate cybersecurity risks to management.
Read more...
---
Loop Signatures 9: Digital controllers – Part 1: Introduction to the simple PID controller
Michael Brown Control Engineering Editor's Choice
There is a commonly held belief in control circles that all PID controllers are similar and relatively simple. This is a dangerous fallacy.
Read more...
---
Totally Integrated Automation – added value in three dimensions
Siemens South Africa Editor's Choice System Integration & Control Systems Design
Discover everything that's in TIA, the leading automation concept from Siemens, and how it all works together to create a unique product for machine builders and industrial enterprises.
Read more...
---