printer friendly version
The Internet of Things is more than a vision
October 2016
IT in Manufacturing
Basel (Switzerland) is a stronghold of the chemical industry. This explains why the demand for primaries and base materials such as sulphuric acid, hydrochloric acid and caustic soda is so great in the region. One important supplier of these products is Brenntag Schweizerhall, whose warehouse and distribution centre in the 'Infrapark Baselland' is in the immediate neighbourhood of its customers. The company asked Endress+Hauser to automate its plant and at the same time ordered a logistics concept guaranteeing ultimate safety and efficiency from storage right through processing to the delivery of products.
New infrastructure optimises the value chain
Today, the site features a completely new infrastructure with storage tanks and blending units, plus a pipeline network that allows Brenntag Schweizerhall to supply its customers directly. "Until recently, we carried about 30 000 tonnes of hazardous materials by truck to our customers every year, which resulted in relatively high transportation costs," explains Wolfram Heymann, CEO of Brenntag Schweizerhall. "Our aim was to optimise the supply chain, not only commercially, but also with regards to safety on site because the corresponding loading and unloading operations were no longer required."
For this reason, it was not only the automation of the manufacturing process that was highlighted, but the logistics and commercial processes were also scrutinised. Working closely with Brenntag Schweizerhall, Endress+Hauser synchronised the data flow along the value-added chain and the data exchange between the actual process control system and the customer's ERP system. Today, the central business processes between all stakeholders are handled in a common network.
"The cross-system access to information enhanced efficiency and effectiveness helping us to make severe cutbacks on data administration costs," says Roger Jaggi, head of Engineering Solutions at Endress+Hauser Switzerland. "At the same time, we wanted to keep plant operation as simple and easy as possible."
The controls were programmed and set up for the customer using tried and tested standard components. Personnel operate the plant via software that provides graphic visualisation of the process.
Inventory management relies on sensor technology
One important interface is Endress+Hauser's software, SupplyCare. This platform for inventory management relies on the appropriate sensor technology in the tanks to monitor replenishment and deadline scheduling, also allowing the full visualisation of stocks and inventories on the screen – both on site at the operating stations and at the headquarters in Basel. Thanks to the networked supply chain, Brenntag Schweizerhall can now keep stocks low and avoid delivery bottlenecks. Using the fast links of the local fibre optic network, end customers today report their requirements directly to the control system – without the red tape in order handling, and with the automated inventory management ensuring that the tanks and warehouses are always sufficiently full. "No matter how much the customer requests – thanks to automation, the product can now be supplied efficiently, safely and on time in the desired quantity and degree of dilution," says Jaggi.
The direct access to device and process data using a browser-based solution also makes maintenance and service work easier, with the latest device status called up in next to no time. Endress+Hauser's experts are capable of remote monitoring maintenance intervals or of responding to error messages while en route. Thanks to the online access to all data and documents, the source of the error or malfunction is quickly identified. The customer is automatically notified in the event of maintenance work or a change in product availability.
The close collaboration between Endress+Hauser and Brenntag Schweizerhall from the planning stage to commissioning, paid dividends. "Procurement is a great deal easier today. We've optimised warehouse capacities, increased flexibility in production and cut logistics costs," summarises Heymann. "Now we not only have an automated warehouse for chemical base materials, we also have a totally new business model where all our customers and suppliers are integrated in a common network."
The modern plant not only safeguards efficient and timely deliveries to end customers – it has also become safer thanks to the pipeline system. Heymann concludes: "The integrated solution has allowed us to take 1500 hazardous goods transporters off the road and to eliminate all the related loading and unloading processes."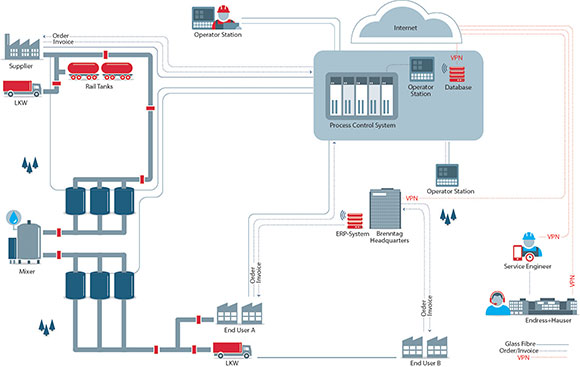 For more information contact Hennie Blignaut, Endress+Hauser, +27 (0)11 262 8007, hennie.blignaut@za.endress.com, www.za.endress.com
Credit(s)
Further reading:
Compact design electromagnetic flow measurement
December 2019, Endress+Hauser , Flow Measurement & Control
Whether in the life sciences or in biotechnology, whether in the food or chemical industries – global competition is steadily increasing. Ever more companies are implementing their process facilities 
...
Read more...
---
Digital twin allows process simulations
December 2019, Siemens Digital Industries , IT in Manufacturing
The high-tech company Grenzebach's portfolio includes the simulation of material flow in complex plants in the glass industry, which it achieves using Siemens simulation solutions. Together, the two companies 
...
Read more...
---
Game-changing digital solutions for mines
December 2019, SKF South Africa , IT in Manufacturing
With digitalisation creeping into the mining industry and transforming day-to-day operations, this sector is enhancing its Industry 4.0 operation and process compliancy. As a preferred supplier of premium 
...
Read more...
---
Protect critical infrastructure and manufacturing plants
December 2019 , IT in Manufacturing
As manufacturers around the world analyse and embrace the importance of being more connected to the IIoT, cybersecurity experts caution that the benefits of being interconnected come with a warning, and 
...
Read more...
---
Extending analytics to EAM and operations users
December 2019 , IT in Manufacturing
Today's manufacturing operations and maintenance teams generate vast amounts of data in all forms.
Read more...
---
AI in manufacturing – revolutionary opportunity or well-trodden path?
December 2019, Absolute Perspectives , IT in Manufacturing
Artificial Intelligence (AI) has become a catchphrase used by marketers that attributes the characteristics of human intelligence to a computer system.
Read more...
---
Blockchain technology in the food and beverage industry
December 2019, Schneider Electric South Africa , IT in Manufacturing
Advances in blockchain technology could enable the food and beverage industry (F&B) to enhance traceability. In the US alone, food recalls and food-borne illnesses cost some $77 billion per annum, including 
...
Read more...
---
A good combination for the primaries and metals industry
November 2019, Endress+Hauser , System Integration & Control Systems Design
Endress+Hauser?s measurement devices for flow, level, pressure, temperature and liquid analysis.
Read more...
---
Navigate the fourth industrial revolution with PricewaterhouseCoopers
November 2019 , IT in Manufacturing
Using the building blocks of 4IR to transform business processes into manufacturing advantages requires a holistic approach.
Read more...
---
Artificial intelligence in manufacturing – a practical and simplified view
November 2019, Altron Bytes Systems Integration , IT in Manufacturing
Looking at and interpreting data generated during the manufacturing process to find ways to reduce waste, improve quality and increase yield is not new. However, the increased use of digital technologies 
...
Read more...
---