printer friendly version
From the editor's desk: Edge, cloud or both?
June 2019
News
In the illusory world of digital transformation, the question of where the applications will best be hosted often triggers a lively discussion. In particular, the cloud vs. edge debate has left many wondering which direction to choose. Turns out, the answer is not as clear-cut as picking one over the other in the hope of finding a winner. It is a case of 'horses for courses' and an efficient enterprise-wide implementation may well require elements of both.
Wikipedia defines edge computing as a distributed paradigm that brings data storage and processing closer to the location where it is needed – the shop floor, for instance. Cloud computing, on the other hand, is generally considered as on-demand access to computer resources available to many different users over the Internet – the data centre.
As an Industry 4.0 platform, cloud applications offer almost unlimited scalability in terms of data storage and computing power. This makes it easy to run data mining and analytics algorithms on plant data with a view to optimising overall process and energy efficiency. It also offers older plants running legacy equipment an easy way to get started with the new technologies of the IIoT. One of the downsides of cloud-based systems is the inherent latency, which is fine for any application in which 'near' real-time response is acceptable, but not so good for machine applications that require a true real-time reaction.
A DCS is an example of an edge system (before the term became popularised), but in an IIoT context, edge computing comes into its own where the value of the system is linked to its reaction time. Artificial intelligence and machine learning are good applications.
An example of how artificial intelligence can be incorporated into machines through the use of sensors and data processing at the edge is Forpheus, Omron's ping-pong playing robot. Forpheus uses its cameras and sensors to observe the mood and movements of the opposing player, as well as the trajectory of the ball. It then rapidly analyses this data to anticipate the opponent's next shot so that it can hit the return. Through this constant assessment of a person's play, it determines their skill level and modifies its own game to present an appropriate challenge. Forpheus' objective is not to beat the other player, but to gauge their skill level and then help them to train and improve. This is an example of how smart machines could be used to assist people to make the most of their potential.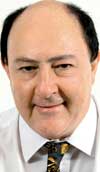 Although edge computing has a distinct advantage over the cloud in these types of application, this does not make it a substitute. For instance, predictive maintenance is a natural target for cloud deployment because there is simply no need for a 'zero latency' response. See the article 'Does edge computing have the edge?' for more on the cloud vs edge conundrum, and how the two will most likely coexist in the future.
Steven Meyer
Editor: SA Instrumentation & Control
Credit(s)
Further reading:
Plan your media strategy with Technews Publishing
November 2019 , News
Dear Marketer, Have you ever looked back on a year and wondered how you survived it? For the majority of South Africans, 2019 started benignly enough, cosily wrapped in the blanket of Ramaphoria that 
...
Read more...
---
From the editor's desk: The power of 23
December 2019, Technews Publishing (SA Instrumentation & Control) , News
Have you ever looked back on a year and wondered how you survived it? For the majority of South Africans, 2019 was such a year. It started benignly enough, cosily wrapped in the blanket of Ramaphoria 
...
Read more...
---
Robust absolute linear position measurement
December 2019, ATI Systems , News
Temposonics, an MTS Systems company, is a leading supplier of magnetostrictive sensors, which are rapidly becoming the transducers of choice in many applications.
Read more...
---
Honeywell helps transform petrochemical operations
December 2019, Honeywell ACS South Africa , News
Honeywell has announced that Braskem Idesa has adopted a hands-free, wearable connected technology solution at its plant in Veracruz, Mexico. Honeywell's Intelligent Wearables will allow Braskem Idesa 
...
Read more...
---
Lonza selects Rockwell Automation for digital transformation of pharmaceutical operations
December 2019, Rockwell Automation , News
Lonza has selected Rockwell Automation for the turnkey implementation of the strategic vision to bring the digital factory to nine facilities that manufacture drug capsules. The Swiss-based company, founded 
...
Read more...
---
Rocket car arrives in South Africa
December 2019 , News
The Bloodhound LSR car has arrived at Hakskeenpan, the dry salt lake bed in South Africa's northern Cape province, where over the next month a 25-strong crew will run tests that may see it exceed 800 
...
Read more...
---
Europe's largest-ever Emerson Users Conference to be held in Milan
December 2019, Emerson Automation Solutions , News
The largest-ever Emerson Global Users Exchange in Europe will be taking place in Milan, Italy, in 2020. The biennial conference will be held at the Milano Convention Centre from March 18 to 20, with current 
...
Read more...
---
World record for Festo's BionicOpter
December 2019, Festo , News
The Festo BionicOpter will be included in the 2020 Guinness World Records. The chapter 'Robots' presents the most amazing records from the world of super robots and artificial intelligence. The Festo 
...
Read more...
---
BMG's Food & Beverage Expo voted a success
December 2019, Bearing Man Group t/a BMG , News
BMG's recent Food & Beverage Expo, held at the BMG World distribution and engineering facility, has been voted a great success. "Highlights of the event included presentations from guest speaker, Linda 
...
Read more...
---
BI leverages synergies across Hudaco Group
December 2019 , News
As part of the Hudaco Group, Bearings International (BI) is able to leverage synergies across a broad range of companies, meaning it can offer a complete product basket across its branch network countrywide. In 
...
Read more...
---