printer friendly version
From the editor's desk: Edge, cloud or both?
June 2019
News
In the illusory world of digital transformation, the question of where the applications will best be hosted often triggers a lively discussion. In particular, the cloud vs. edge debate has left many wondering which direction to choose. Turns out, the answer is not as clear-cut as picking one over the other in the hope of finding a winner. It is a case of 'horses for courses' and an efficient enterprise-wide implementation may well require elements of both.
Wikipedia defines edge computing as a distributed paradigm that brings data storage and processing closer to the location where it is needed – the shop floor, for instance. Cloud computing, on the other hand, is generally considered as on-demand access to computer resources available to many different users over the Internet – the data centre.
As an Industry 4.0 platform, cloud applications offer almost unlimited scalability in terms of data storage and computing power. This makes it easy to run data mining and analytics algorithms on plant data with a view to optimising overall process and energy efficiency. It also offers older plants running legacy equipment an easy way to get started with the new technologies of the IIoT. One of the downsides of cloud-based systems is the inherent latency, which is fine for any application in which 'near' real-time response is acceptable, but not so good for machine applications that require a true real-time reaction.
A DCS is an example of an edge system (before the term became popularised), but in an IIoT context, edge computing comes into its own where the value of the system is linked to its reaction time. Artificial intelligence and machine learning are good applications.
An example of how artificial intelligence can be incorporated into machines through the use of sensors and data processing at the edge is Forpheus, Omron's ping-pong playing robot. Forpheus uses its cameras and sensors to observe the mood and movements of the opposing player, as well as the trajectory of the ball. It then rapidly analyses this data to anticipate the opponent's next shot so that it can hit the return. Through this constant assessment of a person's play, it determines their skill level and modifies its own game to present an appropriate challenge. Forpheus' objective is not to beat the other player, but to gauge their skill level and then help them to train and improve. This is an example of how smart machines could be used to assist people to make the most of their potential.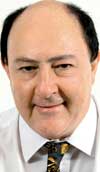 Although edge computing has a distinct advantage over the cloud in these types of application, this does not make it a substitute. For instance, predictive maintenance is a natural target for cloud deployment because there is simply no need for a 'zero latency' response. See the article 'Does edge computing have the edge?' for more on the cloud vs edge conundrum, and how the two will most likely coexist in the future.
Steven Meyer
Editor: SA Instrumentation & Control
Credit(s)
Further reading:
From the editor's desk: Isolation economy could quicken the pace of 4IR adoption
November 2020, Technews Publishing (SA Instrumentation & Control) , News
The coronavirus pandemic has highlighted a problem that the manufacturing industry was already uncomfortably aware of – its traditional ecosystems are too cumbersome to cope with the variety of choice 
...
Read more...
---
Pepperl+Fuchs continues Its Digital Event Series and invites you to its second Online Summit
October 2020, Pepperl+Fuchs , News
Pepperl+Fuchs invites you to its second Online Summit: register now, free of charge, to gain access to this fully digital event, which will be held from 17-19 November.
Read more...
---
Cummins ships 800 QSK60 engines to China for use in data centres
November 2020 , News
Cummins has shipped 800 QSK60 series engines to China, where they will be installed in data centres to help communities stay connected through the reopening of the economy.
Read more...
---
Rockwell Automation and Microsoft expand partnership
November 2020, Rockwell Automation , News
Partnership aims to empower manufacturers with agility, intelligence, and scale to deliver digital transformation initiatives, from the cloud to the edge.
Read more...
---
Hager automation solution from EM keeps Noka Camp in luxury
November 2020, ElectroMechanica , News
A smart Hager KNX home automation system has been supplied by ElectroMechanica for the Noka Camp luxury cliff-top lodge in the Lapalala Game Reserve.
Read more...
---
Gas control products for Covid-19
November 2020, Fluid Systems Africa , News
Fluid Systems Africa (FSA) is the authorised distributor for Gas Control Equipment (GCE) in Africa, and supplies a wide range of healthcare and high-purity products. The global spread of Covid-19 
...
Read more...
---
Michael Brown now offering control courses to individuals
November 2020, Michael Brown Control Engineering , News
Michael Brown is now offering training courses to individuals via online Zoom sessions. The first session of the Part 1 practical control course – Troubleshooting and Loop Tuning – will commence on Monday 1 February 2021.
Read more...
---
Digital transformation is key to energy efficiency across sub-Saharan Africa
November 2020, Schneider Electric South Africa , News
The findings of the Global Digital Transformation Benefits Report, which was initially released in 2019, were validated by Schneider Electric's customers in the Middle East and Africa throughout 2020.
Read more...
---
ABB supports launch of engineering scholarship program for Africa
November 2020, ABB South Africa , News
ABB is proud to announce its support of the inaugural Ashesi-ETH Master's in Engineering Programme in partnership with two world-leading universities for technology and the natural sciences.
Read more...
---
Control Techniques unveils bold new identity
November 2020, Nidec Industrial Automation Southern Africa , News
Control Techniques, a Nidec brand, has launched a new identity, marking the next stage in its evolution as a brand.
Read more...
---