printer friendly version
From the editor's desk: Edge, cloud or both?
June 2019
News
In the illusory world of digital transformation, the question of where the applications will best be hosted often triggers a lively discussion. In particular, the cloud vs. edge debate has left many wondering which direction to choose. Turns out, the answer is not as clear-cut as picking one over the other in the hope of finding a winner. It is a case of 'horses for courses' and an efficient enterprise-wide implementation may well require elements of both.
Wikipedia defines edge computing as a distributed paradigm that brings data storage and processing closer to the location where it is needed – the shop floor, for instance. Cloud computing, on the other hand, is generally considered as on-demand access to computer resources available to many different users over the Internet – the data centre.
As an Industry 4.0 platform, cloud applications offer almost unlimited scalability in terms of data storage and computing power. This makes it easy to run data mining and analytics algorithms on plant data with a view to optimising overall process and energy efficiency. It also offers older plants running legacy equipment an easy way to get started with the new technologies of the IIoT. One of the downsides of cloud-based systems is the inherent latency, which is fine for any application in which 'near' real-time response is acceptable, but not so good for machine applications that require a true real-time reaction.
A DCS is an example of an edge system (before the term became popularised), but in an IIoT context, edge computing comes into its own where the value of the system is linked to its reaction time. Artificial intelligence and machine learning are good applications.
An example of how artificial intelligence can be incorporated into machines through the use of sensors and data processing at the edge is Forpheus, Omron's ping-pong playing robot. Forpheus uses its cameras and sensors to observe the mood and movements of the opposing player, as well as the trajectory of the ball. It then rapidly analyses this data to anticipate the opponent's next shot so that it can hit the return. Through this constant assessment of a person's play, it determines their skill level and modifies its own game to present an appropriate challenge. Forpheus' objective is not to beat the other player, but to gauge their skill level and then help them to train and improve. This is an example of how smart machines could be used to assist people to make the most of their potential.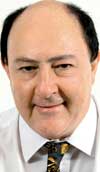 Although edge computing has a distinct advantage over the cloud in these types of application, this does not make it a substitute. For instance, predictive maintenance is a natural target for cloud deployment because there is simply no need for a 'zero latency' response. See the article 'Does edge computing have the edge?' for more on the cloud vs edge conundrum, and how the two will most likely coexist in the future.
Steven Meyer
Editor: SA Instrumentation & Control
Credit(s)
Further reading:
From the editor's desk: 4IR could solve South Africa's youth unemployment problem
July 2019, Technews Publishing (SA Instrumentation & Control) , News
From 4-6 June, Africa Automation Fair 2019 attracted some 4500 visitors and 131 exhibitors from seven countries, including Australia, China, Germany, South Africa, South Korea, Switzerland and Taiwan. 
...
Read more...
---
Africa Automation Fair 2019 wraps up with strong growth
July 2019, Reed Exhibitions , News
Key event reflects SA's growing interest in IIoT/4IR.
Read more...
---
4IR in South Africa: SAIMC involved from day one.
Technews Industry Guide: Industrial Internet of Things & Industry 4.0 , News
The Fourth Industrial Revolution (4IR), also known as Industry 4.0, has necessitated that countries develop new policies, strategies and innovation plans to enable an inclusive whole-of-society approach 
...
Read more...
---
Announcing MESA's 2019 award winners
July 2019, MESA Africa NPC , News
MESA International has announced this year's winners of the 12th Annual Outstanding Contribution Award. A new Innovative Service award was also announced in honour of long time community member, Tom Bruhn. 
...
Read more...
---
Robin Briggs appointed managing director of BMG
July 2019, Bearing Man Group t/a BMG , News
Robin Briggs has a passion for strategy and a commitment to driving successful business growth in South Africa's industrial sector. He brings to BMG a wealth of product knowledge, a thorough understanding 
...
Read more...
---
Arca receives prestigious award
July 2019 , News
Arca has been awarded the quality label 'Innovative through Research' for the year 2018/2019 by the German Association for the Promotion of Science and Education (Stifterverband für die Deutsche Wissenschaft). 
...
Read more...
---
PoolSense: set to change the face of pool maintenance forever
Technews Industry Guide: Industrial Internet of Things & Industry 4.0 , News
The automatic pool cleaner changed the face of pool cleaning forever, but maintaining the quality of the water has remained a difficult and expensive task. PoolSense is about to change this. An unobtrusive 
...
Read more...
---
Sensear appoints Extech Safety Systems as authorised distributor in sub-Saharan Africa
July 2019, Extech Safety Systems , News
Extech has partnered with Sensear to distribute its products in sub-Saharan Africa. Sensear is a global leader in digital communication and active listening headsets and earplugs for use in high noise 
...
Read more...
---
R&C Instrumentation receives accreditation from Fluke
July 2019, R&C Instrumentation , News
R&C Instrumentation is pleased to announce that the company has received accreditation from Fluke Process Instruments for its Infrared Temperature Calibration facility. This facility is housed in a climate-controlled 
...
Read more...
---
Test Dynamics launched to represent National brands
July 2019, Test Dynamics , News
Test Dynamics has been appointed to provide continued representation of the National Instruments brand following a decision by National Instruments to pursue a distribution model in southern Africa.
...
Read more...
---