printer friendly version
Case History 166: Feel and understanding, or lack thereof
May 2019
Motion Control & Drives
I was present at a very interesting discussion the other day with people who are leaders in the automation and control industry. The subject was how jobs would disappear over the next decade or two as automation and robotics progress, and what type of work and professions would be relevant for the younger people coming into the field. The discussion shifted slightly to consider current training methods, particularly of young engineers and technicians.
A feel for the numbers is important
One of the persons present, a very senior manager in a company that produces specialised parts for aviation, expressed a deep concern that youngsters are far too reliant on computers and other devices, particularly where arithmetic calculation is concerned, and they do not have a 'feel' for numbers and values, which can lead to terrible errors. He said they just don't think about basic things that were 'instilled' in previous generations of engineers due to their education. He pointed out as an example how important it is for an engineer doing design calculations to have an innate feeling about the decimal point being in the correct position, to prevent errors of a magnitude or more from occurring.
Mostly, I agree with his thinking. When I present my courses the following two things always come up:
1. Delegates have to calculate the process gain of a certain integrating process, based on a step change in the controller output away from the balance point. In the calculations it becomes necessary to divide a certain value by 10. Invariably at least 95% or more of all the younger delegates use a calculator for this. This indicates to me that they do not have a feel for numbers and values.
2. On many loop optimisation calculations it is not necessary to use very accurate figures. For example, when looking at things like process gains of self-regulating processes, which gives one a rough but useful idea of the correctness of the valve sizing and span of the transmitter, and when measuring and calculating valve hysteresis, you really only need to work with one decimal point. However, the graphical measuring device on the recordings in the software I use in the course gives answers with an accuracy of four or five decimal places. I always tell delegates to round off the readings to one decimal place when they write the measured values down on their calculation sheet. However, they seldom seem capable of doing this and insist on using all the decimal places in the calculations. Once again this tells me that they do not really have a feel for numbers.
Another excellent example of this lack of feel and practical understanding of numbers is the number of decimal points that are often shown on digital displays on operators' screens, particularly on scada displays. My favourite example here is the mass of feed of ore to a mill on a conveyor belt on a gold mine. The belt weigher used was a mechanical one. Typically, it is accepted that such devices will give a reading with an accuracy of between 0.5-3% of full scale, which in this case was 600 tonnes. Basically this means that at best the reading would be accurate to ±3 tonnes. The person who had implemented the displays on the scada had used a standard digital display block in the software, which gave 8 digits. He had put a decimal point after the third most significant digit, so that at full scale the display read 600.00000! Some of the less should we say 'perspective' metallurgists and instrument practitioners, believe the figure displayed as true accuracy. "Hell, it's a computer. It can't be wrong."
A practical consequence of this is that because the process signals from belt weighers are extremely noisy, with noise amplitudes typically 8-10%, it becomes impossible to read the display as the figure is jumping around the whole time. To overcome this problem, the instrument technicians on site had inserted an enormous lag filter with a time constant of close on two minutes. This of course allowed a lovely steady display, but gave erroneous readings, particularly when integrated to give total feed.
Basically these examples illustrate the lack of basic understanding that was referred to earlier.
The art of tuning PID controllers
Another point, raised by a senior manager of a company that writes control software, was that very few instrument and control practitioners working in plants these days have any real idea and feel on how to tune PID controllers, and this doesn't really matter too much as most modern controller software contains self-tuning algorithms. Therefore, is it only really necessary to call in an optimisation expert if they encounter a serious problem?
Unfortunately, this is most often the attitude of plant managers. I have been trying to change this thinking for the whole of my professional life in loop optimisation, and have written many articles on this in the past. This list summarises the most important points:
1. Feedback control is probably one of the least understood subjects in the engineering world.
2. At least 85% of control loops in industrial control systems worldwide are operating inefficiently in automatic.
3. Approximately 50% of all control loops have some problem in them, of which the plant people are generally unaware.
4. The biggest fallacy in plants is the popularly held idea that tuning will solve all problems. In fact tuning is the very last thing that should be done after first analysing the control loop, finding all the problems, understanding the process dynamics, and then applying the best tuning to fit the control requirements.
5. Most control courses deal with the mathematical and theoretical aspects of control (which are very complex), and deal very little with practicalities, which few lecturers are really aware of themselves, as many of them have had little plant experience.
6. When it comes to the actual tuning, very few software packages work well. Most are based on imprecise models of the dynamics, and as a result, give tuning that is most often far from ideal.
In most cases, it is difficult to present financial evidence of what improved controls can do to the bottom line. Most plants have been running the same way for years, and senior managers have very little interest in trying to improve the controls. I have seen a few cases where plants having properly optimised the controls, and scientifically measured the benefits, have improved their return on assets significantly.
Can you see what's wrong?
Further to my previous article, where I suggested you test your analytical capabilities, I have included a couple of figures showing an open and a closed loop test on a level loop working at pretty much normal load. The loop is actually working very well. (Figure 1 is the closed loop test and Figure 2 the open loop one.) However, there is something that is not really good in the loop, which could cause problems. This can be seen clearly seen in both the tests.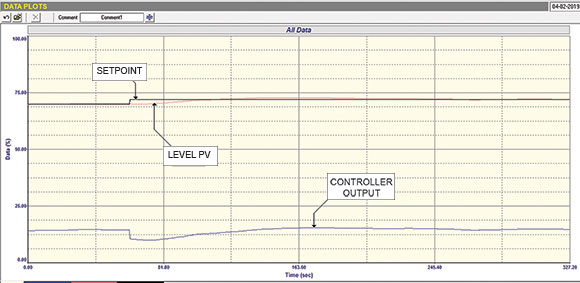 Figure 1.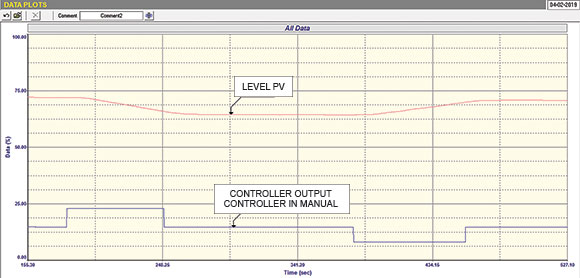 Figure 2.
As I do not have much space left, I will give the answer in the next article, scheduled to be published in the July issue.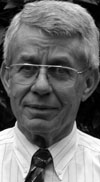 Michael Brown is a specialist in control loop optimisation with many years of experience in process control instrumentation. His main activities are consulting, and teaching practical control loop analysis and optimisation. He gives training courses which can be held in clients' plants, where students can have the added benefit of practising on live loops. His work takes him to plants all over South Africa and also to other countries. He can be contacted at Michael Brown Control Engineering cc, +27 82 440 7790, michael.brown@mweb.co.za, www.controlloop.co.za
Credit(s)
Further reading:
Loop Signatures 1: Introduction to the Loop Problem Signatures series
May 2020, Michael Brown Control Engineering , Editor's Choice
Over the years I have had many requests to write a book giving more detailed explanations of some of the problems I have encountered in my work on practical loop optimisation. I am by nature and inclination 
...
Read more...
---
Modular towel production lines
September 2020, Beckhoff Automation , Motion Control & Drives
Rapid development and configuration of manufacturing systems for terrycloth towels with PC-based control.
Read more...
---
BMG solutions for efficient agriculture
August 2020, Bearing Man Group t/a BMG , Motion Control & Drives
BMG's Boer Slim/Smart-Farming agricultural team works closely with farmers throughout southern Africa, assisting them with the selection, installation and operation of new electromechanical systems. These 
...
Read more...
---
PC and EtherCAT-based control technology in next-generation telescope
August 2020, Beckhoff Automation , Motion Control & Drives
Key factors were the advantages of EtherCAT for site-wide real-time communication connecting all telescope functions. Various embedded PCs and AM8000 servomotors were also tested and specified, among 
...
Read more...
---
Commander series drives
August 2020, Nidec Industrial Automation Southern Africa , Motion Control & Drives
The Commander series are simple and compact AC motor speed controllers that meet advanced requirements in a wide range of applications. Their small footprint makes them ideal for machine builders and 
...
Read more...
---
Belting products for furnace belts
August 2020, Bearing Man Group t/a BMG , Motion Control & Drives
BMG's Light Materials Handling division supplies and supports a comprehensive range of belting products suitable for use in diverse sectors, including high-temperature applications, like glass bottle 
...
Read more...
---
Loop signatures: Case History 173
August 2020, Michael Brown Control Engineering , Editor's Choice
More control problems in a copper extraction plant.
Read more...
---
BMG's new generation of IE5+ motors
July 2020, Bearing Man Group t/a BMG , Motion Control & Drives
In 1916, BMG and German precision engineers, Getriebebau Nord, entered into a partnership agreement to assemble, distribute and support Nord Drivesystems throughout southern Africa. BMG has made 
...
Read more...
---
Rockwell Automation upgrade for Ghana Water
June 2020, Rockwell Automation , Motion Control & Drives
Over the last five years, Rockwell Automation has been working with Intermerc Ghana in supplying medium-voltage motor control and automation technologies to some of its recent pump upgrade and rehabilitation 
...
Read more...
---
Danfoss addresses the challenges in water and wastewater applications
July 2020, Danfoss , Motion Control & Drives
As the world population rises and people pursue higher standards of living, more water is needed in homes and for the production of food and other products. By 2050, the United Nations projects global 
...
Read more...
---