printer friendly version
From the Editor's desk: Digitalisation in the mining industry
November 2018
News
With South Africa now in recession, and the unemployment rate rising to over 27%, the government's focus has quite rightly shifted to the issues of job creation and economic stimulus. This has put critical industries such as mining and manufacturing, which in recent years have been shedding jobs at an alarming rate, firmly back in the spotlight. It was interesting then to see the emphasis given to the benefits of digitalisation in mining by the automation vendors who showcased their offerings at Electra Mining 2018.
Globally, the mining industry has been under pressure to improve margins since the collapse in commodity prices that followed the economic meltdown in 2008. Even though prices have mostly recovered, and the local miners benefit from the weaker Rand/Dollar exchange rate, new investment in the sector has been slow and as a result ore grades are on the decline. Despite the tension that exists around automation in mining due to the perceived threat to jobs, the digital technologies of the Industry 4.0 era have the potential to unlock value by eliminating the traditional operational 'silos' that have always existed across mining's hierarchical disciplines. The challenge then is to address the aspect of future workforce development and integration in ways that allow mine managers to access the compelling benefits of autonomous operation, without neglecting their social responsibilities to the local communities which must benefit from their operations.
Digitalisation in mining is focused at making mines more efficient through lower operating costs, higher yields, improved safety standards and greater levels of regulatory compliance. It works to identify and eliminate problems such as wrong task allocations, misplaced equipment, inaccurate data and delayed communication, through its ability to provide the right information to the right people in real time, without anyone making any extra effort.
Siemens was one of the automation exhibitors at Electra Mining to focus on the benefits of digitalisation. Based on its extensive experience in industrial applications, the company is well positioned to address the specific challenges of the mining industry through end-to-end process automation and instrumentation solutions, the Comos application software for digitalised production, and the XHQ operations intelligence software that gets business-related data to managers for real-time decision making.
The power of the Comos software is its ability to develop and test the operations on a mine using realistic digital models before anything is ever actually built. Comos Walkinside allows mining engineers to develop a powerful 3D virtual reality application (the digital twin in action), which can be used for immersive operator training, amongst other things. It also enables efficient data exchange with third-party applications, as well as distributed real-time collaboration across geographical and operational areas.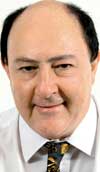 Since Comos Walkinside can deliver a complete virtual replication of a plant, it allows operators to be trained safely on high value equipment in a 3D virtual world, as if they were on a real plant but without putting any lives or equipment at risk. As such, it is an environment for educating and upskilling personnel – a key requirement if we are to grow our mining sector back to its glory days and create new jobs at the same time. Even better, it can be used to train both mine workers and maintenance personnel, and since it is an open platform, there is room to support an entire new ecosystem of application developers. There is no doubt that the Fourth Industrial Revolution will make some jobs obsolete, particularly the repetitive manual kind, but on the flip side it will also create a plethora of new opportunities. This is what we should embrace if we do not want to get left behind.
Buyers Guide 2019
A special vote of thanks from the I&C team to all those suppliers who once again took the trouble to update their company information so that we could compile the 2019 edition of the SA Intrumentation and Control Buyers' Guide. If you would like to get your hands on a copy, call +27 11 543 5800, or www.ibg.co.za
Steven Meyer
Editor: SA Instrumentation & Control
Credit(s)
Further reading:
From the editor's desk: AI in manufacturing and a virtual exhibition booth
October 2020, Technews Publishing (SA Instrumentation & Control) , News
Artificial intelligence (AI) is seen by many as the core of the Fourth Industrial Revolution (4IR), yet its vision is not fundamentally new. The ideas have been around since the mid 1950s, but progress 
...
Read more...
---
Endress+Hauser strengthens presence in the Middle East
October 2020, Endress+Hauser South Africa , News
Endress+Hauser is strengthening the Group's presence on the Arabian Peninsula with the establishment of Endress+Hauser Middle East.
Read more...
---
BMG launches online shopping platform
October 2020, Bearing Man Group t/a BMG , News
BMG has announced the launch of the company's new online shopping platform - BMG Online - which makes doing business in the industrial sector even easier.
Read more...
---
WearCheck moves to Westville
October 2020 , News
Condition monitoring specialist, WearCheck, recently relocated its head office and main laboratory from Pinetown to Westville, just outside Durban.
Read more...
---
Skyriders inspection at pulp and paper plant
October 2020 , News
Online teaser: When a pulp and paper producer required inspection of its fire-water reticulation system, it turned to rope access specialist Skyriders.
Read more...
---
Trafo supplies skid-mounted dry-type transformer
October 2020 , News
In a specialised application on a coal mine, Trafo Power Solutions recently supplied a dry-type transformer mounted on a mobile skid.
Read more...
---
OPC Foundation welcomes Emerson to its board of directors
September 2020 , News
Emerson has joined the OPC Foundation Field Level Communications (FLC) initiative to drive a holistic approach to sensor and device level communications across process and factory automation.
Read more...
---
Siemens Energy MEA Energy Week conference draws world-class line-up
September 2020 , News
Siemens Energy & partners are holding a major Middle East and Africa-focused virtual conference, entitled "Shaping the Energy of Tomorrow", from 19-21 October.
Read more...
---
BMG launches online shopping platform
September 2020, Bearing Man Group t/a BMG , News
BMG has announced the launch of the company's new online shopping platform - BMG Online - which makes doing business in the industrial sector even easier.
Read more...
---
SJC Creative wins Media Communications Specialist Award
September 2020 , News
SJC Creative, a specialised B2B and industrial media communications consultancy, was recently awarded the Media Communications Specialist Award 2020, Gauteng.
Read more...
---