printer friendly version
From the editor's desk: Ignition software, innovation or market disruptor?
July 2018
News
Innovation itself does not transform a company into a market disruptor, but it is forever a prerequisite. According to Forbes, all disruptors are innovators, but not all innovators are disruptors. Generally speaking, disruptive organisations are those that deploy new ideas in ways that completely upset the balance of power in their chosen markets. Innovative companies, on the other hand, simply look to strengthen their position in an existing market through 'doing things more efficiently'.
Airbnb is an example of a disruptive company. What Brian Chesky, Joe Gebbia and Nathan Blecharczyk identified was the opportunity to use an existing communications technology – the Internet – to create an entirely new concept in the hospitality sector. Very soon, every interested homeowner with a laptop and a spare room was transformed into a hotelier. Innovation had created a completely new market which, almost overnight, catapulted the inventor to the status of a global player in the hospitality industry.
However, the disruption did not happen because Airbnb developed an app. It happened because Airbnb identified a growing market demand and was then first to come up with a convenient way of connecting needy travellers to suited hostelry providers, anywhere in the world. The truly brilliant part is how Airbnb seized control of the customer interface without actually ever having to deliver accommodation facilities itself.
According to the ARC Advisory Group, the market for industrial software is another that is ripe for disruption. In the HMI/scada sector, for instance, solutions are evolving from standalone components into integrated platforms designed to improve overall business performance. Despite these innovations, ARC believes the market is fragile, particularly in the areas of ease of use and total cost of ownership.
In response to this potential 'gap' developing in the market, California-based Inductive Automation launched its Ignition technology in January 2010. Ignition is an open industrial software platform with a variety of web-based modules that can be combined to create custom HMI/scada and MES solutions.
According to company founder Steve Hechtman, Ignition is designed to be different. It's a new paradigm in scada, rather than a scada with new features. Most importantly, it addresses the ease of use and total cost of ownership issues identified as vulnerabilities by ARC.
The software, built on Java and SQL, will run on almost any operating system, and since it is web-based, clients can easily be added across the plant network and also over the Internet. It includes ERP, MES, asset management and track and trace capability, and uses either OPC-UA or MQTT protocols for data translation. Deployment times are quoted in minutes rather than hours, and since the system is modular, client applications can be tailored exactly, and modified as and when required.
The licensing model is also revolutionary – one fixed price no matter how many clients or tags are used. Essentially, the software is licensed by the server and provides unlimited free runtime clients, tags and development clients.
On the surface, Ignition has the characteristics of a disruptor. It is unquestionably innovative and brings with it a business model that threatens to turn the established market upside down. What remains to be seen is whether Inductive Automation can wrest control of the customer interface the way Airbnb did. With end users ExxonMobil and others in the Open Process Automation Forum concerned about the status quo in the present market for control systems, it could very well be successful. Craig Resnick's report on 'Inductive Automation's Ignition technology offers potential to disrupt the market' provides a more detailed analysis of the Ignition technology and its potential in the industrial software market.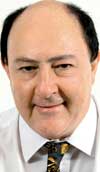 Industry guide
Posted with the magazine this month is the 2018 edition of the Technews Industry Guide: Industrial Internet of Things & Industry 4.0. Whether we like it or not, digitalisation is upon us and underneath the layers of marketing hype that surround it, there are some very real benefits on offer. We hope this handbook serves as a useful reference to help you separate the fantasy from reality.
Steven Meyer
Editor: SA Instrumentation & Control
Credit(s)
Further reading:
From the editor's desk: Is additive manufacturing poised to go mainstream?
Technews Publishing (SA Instrumentation & Control) News
As digital manufacturing technology pushes its way further towards the production floor, additive manufacturing (3D printing) is emerging as a viable option to complement the more traditional methods 
...
Read more...
---
Obituary: Steven James Meyer
January 1957 - January 2022
Technews Publishing (SA Instrumentation & Control) News SAIMC
It is with deep sadness and shock that we announce the sudden death of SA Instrumentation & Control Editor, Steven Meyer. Steven joined Technews in October 2007 in the position of Deputy Editor. His 
...
Read more...
---
ESG certified as Level 2 contributor to B-BBEE
News
Invicta Holdings Limited's Engineering Solutions Group (ESG) has achieved recognition as a Level 2 contributor to B-BBEE.
Read more...
---
Abrasive Flow Solutions celebrates its first year of business
News
Abrasive Flow Solutions (AFS) – specialists in the design and manufacture of slurry related valves – celebrates its first year of business.
Read more...
---
Microsatellite production gets a boost in Stellenbosch
TANDM Technologies News
Dragonfly Aerospace is investing in a 3000 square metre design and manufacturing facility in Techno Park, Stellenbosch.
Read more...
---
Danfoss doubles down on energy efficiency
Danfoss News
Danfoss encourages decision makers to act at COP26.
Read more...
---
Zest supplies SA's new gas helium project
Zest WEG Group Africa News
Zest WEG is supplying locally manufactured transformers, switchgear and substations to South Africa's onshore natural gas and helium project, Tetra4.
Read more...
---
Emerson announces commitment to venture capital initiative
Emerson Automation Solutions News
Emerson Ventures to focus on disruptive discrete automation solutions, environmental sustainability technologies and industrial software.
Read more...
---
Valve & Automation's new Secunda Valve Repair Centre
Valve & Automation News
On 1 November 2021, Valve & Automation's Secunda Valve Repair Centre opened at 18 Kingfisher Street, Ext 57, Secunda, Mpumalanga.
Read more...
---
SECO Process Instrumentation appointed East Rand agent for Yokogawa
SECO Process Instrumentation News
SECO Process Instrumentation, a consulting company in the fields of instrumentation, moisture analysers, pneumatics and VSD solutions, has recently been appointed as the East Rand agent for Yokogawa.
Read more...
---