printer friendly version
Glare from SICK Automation offers 'gleaming' prospects
May 2015
Sensors & Transducers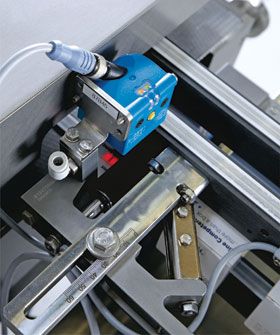 Glare from SICK Automation offers 'gleaming' prospects in the battle against counterfeiting and tampering in the field of medicinal product packaging.
The innovative gloss sensor was developed in response to the aims of EN 16679 'Packaging – Tamper verification features for medicinal product packaging'. Bosch Packaging Technology is successfully using Glare in its CPS serialisation solutions and is achieving 100% reliability in detecting transparent tamper-evident safety labels, which are applied by machine.
Glare offers a non-contact process for measuring and assessing the gloss properties of different materials and surfaces regardless of colour, transparency or pattern. In general terms, the optical property of 'gloss' in this context describes the relationship between light that is refracted non-directionally and that which is directionally reflected. When detecting transparent safety labels, the sensor distinguishes between high energy directed reflection from the plastic surface of the label and the scattered, diffuse reflections from the rougher surface of the packaging material. In contrast to some other measuring devices, this gloss sensor is economical and simple to integrate from a process technology viewpoint and can also be used without reference to norms for the purpose of measuring high, medium and low gloss in reflectometric terms. The reading is a measurement not of the gloss level in GU ('gloss units') but of the change in gloss level as given by two digital switching outputs.
Fake medicines – a global problem
The global requirement for medicine safety is served both by the CPS module from Bosch Packaging Technology and by the Glare gloss sensor from SICK. Medicines with high sales levels and those that command a high price are particularly vulnerable to counterfeiting. Whereas in the developing and emerging markets it is primarily life-saving preparations that are forged, in the rich industrial world it is chiefly lifestyle pharmaceuticals such as hormones, steroids and antihistamines. Experts estimate that more than one in ten preparations worldwide are forged; for medications available online the level is believed to be over 50%. A mature citizen wishing to keep their purchases anonymous can expect up to 95% of all the products available online to be fakes, according to research studies.
The consequences of taking fake medicines can range from the absence of any therapeutic effect to fatalities. The flood of fake preparations is also becoming more and more difficult to identify – the packaging and even its safety features are being falsified ever more frequently to a high professional standard.
Maximum protection against tampering – the aim of EN 16679:2014
The new EN 16679:2014, which is expected to be approved shortly, will expand guideline 2011/62/EU (Falsified Medicines Directive) contained in the current EN 16679:2013 to ensure the genuineness and verifiability of individual packs, and thus to prevent forged or adulterated medication and lifestyle preparations from entering legitimate distribution channels. Apart from the general demand for safety features, there is also a requirement – specified in sections 10 and 13 of the German Medicinal Products Act (AMG: Arzneimittelgesetz) and elsewhere – for 'mechanisms' that allow the exterior of individual or aggregated primary packaging (in which medical preparations are routinely distributed through the trade) to be monitored for tampering. In this respect, EN16679:2014 recommends a range of sealing options that would prevent packs from being opened and re-closed without leaving evidence, and would guarantee maximum protection against tampering.
"Alongside fibre-tear labels, which are irreversibly damaged on opening, and foil 'Void' stickers that reveal previously invisible text or patterns once they are detached, tamper-evident safety features have proved themselves effective in practice. These are transparent, self-adhesive sealing labels with perforations across the opening flaps of folding cartons," explains Daniel Sanwald, secondary packaging product manager at Bosch Packaging Technology.
Transparent labels provide evidence when folding cartons are first opened
As a form of protection against prior opening, transparent seals neither affect the pack design nor cover up the required wording or markings on the packaging. The damage to the perforation when first opened, however – i.e., the broken edge that results from opening – is instantly visible. "As an element of our CPS folding box printing and verification systems, we are offering a tamper-evident function as an optional module that can very easily be retrofitted to existing packaging and serialisation solutions," says Sanwald. "For most packs there are two label dispensers that attach the safety labels to the two opening flaps. In order to identify errors in dispensing or attaching the labels immediately, 100% reliable detection of the applied labels was essential."
Gloss – a property which often interferes with sensor function – is for Glare an advantageous characteristic of the object or surface that can be enormously useful. For a number of tasks where detection by means of colour or contrast criteria is not possible, the gloss sensor with its Delta-S technology provides a reliable detection option. Glare has a scanning range of 50 mm and uses two receiver fields and eight transmitter axes. The red LEDs transmit in various directions and create a light spot size of approximately 10 mm x 13 mm. This arrangement renders the sensor invulnerable to vibrations during machine operation and to any wobbling of the objects as they pass the sensor and thus ensures reliable detection of gloss changes between label and pack. "For us as machine engineers, it is also important that Glare should not require time-consuming configuration, or need additional illumination or protection against ambient light," says Sanwald, referring to the ease with which the gloss sensor can be integrated into a system. During operation, Glare distinguishes between directional and diffuse reflections, using an intelligent algorithm to evaluate the received signal in terms of its spatial distribution. By simultaneously observing the dynamic transitions between gloss states, Glare also achieves good signal quality.
In order to tailor it to the required detection process and to the gloss properties of the surfaces being examined, the system, which works at 500 Hz, can be set to different dynamic or static operating modes deploying single- or multi-point technology, by means of lockable controls on the device; similarly, it can be adjusted to one of three sensitivity levels. "In the CPS tamper-evident module, Glare uses a static three-point teach-in process – in other words, it evaluates the gloss properties of the safety label, the packaging and the background conveyor belt," explains Sanwald. "These three pieces of information together ensure that we can guarantee that the tamper-evident labels have been applied to the packaging with the greatest possible degree of process reliability."
IO-Link option offers powerful benefits
Glare can optionally be integrated into the machine controller by means of an IO-Link. This allows the sensor to be adjusted via the controller and a wide range of process data to be supplied during operation; this data can then be processed for specific purposes in the PLC or at the user interface. As required in a pharma environment, the configuration data is stored centrally in the machine controller. It can be transferred to the sensor when switching to a different pack or when changing devices. In addition, Glare will send an error message when it encounters contamination such as dust on the pack, so that the operator can clean it up.
Tamper-evident packing and serialisation with SICK sensor technology
Glare's innovative detection concept has allowed Bosch Packaging Technology to design the tamper-evident function of the CPS system with maximum process reliability. In addition to the Glare gloss sensor, CPS systems use a range of other SICK sensors including the DeltaPac MultiTask photoelectric sensor for complete pack aggregation, the Lector 620 code reader, the AFS60 EtherCAT absolute encoder, hand-held scanners from the IDM160 product family, the UFnext ultrasonic fork sensor, the WTB4-3 photoelectric proximity sensor and initiators from the IME08 product family.
In addition to the thorough checking of pharmaceutical packaging, Glare opens up a range of further interesting applications such as the monitoring of damp oil, adhesive or paint coatings in automobile production, the monitoring of smoothing, cleaning and polishing processes, the detection of glossy or transparent packaging in food and drink technology, the monitoring of glue applications in wood and furniture production, and the checking of coatings on assemblies and layers in the construction of solar panels and flatscreen monitors.
For more information contact SICK Automation Southern Africa, +27 (0)11 472 3733, info@sickautomation.co.za, www.sickautomation.co.za
Credit(s)
Further reading:
Accurate flow measurement on a conveyor
August 2021, SICK Automation Southern Africa , Flow Measurement & Control
Heidelberg Cement in Lengfurt, Germany, needed a solution for the accurate metred supply of secondary material on its conveying system.
Read more...
---
3D environment monitoring sensors
July 2021, SICK Automation Southern Africa , Sensors & Transducers
SICK Automation is leading the agricultural digitisation era (Farming 4.0), with its visual perception solutions for mobile agricultural machines and harvesting robots.
Read more...
---
Clean separation achieved at biomass dewatering plant
July 2021 , Sensors & Transducers
Sewage sludge is prepared for thermal processing by means of a centrifuge monitored by a comprehensive set of sensors from ifm electronic that enable precise optimisation of the plant.
Read more...
---
Pepperl+Fuchs' VariKont inductive sensors with Active Shielding Technology
July 2021, Pepperl+Fuchs , Sensors & Transducers
Active Shielding Technology from Pepperl+Fuchs enables high switching distances regardless of the installation conditions, which simplifies equipment design.
Read more...
---
RS Components extends sensor range
July 2021, RS Components SA , Sensors & Transducers
More than 340 new products added offering customers a comprehensive choice of factory automation sensor solutions.
Read more...
---
Telco sensors for refrigeration and storage
August 2021, Gail Norton Instrumentation , Sensors & Transducers
Mobile racking enables compact storage while keeping the stored pallets individually accessible. Where storage space is expensive, for example in cold stores, mobile racking is the perfect solution. Telco 
...
Read more...
---
Reliable laser measurement sensor
June 2021, Turck Banner , Sensors & Transducers
Turck Banner's Q4X600 features reliable sensing over a wide range of distances.
Read more...
---
Air humidity/temperature sensor with IO-Link
June 2021, Turck Banner , Sensors & Transducers
The combination of the two measured variables in a single device makes the CMTH-M12 ideal for use in condition monitoring systems.
Read more...
---
Sensors from ifm electronic monitor industrial cooking processes
June 2021 , Sensors & Transducers
The pasta cooker from Staedler Automation is accurately controlled using sensors from ifm electronic to ensure product quality remains at a high level.
Read more...
---
Memosens 2.0: simple, safe and connected for future-proof applications
June 2021, Endress+Hauser South Africa , Sensors & Transducers
Memosens 2.0 represents the next, future-proof step in the evolution of Endress+Hauser's Memosens technology, while maintaining all of the familiar and well-established advantages.
Read more...
---