printer friendly version
From the editor's desk: The best approach to reliability depends on the plant and equipment
Technews Industry Guide: Maintenance, Reliability & Asset Optimisation 2018
News
The profitability of asset-intensive manufacturing companies hinges to a large extent on maximum plant availability with minimal (zero) unplanned downtime. But what is the best approach for the maintenance manager to take in order to achieve this? Every type of plant is different, and their approach will also be constrained by the level of available personnel, the budget, the age of plant assets, and the typical manufacturing cycle. The traditional 'preventive maintenance' approach still has its place, but new research indicates that only a small percentage of equipment shows the age-related failure patterns best served by this method. As it turns out, the majority of plant assets can be operated more efficiently using strategies like predictive or prescriptive maintenance, both of which place the organisation higher on the maintenance maturity curve.
However, the move up the curve raises some important questions. If the plant is running well today, is it running the same as yesterday? How do you know? The answer is through some sort of measurement. In response, the variety of sensors available to monitor plant operations have multiplied in number, particularly over recent years, and the software available for data analysis has increased in complexity and functionality, which can also be accessed remotely. The combination of these can now give plant owners the operational information they need to enable optimisation of each stage of the process, along with advance warning of any possible equipment deterioration.
The challenges for the plant manager then become to identify where best to allocate the available budget for monitoring so as to provide information on maintenance related issues, and which plant operations could benefit the most from closer scrutiny to identify methods of improving performance. There are specialists in, and equipment for, many different types of plant and machinery. So the decision becomes whether the identified monitoring can be incorporated into the existing automation using a cots (commercial off-the-shelf) solution, or whether it needs to be separate. If separate, then can these systems be managed by in-house staff, or do they need support from a specialist external operation? (See 'Leading industrial organisations improve asset management with IIoT' for advice on how industrial organisations can improve their asset management strategy.)
Off-the-shelf systems can provide immediate benefits
There are many examples of easily installed solutions designed to solve common (and often costly) reliability related issues. For instance, it is almost impossible to detect a jammed or leaking steam trap in real-time as it requires a plant walk-through, and even then problems can easily be missed. No surprise then that many companies have invested in retro-fit steam trap monitoring technology connected to the control system via an industrial wireless network. Such systems are available from Emerson (www.instrumentation.co.za/54239n), Spirax-Sarco and Armstrong.
Another area where advanced warning is a benefit is in the condition of bearings on heavy-duty rotating machinery like pumps, fans and centrifuges. With sensors fitted on the housing, any high-velocity vibration accompanied by an increase in temperature can indicate bearing deterioration. Suppliers like SKF (www.instrumentation.co.za/55967n) and Schaeffler, provide simple Go/No-go alarms, as well as multi-sensor monitoring platforms for equipment as big as wind turbines, all backed by their bearing know-how. Some machines require continuous monitoring, but there are also wireless (self-powered) versions of these sensors that can be moved and placed around the plant as required.
The IIoT puts it all within reach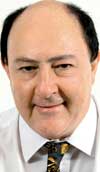 The ideas of advanced condition monitoring have been around for years, but were always limited by the need for plant-based specialists to analyse the data and detect the changes. Now, thanks to Smart Sensors and Big Data analytical software affordably connected via the Industrial Internet of Things, equipment analysis has become easier with many suppliers offering to monitor their machinery remotely as a service. Some even offer to monitor overall plant performance providing regular reports and recommendations, along with guarantees of maximised productivity and reduced operating expenses.
What we aimed for in this Industry Guide was to present as many as possible of the modern methods and technologies available to optimise overall equipment effectiveness through reliability. Hopefully you will find a few ideas in here to help you identify the best options for your own plant.
Steven Meyer
Editor: SA Instrumentation & Control
Credit(s)
Further reading:
From the Editor's desk: Digital transformation is more than just technology
May 2019, Technews Publishing (SA Instrumentation & Control) , News
While digitalisation offers new ways to increase operational efficiency, we see many companies battling to overcome the challenges. Particularly, they struggle to get past the 'pilot' stage, and are therefore 
...
Read more...
---
A technology evolution unfolds at X-Change 2019
May 2019, IS³ - Industry Software, Solutions & Support , News
IS
3
and AVEVA reimagine asset optimisation and new ways of work in tomorrow's digitally enhanced manufacturing plants.
Read more...
---
Emerson appoints new president for Middle East and Africa
May 2019, Emerson Automation Solutions , News
Emerson has appointed Vidya Ramnath as the new president for its Automation Solutions business in Middle East and Africa.    A 24-year veteran of Emerson, she was most recently vice president for Emerson's 
...
Read more...
---
Emerson and Repsol form strategic alliance
May 2019 , News
Emerson and Repsol have announced a strategic alliance to deliver advanced subsurface geophysical technologies to significantly reduce the time to prospect and produce first oil. To achieve this critical 
...
Read more...
---
Yokogawa establishes Yokogawa Norge
May 2019 , News
Yokogawa Electric Corporation has announced that it has established a subsidiary in Norway to engage in the sale of control products and provision of related services. The subsidiary, Yokogawa Norge, 
...
Read more...
---
Local manufacturing key to economic growth
May 2019 , News
The manufacturing sector in southern Africa is primed to take a more active role in supplying goods to the continent and internationally. Characterised by a pioneering diehard attitude, this sector has 
...
Read more...
---
Iritron welcomes Oculus into the I3Group
May 2019, Iritron , News
Pretoria-based Iritron, a black economic empowered technology company and subsidiary of the I
³
Group, providing quality solutions in the fields of electrical, instrumentation and control systems engineering, 
...
Read more...
---
SKF expands engineering services to address changing customer needs
May 2019, SKF South Africa , News
The last few months have seen SKF South Africa substantially expand its engineering team and services to keep in step with the company's new technology and service developments, as well as to address 
...
Read more...
---
HAW to showcase niche product lines at Nampo 2019
May 2019, Hydraulic & Automation Warehouse , News
Hydraulic and Automation Warehouse (HAW), a Bosch Rexroth South Africa Group Company, will showcase eight of its niche product lines at Nampo 2019. Formally known as Grain SA's Nampo Harvest Day, the 
...
Read more...
---
Hytec appointed service partner to Zollern
May 2019, Hytec South Africa , News
Hytec South Africa has been appointed the southern African service partner to the Drive Technology Unit of Zollern. The partnership allows Hytec South Africa to sell, execute inspections, and conduct 
...
Read more...
---