printer friendly version
Celebrating a century of global solutions and services
December 2014
News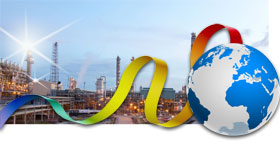 Yokogawa Electric Corporation founded in 1915 is one of the world's leading suppliers of process automation, sensors and test and measurement equipment, as well as production, asset management and plant optimisation packages. The year 2015 sees Yokogawa celebrating 100 years of working with customers to create value enabling them to be pioneers in their fields of business. For a century, the company's commitment to its customers has resulted in the continued global expansion of its business to encompass principal operations in 55 countries with over 19 000 employees and 87 subsidiaries and affiliates to support globally. Yokogawa has extensive experience in taking the customer perspective to understand and address the challenges faced, while providing a competitive advantage with industry-specific solutions.
Chemical and petrochemical industry
Each chemical company needs to consider its positioning in a highly competitive marketplace. Companies demand the production of high-quality chemicals and reliable production control systems to ensure they are first to market with new materials/products while staying cost competitive. With its extensive product portfolio, experienced systems engineers, and global sales and service network, Yokogawa has a solution for every plant process. Yokogawa's Centum VP integrated production control system flexibly accommodates a wide range of products from batch processes with its ISA-88 based batch functionality. The information management system collects, saves, displays, and reports current and historical performance data on batch production, equipment, and recipes. The Centum VP also provides a comfortable driving environment with a stable process control of chemicals produced in a continuous process. To ensure safe and efficient plant operations, Yokogawa's ProSafe-RS SIS provides all the emergency shutdown system (ESD) and fire/gas detection functionality required when dealing with flammable and explosive substances for SIL 3 applications. Yokogawa offers a wide variety of monitoring and analysis solutions ranging from a spectrometer/gas mixture analyser to an environment analyser to monitor the toxic wastewater and gas components given off as a result of chemical processes in production operations, thus ensuring a clean environment.
Petrochemical companies' needs are extremely diverse. To come out ahead in today's highly competitive marketplace, producers are striving to improve quality and productivity. Some of the challenges faced by its customers include optimising production planning due to fluctuations in raw material prices and product supply/demand, tough global competition, achieving cost competitiveness and reducing greenhouse gas emissions. Yokogawa has the tools and rich experience to build control and instrumentation solutions offering tangible benefits for petrochemical companies. The Real-time Production Organizer (RPO) is a suite of platform applications developed specifically to bridge the gap between production planning and process control, providing a fully integrated business to process (B2P) production environment. To stay competitive in the global market, the optimisation of processes throughout a plant is no less necessary than the development of a competitive product offering that meets specific user needs. Energy saving initiatives at these facilities can go a long way to achieving cost competitiveness and reducing the CO² emissions that contribute to global warming. Yokogawa's advanced process control systems make it possible for plants to operate with increased efficiency, thereby reducing energy consumption and CO² emissions.
Oil & gas industry
Yokogawa has a wealth of experience in every part of the oil & gas business, from offshore and onshore facilities to pipelines, terminals, and deepwater operations. Yokogawa provides solutions that enhance safety, ensure accurate and reliable operation, and increase plant efficiency. To help keep costs under control, it is essential to prevent equipment failures that can lead to unplanned downtime. All of the hardware and software in the Centum series field control stations (FCSs) and ProSafe RS SIS was developed by Yokogawa to maintain 99.99999% availability. Other Yokogawa products such as the Stardom utilise the error check and correct (ECC) memory to facilitate the long-term storage of gas volume data and other on-site information. Oil & gas companies are trying to stay competitive, while becoming more profitable. Yokogawa's highly accurate and stable field digital technology provides companies with a competitive advantage by reducing unplanned downtime and eliminating the need for travel to field sites. Yokogawa wireless technology takes all the time and effort out of adding measurement points. Transmitters can easily be installed in ­locations where the installation of wiring is physically difficult and/or pro­hibitively expensive. The linking of sensors over a wireless network greatly improves the efficiency of monitoring while optimising both power consumption and communications, and so maximises measurement availability. Manned and unmanned wellheads are often distributed over a wide area and connected by many types of communications infrastructure. Integrating such complex operations is a key contributor to improved efficiency. Yokogawa offers an integrated human machine interface (HMI) that enables unified monitoring and alarm handling. Distributed Temperature Sensors (DTSX) is yet another unique product from Yokogawa. A ruggedised fibre optic sensor cable is deployed on a monitored area for continuous temperature monitoring – so no discrete sensors are required. Areas of temperature change indicating process or other abnormalities can be detected for corrective action.
Food & beverage industry
Yokogawa assists leading-edge beer brewing and sugar production plants with automation solutions enabling plant-wide integration and lifecycle optimisation. Yokogawa's beer brewing applications range from raw material handling, mashing, batch management, fermentation management, filteration, beer movement, bottling and quality control during inspection or shipping. Its sugar production applications include weighing control, affination, purification, decolourisation, concentration, centrifugal control, and packaging management. Efficiency enhancements of unit operations based on coordinated automation and critical parameters control the design values to ensure better Reduced Mill Extraction (RME) %, Reduced Boiler Heat Recovery (RBHR) % and steam cane %.
Yokogawa's integrated MIS/MES systems are widely utilised to ensure its VigilantPlant concept of 'See clearly, Know in Advance and Act with Agility'. The MIS suite includes a wide range of solutions including plant data historians database, KPI dashboards, trending analysis, alarm reporting and analysis, mass balancing, downtime analysis, plant modelling, sequence of events recording for root cause investigations, power performance calculations, asset management, operator training simulators and many more. Yokogawa also specialises in blending applications to ensure the optimal quality of the final product.
In the case of MES, Yokogawa offers solutions that will enhance the skills and knowledge retention in the form of an operation efficiency improvement package (ExaPilot). These solutions are procedural based and 100% fit for purpose in batch and recipe related processes where repeatability as well as high accuracy is required with low tolerance of human error.
Renewable energy solutions
Yokogawa has long been involved in the renewable energy field since its early days and is a proven supplier of control systems, controllers, sensors, and other products for use in facilities all over the world, including biomass plants, geothermal plants, wind farms and solar thermal plants in Africa and globally. While fossil fuels are formed over long periods of time and provide a convenient, easily extracted source of energy, renewable energy sources exhibit a low energy density, and considerable effort and infrastructure is required for their extraction and use. Therefore, companies initially focused their attention on reducing facility costs, and Yokogawa channeled its energies toward the supply of products such as controllers and sensors.
In recent years, attention has shifted to the safe and efficient operation and management of existing facilities, and the scope of Yokogawa's business has similarly expanded to include control systems. At the same time initiatives are being launched to promote the use of abundant and stable supplies of new energy sources through the practical application of technologies such as combined storage cell and heat storage systems and ocean thermal energy conversion (OTEC) plants, and this is triggering increased demand for more sophisticated control system solutions.
Water & wastewater industry
The water & wastewater industries strive to reduce power consumption and water loss in order to maximise operations, operate competitively and reduce operational costs. With the demand for water consumption accelerating globally, it is essential to provide cost benefit solutions through water & wastewater plant controls and instrumentation. Yokogawa assists plant owners to identify areas of plant operations that benefit from modern controls running on the latest digital control system platform, with modern field instrumentation. Yokogawa supports a wide range of control applications in both the public and private sectors. Scada, liquid analysers, field instrumentation, plant information management systems (PIMS), together with complete solutions are available from Yokogawa for water & wastewater treatment plants, pump stations, district metering, irrigation, desalination and remote maintenance.
Conclusion
Yokogawa is highly regarded in the global marketplace as a leading control and instrumentation company and pioneer in the development of distributed control systems and field instrumentation products for the monitoring and control of processes across a broad range of production facilities. Yokogawa's vision for realising the ideal plant means the company is developing products and services that enhance productivity, make maximum use of plant assets, ensure safety, and optimise operations over the entire plant lifecycle. These solutions currently play vital supporting roles for its customers in the oil, chemical, natural gas, electric power, iron and steel, pulp and paper, pharmaceutical, food, and other industries.
For more information contact Yokogawa South Africa, +27 (0)11 831 6300, christie.cronje@za.yokogawa.com, www.yokogawa.com/za
Credit(s)
Further reading:
From the editor's desk: Is additive manufacturing poised to go mainstream?
March 2021, Technews Publishing (SA Instrumentation & Control) , News
As digital manufacturing technology pushes its way further towards the production floor, additive manufacturing (3D printing) is emerging as a viable option to complement the more traditional methods 
...
Read more...
---
Fluid Systems Africa – official Arpol partner for Africa
August 2021, Fluid Systems Africa , News
Fluid Systems Africa has recently been appointed as the official partner of Arpol flexible pipe couplings in Africa.
Read more...
---
BMG boosts solutions through Heko products
August 2021, Bearing Man Group t/a BMG , News
Through the supply and support of Heko products, BMG has boosted its solutions service to customers wanting to optimise the efficiency of their bulk material conveyor systems.
Read more...
---
Bosch Rexroth electrifies subsea process automation
August 2021 , News
Bosch Rexroth has engineered a disruptive innovation for electrically actuating valves in the subsea process industry.
Read more...
---
Endress+Hauser opens vaccination centre
July 2021, Endress+Hauser South Africa , News
As part of a model project, Endress+Hauser is operating a vaccination centre for employees in Maulburg.
Read more...
---
IS³ accelerates digital transformation through its AVEVA Select partnership
July 2021, IS³ - Industry Software, Solutions & Support , News
IS³ has announced that it has become the first AVEVA Select partner in the EMEA region, making it the only authorised distributor for AVEVA products in southern Africa.
Read more...
---
Flow Software joins the Eclipse Foundation and Sparkplug Working Group
July 2021 , News
Sparkplug governing body and industry collective welcomes an innovative industrial data analytics and information management software provider to help drive the future of the protocol.
Read more...
---
IS³ accelerates digital transformation through its AVEVA Select partnership
July 2021, IS³ - Industry Software, Solutions & Support , News
IS³ has announced that it has become the first AVEVA Select partner in the EMEA region, making it the only authorised distributor for AVEVA products in southern Africa.
Read more...
---
New B2C online shopping platform for engineering consumables
July 2021, Bearing Man Group t/a BMG , News
BMG's online shopping platform now encompasses a newly launched E-commerce service, designed especially for consumers, to boost their buying experience of engineering consumables.
Read more...
---
ETG hosts second EtherCAT Interoperability Testing Week
July 2021 , News
After the first EtherCAT Interoperability Testing Week of the EtherCAT Technology Group (ETG) met with a great response, the second event was also very well received.
Read more...
---