printer friendly version
Automation of the brewing process
August 2014
System Integration & Control Systems Design
Brewing beer requires dealing with naturally grown products that change from harvest to harvest. The brewer needs to react to these changes to produce a stable quality of beer that tastes the same every year. Following this moving target requires a lot of experience – it is the art of brewing.
Endress+Hauser can assist brewers to run their processes at a consistently high-quality on every batch. State of the art sensor technology supports the process through the increasing accuracy and repeatability of sensors which enable producers to brew their products in the most efficient manner. Optimised raw material use, energy conservation and maximum availability of the brewery are the objectives of automation.
The cleaning process is a basic requirement in the food & beverage industry. To save time and energy, sensors are developed to work in hygienic processes and adhere to the international guidelines such as FDA, 3-A and EHEDG.
Reliable measurement supplies the necessary data for the ideal process and supports suitable solutions for tracking and tracing the beer. Flowmetering supports constant recognition of extract transfer to help minimise losses.
Brew house – optimising the yield and quality of wort production
Mash tun level
Recommended for mash tun level measurement is the Deltapilot hydrostatic level sensor offering high reliability and temperature compensation. Remote electronics make access easy.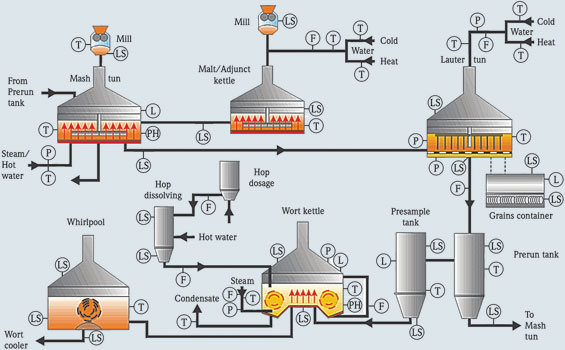 Brewhouse.
Beer loss reduction / boundary metering
The Promag H magnetic flowmeter is applied to measure the transfer of wort/beer between stages in the brewery. The goal is to identify any beer losses. For higher accuracy and also to see the yield, a Promass Coriolis mass flowmeter provides flow, totalised value and Plato° information.
Wort kettle pressure
Stable and faster boiling is achieved by applying pressure to the wort kettle. The Cerabar M pressure transmitter is ideal for this application – simple and reliable pressure control.
Boiling
In-line extract measurement with Liquiphant density ensures stable wort quality, along with optimised occupation time of the wort boil.
Steam supply
Accurate measurement of the steam supply for the mash tun and wort kettle is used to identify fouling and can have a direct impact on process time and energy cost. Prowirl 73 with steam computer gives you direct BTU readings.
Mash and foundation water
The pH must be monitored closely to achieve best quality in the mash tun. Non-glass IsFet pH sensor and retractable holders combined with Memosens technology bring highest reliability and accuracy.
Adjuncts, dextrose and enzymes
Liquefied adjuncts and dextrose must be added with high accuracy to optimise raw material usage. The Proline Promass provides the best temperature stability and accurate measurement available today. Combine this with the possibility to ensure performance between calibrations using the FieldCheck verification tool.
Lauter tun
Differential pressure across the lauter tun with ceramic membrane avoids damaged membrane due to abrasive grains. The Cerabar ceramic membrane pressure transmitters provide a reliable and highly accurate alternative. Lauter tun sparging water temperature control is critical to ensure the yield of the lauter process. Quicksens is the fastest temperature sensor on the market ensuring stable conditions.
Energy and extract loss reduction
To avoid wasting extract, lauter systems are monitored with Proline Promass F. Stopping the flush water at the exact right moment optimises flavour and saves energy during the boil.
Reliable level in silo
Avoid overfilling the spent grain silo by installing a radar Micropilot, protected from process splatter.
Filtration – production of a consistent product with minimal beer loss
Degassed water
Degassed water pH must be monitored closely. Non-glass IsFet pH sensors and retractable holders, combined with Memosens technology, ensure reliability and purity of water.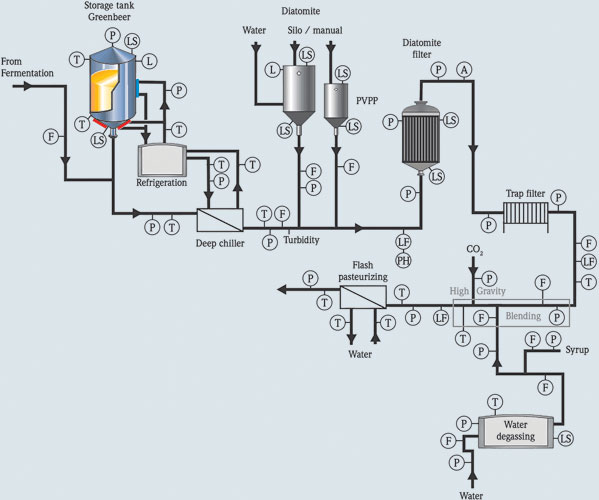 Filtration.
Dissolved oxygen measurement
Example applications are for trim cooler output, degasser, packaging release and in carbonation stage. The Endress+Hauser DO sensor provides reliable measurement with minimal maintenance.
High gravity blending
Minimise beer loss with combination of high performance metering – Promag on water and Promass 83F for combined flow including extract (Plato°) value.
Liquid storage or transfer tank
Point level detection in any liquid storage or transfer tank is done reliably without the need for calibration with the tuning fork point level switch Liquiphant.
Filter performance
Differential pressure is a common indicator for filter performance. Conventional DP transmitters or electronic DP systems provide needed reliability.
Packaging – to ensure a constant turnaround time and consumers have product in hand
Bright beer tank
The highest accuracy is required for continuous beer availability to the filler machine. Free space radar Micropilot provides this key information.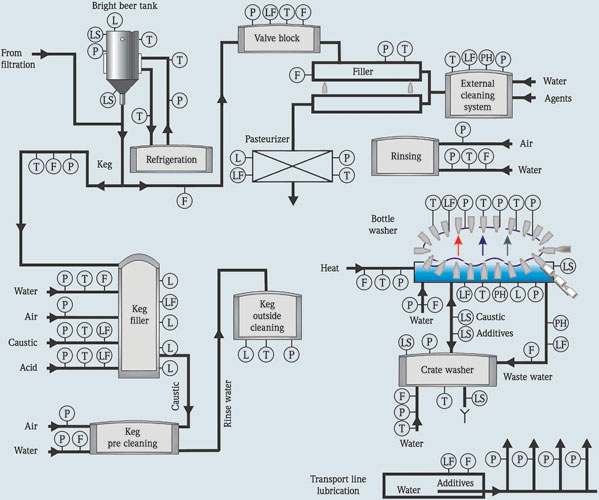 Packaging.
Bottle and keg washing
Sanitiser concentration must be monitored to ensure optimal cleaning efficiency. Endress+Hauser offers a full line of analytical sensors to monitor concentration.
Custody transfer
Documented traceable periodic verification of performance is required by industry legislation. Between calibrations of the Promag magnetic flowmeter, FieldCheck can be easily used as a verification tool to ensure performance and to generate documentation that adheres to legislation.
Fillerbowl level
To ensure complete fills and avoid beer loss the fillerbowl level must be controlled accurately. The Liquicap capacitance level sensor provides best accuracy level under fast moving conditions.
Product identification prior to packaging
Conductivity is monitored throughout the process. A key measurement is on the packaging release tank. A conductivity sensor is used to verify that the expected product is in the line. This can be combined with optical colour measurement for added safety.
Washdown
To ensure sterility and food safety during filling the whole area is often washed down with strong detergents/ sanitiser. All instruments are IP67 or better to ensure safety in washdown environment.
Wastewater treatment – reduced production losses = reduced cost of wastewater treatment
By implementing in-line quality control with checks and balances beer losses can be kept at a minimum. However, even in the best conditions, there will be wastewater generated. By applying simple measurement and controls the cost of water treatment can be minimised.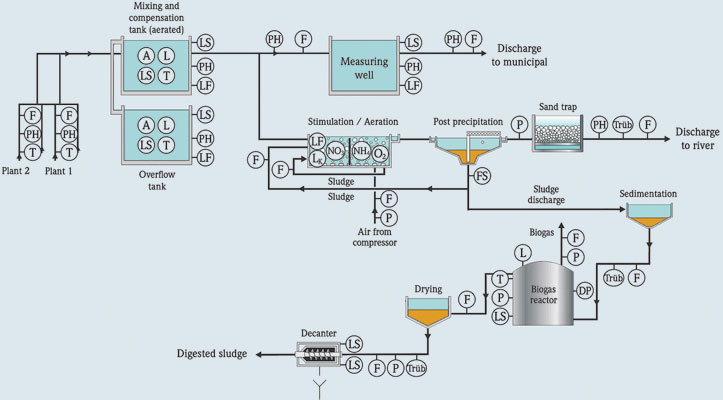 Wastewater treatment.
Step 1: Identify when and what is coming down the drain. A simple optical sensor mounted in the drainpipe can immediately identify a spill and the amount of solids (nutrients). Based on that data, implement a plan to reduce accidental spills and feed forward control for treatment plant.
Step 2: Depending on the size of the plant and the local arrangement with your municipal treatment plant you may only need to monitor and balance the pH value. pH sensors in conventional glass or non-glass combined with Memosens technology ensure maximum reliability and low maintenance.
Step 3: Measuring TOC and DO can optimise local treatment. An example is use of DO in aeration tanks to effectively reduce BOD levels while only running the blowers at most energy efficient levels. Blower air is easily monitored with thermal or vortex shedding flowmeters.
Step 4: Brewers need to monitor and keep records of outgoing volume and residual nutrients. Electromagnetic or ultrasonic flowmeters are commonly used in combination with pH, DO, chlorine and at times a TOC analyser, all captured in an electronic record such as the recorder Memograph M. Records can be managed in accordance with 21CFR part 11 and easily shared with authorities.
For more information contact Jan Swart, Endress+Hauser, +27 (0)11 262 8000, info@za.endress.com, www.za.endress.com
Credit(s)
Further reading:
Scada, IIoT, M2M and more
Technews Industry Guide: Industrial Internet of Things & Industry 4.0, Phoenix Contact , System Integration & Control Systems Design
How many buzzwords do you need to monitor your remote pump station?
Read more...
---
Increased plant availability through optimal management of field devices
Technews Industry Guide: Industrial Internet of Things & Industry 4.0, Endress+Hauser , Maintenance, Test & Measurement, Calibration
As a complete provider for process sensory mechanisms, the company has accumulated decades of expertise with a strong range of solutions and services. The new online services enable it to link this expertise 
...
Read more...
---
New KUNBUS range includes Raspberry Pi-based solutions for IIoT markets
Technews Industry Guide: Industrial Internet of Things & Industry 4.0, RS Components SA , System Integration & Control Systems Design
The KUNBUS range of products includes 14 new lines, including industrial computers, PLCs and data acquisition and human-machine interface (HMI) devices. A key series from KUNBUS is the Revolution Pi series 
...
Read more...
---
Sensirion's latest humidity and temperature sensor
Technews Industry Guide: Industrial Internet of Things & Industry 4.0, RS Components SA , System Integration & Control Systems Design
The new sensor builds upon Sensirion's SHT3x series, which offers industry-proven CMOSens Technology that for more than 10 years has delivered highly accurate units with long-term stability. Adding to 
...
Read more...
---
Endress+Hauser grows significantly
July 2019, Endress+Hauser , News
Endress+Hauser experienced strong growth across all regions, sectors and product areas in 2018. The ongoing digitalisation of the industry and positive development on international markets provided the 
...
Read more...
---
The source of life
July 2019, Endress+Hauser , Analytical Instrumentation & Environmental Monitoring
The water and wastewater industry oversees one of the world's most important resources. This calls for continuous investments in infrastructure and new technologies. When viewed from outer space, the 
...
Read more...
---
Cobot solves packaging problems
June 2019, Hybrid Automation , System Integration & Control Systems Design
A client of Hybrid Automation produces multiple products that are exported throughout the world. The plant is constantly under pressure to meet customer requirements and relies heavily on automation to 
...
Read more...
---
Endress+Hauser's IIoT technology masters the mining challenge
June 2019, Endress+Hauser , IT in Manufacturing
Endress+Hauser aims to improve the processes of its customers with regards to efficiency, quality, safety and sustainability.
Read more...
---
Endress+Hauser expands patent portfolio
June 2019, Endress+Hauser , News
The number of patents submitted by the Endress+Hauser Group continues to rise. As reported during the annual Innovators' Meeting held this year in France, the Group submitted 287 initial patents in 2018, 
...
Read more...
---
An alliance for the IIoT
June 2019, Endress+Hauser , News
At Hannover Messe 2019, seven leading suppliers from mechanical engineering, industrial automation and software announced the founding of the Open Industry 4.0 Alliance. With this cooperation, the companies 
...
Read more...
---