printer friendly version
Automation of the brewing process
August 2014
System Integration & Control Systems Design
Brewing beer requires dealing with naturally grown products that change from harvest to harvest. The brewer needs to react to these changes to produce a stable quality of beer that tastes the same every year. Following this moving target requires a lot of experience – it is the art of brewing.
Endress+Hauser can assist brewers to run their processes at a consistently high-quality on every batch. State of the art sensor technology supports the process through the increasing accuracy and repeatability of sensors which enable producers to brew their products in the most efficient manner. Optimised raw material use, energy conservation and maximum availability of the brewery are the objectives of automation.
The cleaning process is a basic requirement in the food & beverage industry. To save time and energy, sensors are developed to work in hygienic processes and adhere to the international guidelines such as FDA, 3-A and EHEDG.
Reliable measurement supplies the necessary data for the ideal process and supports suitable solutions for tracking and tracing the beer. Flowmetering supports constant recognition of extract transfer to help minimise losses.
Brew house – optimising the yield and quality of wort production
Mash tun level
Recommended for mash tun level measurement is the Deltapilot hydrostatic level sensor offering high reliability and temperature compensation. Remote electronics make access easy.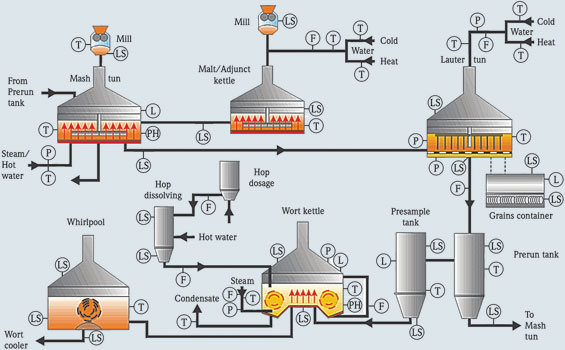 Brewhouse.
Beer loss reduction / boundary metering
The Promag H magnetic flowmeter is applied to measure the transfer of wort/beer between stages in the brewery. The goal is to identify any beer losses. For higher accuracy and also to see the yield, a Promass Coriolis mass flowmeter provides flow, totalised value and Plato° information.
Wort kettle pressure
Stable and faster boiling is achieved by applying pressure to the wort kettle. The Cerabar M pressure transmitter is ideal for this application – simple and reliable pressure control.
Boiling
In-line extract measurement with Liquiphant density ensures stable wort quality, along with optimised occupation time of the wort boil.
Steam supply
Accurate measurement of the steam supply for the mash tun and wort kettle is used to identify fouling and can have a direct impact on process time and energy cost. Prowirl 73 with steam computer gives you direct BTU readings.
Mash and foundation water
The pH must be monitored closely to achieve best quality in the mash tun. Non-glass IsFet pH sensor and retractable holders combined with Memosens technology bring highest reliability and accuracy.
Adjuncts, dextrose and enzymes
Liquefied adjuncts and dextrose must be added with high accuracy to optimise raw material usage. The Proline Promass provides the best temperature stability and accurate measurement available today. Combine this with the possibility to ensure performance between calibrations using the FieldCheck verification tool.
Lauter tun
Differential pressure across the lauter tun with ceramic membrane avoids damaged membrane due to abrasive grains. The Cerabar ceramic membrane pressure transmitters provide a reliable and highly accurate alternative. Lauter tun sparging water temperature control is critical to ensure the yield of the lauter process. Quicksens is the fastest temperature sensor on the market ensuring stable conditions.
Energy and extract loss reduction
To avoid wasting extract, lauter systems are monitored with Proline Promass F. Stopping the flush water at the exact right moment optimises flavour and saves energy during the boil.
Reliable level in silo
Avoid overfilling the spent grain silo by installing a radar Micropilot, protected from process splatter.
Filtration – production of a consistent product with minimal beer loss
Degassed water
Degassed water pH must be monitored closely. Non-glass IsFet pH sensors and retractable holders, combined with Memosens technology, ensure reliability and purity of water.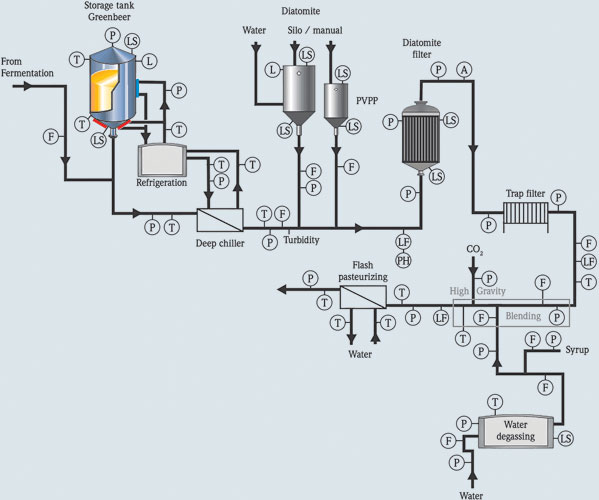 Filtration.
Dissolved oxygen measurement
Example applications are for trim cooler output, degasser, packaging release and in carbonation stage. The Endress+Hauser DO sensor provides reliable measurement with minimal maintenance.
High gravity blending
Minimise beer loss with combination of high performance metering – Promag on water and Promass 83F for combined flow including extract (Plato°) value.
Liquid storage or transfer tank
Point level detection in any liquid storage or transfer tank is done reliably without the need for calibration with the tuning fork point level switch Liquiphant.
Filter performance
Differential pressure is a common indicator for filter performance. Conventional DP transmitters or electronic DP systems provide needed reliability.
Packaging – to ensure a constant turnaround time and consumers have product in hand
Bright beer tank
The highest accuracy is required for continuous beer availability to the filler machine. Free space radar Micropilot provides this key information.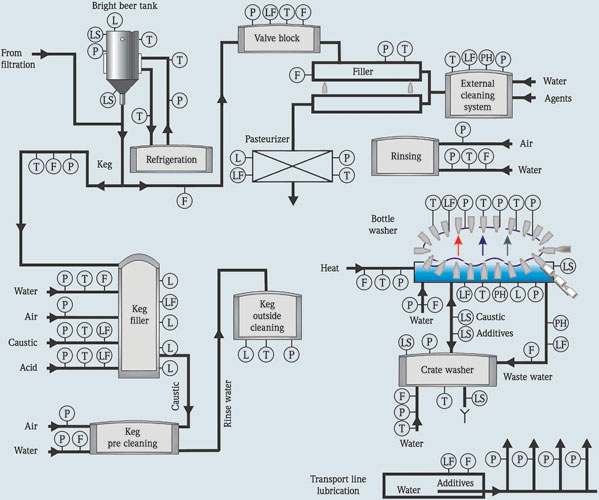 Packaging.
Bottle and keg washing
Sanitiser concentration must be monitored to ensure optimal cleaning efficiency. Endress+Hauser offers a full line of analytical sensors to monitor concentration.
Custody transfer
Documented traceable periodic verification of performance is required by industry legislation. Between calibrations of the Promag magnetic flowmeter, FieldCheck can be easily used as a verification tool to ensure performance and to generate documentation that adheres to legislation.
Fillerbowl level
To ensure complete fills and avoid beer loss the fillerbowl level must be controlled accurately. The Liquicap capacitance level sensor provides best accuracy level under fast moving conditions.
Product identification prior to packaging
Conductivity is monitored throughout the process. A key measurement is on the packaging release tank. A conductivity sensor is used to verify that the expected product is in the line. This can be combined with optical colour measurement for added safety.
Washdown
To ensure sterility and food safety during filling the whole area is often washed down with strong detergents/ sanitiser. All instruments are IP67 or better to ensure safety in washdown environment.
Wastewater treatment – reduced production losses = reduced cost of wastewater treatment
By implementing in-line quality control with checks and balances beer losses can be kept at a minimum. However, even in the best conditions, there will be wastewater generated. By applying simple measurement and controls the cost of water treatment can be minimised.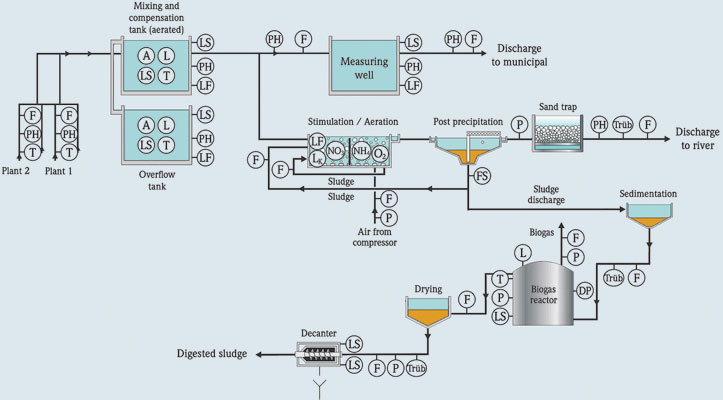 Wastewater treatment.
Step 1: Identify when and what is coming down the drain. A simple optical sensor mounted in the drainpipe can immediately identify a spill and the amount of solids (nutrients). Based on that data, implement a plan to reduce accidental spills and feed forward control for treatment plant.
Step 2: Depending on the size of the plant and the local arrangement with your municipal treatment plant you may only need to monitor and balance the pH value. pH sensors in conventional glass or non-glass combined with Memosens technology ensure maximum reliability and low maintenance.
Step 3: Measuring TOC and DO can optimise local treatment. An example is use of DO in aeration tanks to effectively reduce BOD levels while only running the blowers at most energy efficient levels. Blower air is easily monitored with thermal or vortex shedding flowmeters.
Step 4: Brewers need to monitor and keep records of outgoing volume and residual nutrients. Electromagnetic or ultrasonic flowmeters are commonly used in combination with pH, DO, chlorine and at times a TOC analyser, all captured in an electronic record such as the recorder Memograph M. Records can be managed in accordance with 21CFR part 11 and easily shared with authorities.
For more information contact Jan Swart, Endress+Hauser, +27 (0)11 262 8000, info@za.endress.com, www.za.endress.com
Credit(s)
Further reading:
TwinCAT for test rig automation
Beckhoff Automation System Integration & Control Systems Design
Flexibility and high performance in control program generation for endurance testing.
Read more...
---
IS interface for signal processing
Endress+Hauser South Africa IS & Ex
Endress+Hauser's RN series interface modules power the foundation of measurement instrument loops and safety instrumented systems.
Read more...
---
Digital transformation in mining
Endress+Hauser South Africa IT in Manufacturing
The mining industry is in a prime position to benefit from the adoption of digital technology across its operations.
Read more...
---
ABB moves toward zero-carbon mines
ABB South Africa System Integration & Control Systems Design
ABB has launched ABB Ability eMine, a portfolio of solutions that will help accelerate the move toward a zero-carbon mine.
Read more...
---
Legacy alarm upgrade for Uganda's power generator
Omniflex Remote Monitoring Specialists System Integration & Control Systems Design
In a digital age, where we rely so heavily on computer-based equipment, do we still need bulky, hard-wired annunciator panels?
Read more...
---
EtherCAT saves space in wind turbines
Beckhoff Automation System Integration & Control Systems Design
At this year's Husum Wind during September, Beckhoff demonstrated its many years of know-how and its broad product range for the wind power industry.
Read more...
---
Smart production line configuration
Iritron System Integration & Control Systems Design
In the discrete manufacturing environment, a tool change or the reconfiguration of a production line is a major cause of production loss.
Read more...
---
Temperature profiling in hydro processing units
Endress+Hauser South Africa Temperature Measurement
Precise and reliable temperature mapping of densely packed reactor catalyst beds makes an essential contribution to stable and profitable unit operations.
Read more...
---
Migration from factory automation to process engineering
Pepperl+Fuchs System Integration & Control Systems Design
Pepperl+Fuchs has developed a range of high-tech sensors that have proven themselves in discrete applications. With added explosion protection, they are also suitable for process engineering in zones 1/21 and 2/22.
Read more...
---
Totally Integrated Automation – added value in three dimensions
Siemens Digital Industries Editor's Choice System Integration & Control Systems Design
Discover everything that's in TIA, the leading automation concept from Siemens, and how it all works together to create a unique product for machine builders and industrial enterprises.
Read more...
---