printer friendly version
Industrie 4.0 and the Industrial Internet of Things
July 2014
IT in Manufacturing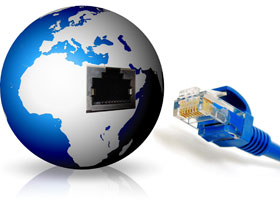 Again this year, 'Industrie 4.0' was a dominant theme at the Hanover Fair in Germany. It seemed as if every vendor's stand featured a visible reference and product tie-in to this strategic initiative of the German government that is supported by various related working groups.
We saw large, elaborate production mock-ups illustrating the way products and production robots would someday collaborate to accomplish the required production steps. In some cases, existing solutions were recast as Industrie 4.0 solutions. In other cases, significant technological advances were only revealed in one-on-one discussions at the stand. We also saw demonstration systems that showed how hardware, software, and communications technology can work in concert today to support many of the tenets of Industrie 4.0. Despite this, Industrie 4.0 should be considered an evolutionary journey, not a near-term disruption.
Industrie 4.0 provides a vision of a future factory in which smart products collaborate with smart workstations to move through production in an effective, efficient, and flexible manner. Each unit produced can be personalised and changes can be accepted throughout production. Individual production assets optimise their resource and energy consumption. Top-down planning is minimal, or even unnecessary. And production systems adapt to the needs of humans, instead of vice versa. This vision is still several years from becoming reality, but it's interesting to note that many of the needed technologies are already available, if not yet in widespread use.
Characteristics of Industrie 4.0 production systems
Among the expectations for Industrie 4.0 are replacing the traditional hierarchical structures common in today's automated production systems with cyber-physical systems (CPS) or Internet of Things technologies. These changes will enable plants in which products control their own manufacturing process and quality outcome. Some anticipated characteristics of the Industrie 4.0 manufacturing model include:
* Standalone workstations instead of a sequenced assembly line.
* Smart products move autonomously among workstations until their assembly is completed.
* Easy product personalisation.
* Dynamic reconfiguration of production routes to optimise flow.
* CPS/IoT-enabled workstations.
* Smart carriers with RFID (for example) as proxies for smart products.
* Products know what has been done to them and what needs to be done.
* Products communicate with workstations.
* Workstations collaborate with each other and with products.
* Workstations write status updates to products; can change downstream requirements.
* Workstations are outfitted with quality measurement and other sensors.
* Continuous optimisation of energy and resources.
* MES or advanced software monitors sensors, communicates with workstations and products, orchestrates workflow, analyses data and documents, traceability.
* Products may collaborate with humans for special cases, rework, or for manual operations.
* Manual operations are supported with assistive technologies such as 3D visualisation and augmented reality.
Industrial Internet of Things
Many parts of the Industrie 4.0 vision will be enabled by advances in the Industrial Internet of Things, and some of these are already available. People will participate by having access to much more data, better analytics tools and better information, and will increasingly make decisions based on the analysis generated by these resources.
Connected assets and devices
Intelligent connected assets include machines or other assets enabled with sensors, processors, memory and communications capability. These assets may have an associated virtual model and may support software-defined configuration and performance. Eventually, some intelligent assets (work-stations) will operate autonomously in collaboration with products being made and other workstations. Intelligent assets will generate more data and share information across the value chain.
Connectivity infrastructure
The Industrial IoT will offer a multi-layer infrastructure that allows information from products, sensors, devices, machines, assets and other entities to be used by other authorised systems. The glue that links devices to higher layers of the architecture is the connected device management (CDM) platform. CDM platforms, functionality goes beyond simple device connectivity and SIM card management to include device configuration, device management and creating and executing device-level applications.
In addition to the Internet, data communications between the smart assets and other entities will often leverage wireless network technologies such as LTE, ZigBee, Wi-Fi, IEEE 802.15-4, and cloud-based computing infrastructure with storage to accommodate Big Data requirements.
Software and analytics
Powerful analytics and related software will help optimise both production assets and production systems. Predictive analytics will be deployed to reduce unplanned downtime. Newly available information generated by these tools will lead to new, transformative business models supported by new applications. Instead of offering physical products for sale, companies will increasingly offer products 'as a service'. Over time, new software solutions will emerge to enable the self-organising, autonomous behaviours foreseen in the Industrie 4.0 vision.
Solutions already available
Industrie 4.0 may be seen as an evolution to a new manufacturing architecture, but that doesn't necessarily mean that manufacturers should take a 'wait and see' attitude. Some of the Industrial Internet of Things technologies and solutions are already available and can deliver benefits now. Examples include solutions for well pump monitoring and optimisation, LNG turbine engine condition monitoring, utility meter monitoring and analysis, wind farm power optimisation, mine performance, food safety assurance and water plant remote monitoring and prognostics.
For more information contact Paul Miller, ARC Advisory Group, +1 781 471 1126, pmiller@arcweb.com, www.arcweb.com
Further reading:
The Fourth Industrial Revolution
July 2020 , IT in Manufacturing
Read more...
---
Smart engineering directly in the cloud
June 2020, Beckhoff Automation , IT in Manufacturing
PC-based control is an open, central control platform that integrates a full range of machine functionality and optimally supports the implementation of highly efficient IoT-based automation strategies. 
...
Read more...
---
Creating specific SensorApps
June 2020, SICK Automation Southern Africa , IT in Manufacturing
Create individual SensorApps without programming skills and solve new automation tasks easily. Starting at the end of the year, this will all be possible in the SICK AppStudio, part of the SICK AppSpace 
...
Read more...
---
Mobile robots speed production at new smart factory
July 2020, Omron Electronics , IT in Manufacturing
A dozen industrial robots, each in individual workstations or cells, perform different steps in the manufacturing process. However, to attain the high efficiency, safety, and convenience of a modern 
...
Read more...
---
The administration of digital twins
July 2020, SICK Automation Southern Africa , IT in Manufacturing
In order to access the virtual representation of the sensor and its data, SICK Automation uses LiveConnect to deliver a standardised connection from an edge gateway to SICK Asset Hub. This visualises 
...
Read more...
---
How IIoT solutions can help your plant go digital
July 2020, Endress+Hauser South Africa , IT in Manufacturing
Everyone is talking about the new normal, a shift that is forcing companies to adopt a digital strategy, one way or another, in order to remain relevant and competitive in these unprecedented times. Many 
...
Read more...
---
Fast IT rack launched in South Africa
July 2020, Rittal , IT in Manufacturing
Introducing a new generation of IT racks
Conceived as a universal modular system, the VX IT has been designed for all common applications and its versatility makes it suitable for use as a network and 
...
Read more...
---
Engineering 4.0: Automatic dashboard generation
July 2020, Beckhoff Automation , IT in Manufacturing
Many machine builders and systems integrators looking to transform their business models have identified machine and plant process data as being a core fundamental. When it comes to tailoring new data-driven 
...
Read more...
---
Completing the remote maintenance circle
July 2020, Throughput Technologies , IT in Manufacturing
What do the world's machine builders want from a next generation remote maintenance solution? Secomea has been listening to thousands of them and has spotted a pattern. In this collective vision the 
...
Read more...
---
Tools keep HVACR professionals on the cutting edge
June 2020, Danfoss , IT in Manufacturing
Danfoss has announced that Refrigerant Slider, its popular P/T calculation app that has over 2 million downloads, will transform into Ref Tools, an essential, all-in-one mobile app for air conditioning 
...
Read more...
---