printer friendly version
Industrie 4.0 and the Industrial Internet of Things
July 2014
IT in Manufacturing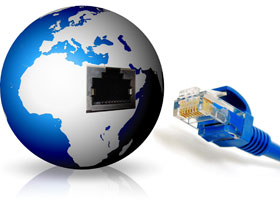 Again this year, 'Industrie 4.0' was a dominant theme at the Hanover Fair in Germany. It seemed as if every vendor's stand featured a visible reference and product tie-in to this strategic initiative of the German government that is supported by various related working groups.
We saw large, elaborate production mock-ups illustrating the way products and production robots would someday collaborate to accomplish the required production steps. In some cases, existing solutions were recast as Industrie 4.0 solutions. In other cases, significant technological advances were only revealed in one-on-one discussions at the stand. We also saw demonstration systems that showed how hardware, software, and communications technology can work in concert today to support many of the tenets of Industrie 4.0. Despite this, Industrie 4.0 should be considered an evolutionary journey, not a near-term disruption.
Industrie 4.0 provides a vision of a future factory in which smart products collaborate with smart workstations to move through production in an effective, efficient, and flexible manner. Each unit produced can be personalised and changes can be accepted throughout production. Individual production assets optimise their resource and energy consumption. Top-down planning is minimal, or even unnecessary. And production systems adapt to the needs of humans, instead of vice versa. This vision is still several years from becoming reality, but it's interesting to note that many of the needed technologies are already available, if not yet in widespread use.
Characteristics of Industrie 4.0 production systems
Among the expectations for Industrie 4.0 are replacing the traditional hierarchical structures common in today's automated production systems with cyber-physical systems (CPS) or Internet of Things technologies. These changes will enable plants in which products control their own manufacturing process and quality outcome. Some anticipated characteristics of the Industrie 4.0 manufacturing model include:
* Standalone workstations instead of a sequenced assembly line.
* Smart products move autonomously among workstations until their assembly is completed.
* Easy product personalisation.
* Dynamic reconfiguration of production routes to optimise flow.
* CPS/IoT-enabled workstations.
* Smart carriers with RFID (for example) as proxies for smart products.
* Products know what has been done to them and what needs to be done.
* Products communicate with workstations.
* Workstations collaborate with each other and with products.
* Workstations write status updates to products; can change downstream requirements.
* Workstations are outfitted with quality measurement and other sensors.
* Continuous optimisation of energy and resources.
* MES or advanced software monitors sensors, communicates with workstations and products, orchestrates workflow, analyses data and documents, traceability.
* Products may collaborate with humans for special cases, rework, or for manual operations.
* Manual operations are supported with assistive technologies such as 3D visualisation and augmented reality.
Industrial Internet of Things
Many parts of the Industrie 4.0 vision will be enabled by advances in the Industrial Internet of Things, and some of these are already available. People will participate by having access to much more data, better analytics tools and better information, and will increasingly make decisions based on the analysis generated by these resources.
Connected assets and devices
Intelligent connected assets include machines or other assets enabled with sensors, processors, memory and communications capability. These assets may have an associated virtual model and may support software-defined configuration and performance. Eventually, some intelligent assets (work-stations) will operate autonomously in collaboration with products being made and other workstations. Intelligent assets will generate more data and share information across the value chain.
Connectivity infrastructure
The Industrial IoT will offer a multi-layer infrastructure that allows information from products, sensors, devices, machines, assets and other entities to be used by other authorised systems. The glue that links devices to higher layers of the architecture is the connected device management (CDM) platform. CDM platforms, functionality goes beyond simple device connectivity and SIM card management to include device configuration, device management and creating and executing device-level applications.
In addition to the Internet, data communications between the smart assets and other entities will often leverage wireless network technologies such as LTE, ZigBee, Wi-Fi, IEEE 802.15-4, and cloud-based computing infrastructure with storage to accommodate Big Data requirements.
Software and analytics
Powerful analytics and related software will help optimise both production assets and production systems. Predictive analytics will be deployed to reduce unplanned downtime. Newly available information generated by these tools will lead to new, transformative business models supported by new applications. Instead of offering physical products for sale, companies will increasingly offer products 'as a service'. Over time, new software solutions will emerge to enable the self-organising, autonomous behaviours foreseen in the Industrie 4.0 vision.
Solutions already available
Industrie 4.0 may be seen as an evolution to a new manufacturing architecture, but that doesn't necessarily mean that manufacturers should take a 'wait and see' attitude. Some of the Industrial Internet of Things technologies and solutions are already available and can deliver benefits now. Examples include solutions for well pump monitoring and optimisation, LNG turbine engine condition monitoring, utility meter monitoring and analysis, wind farm power optimisation, mine performance, food safety assurance and water plant remote monitoring and prognostics.
For more information contact Paul Miller, ARC Advisory Group, +1 781 471 1126, pmiller@arcweb.com, www.arcweb.com
Further reading:
Siemens' software for digital transformation of automotive design
September 2021, Siemens Digital Industries , IT in Manufacturing
Model-based development process and systems are used in Japan and globally to adapt to the biggest automotive transformation in 100 years.
Read more...
---
Is track and trace through the factory a waste of time?
September 2021, Iritron , IT in Manufacturing
Modern track and trace solutions are purpose-built to introduce as little disruption to the existing production process as possible, while also being flexible enough to cater for plants that range from fully manual to fully automated.
Read more...
---
Modularity for scalability
September 2021, RJ Connect , IT in Manufacturing
Businesses are looking for versatile solutions that are easy to maintain to ensure smooth operations while keeping costs down.
Read more...
---
Saryx launches TMP
September 2021 , IT in Manufacturing
The digital transformation that has swept the world in the past few years has fundamentally altered most people's approach to technology, with an increasing number seeking the ability to manage their 
...
Read more...
---
Secure boundaries enhance industrial cybersecurity
September 2021, RJ Connect , IT in Manufacturing
When enhancing cybersecurity, it is important to understand how industrial systems are exchanging data and how they connect to IT-level systems.
Read more...
---
Siemens drives digital transformation at virtual Smart Mining forum
September 2021, Siemens Digital Industries , IT in Manufacturing
With its motto: 'On the road to the digital future', Siemens hosted its virtual Smart Mining forum from 3-5 August.
Read more...
---
Deep-learning AI made accessible
September 2021, SICK Automation Southern Africa , IT in Manufacturing
SICK Automation has launched a set of deep-learning software and services called dStudio, making artificial intelligence (AI) more accessible to the southern African market. This software works with machine 
...
Read more...
---
How safe are our factories? Part 1: Cybersecurity for operational technology.
August 2021, Wolfpack Information Risk , IT in Manufacturing
If companies are regularly being subjected to cyber hacks overseas, isn't it only a matter of time before someone with enough motivation, skill and resources targets us?
Read more...
---
HSEC Online simplifies health and safety compliance for companies
Technews Industry Guide: Sustainable Manufacturing 2021 , IT in Manufacturing
This automated, cloud-based solution provides a transparent, collaborative workflow platform which eliminates most of the manual complexities of health and safety document management compliance.
Read more...
---
Creating factories of the future
Technews Industry Guide: Sustainable Manufacturing 2021, SEW-Eurodrive , IT in Manufacturing
Raymond Obermeyer, managing director of SEW-Eurodrive South Africa, explains that Industry 4.0 includes all the opportunities for digitally networked production.
Read more...
---