printer friendly version
Harnessing the power of connection
July 2014
Enclosures, Cabling & Connectors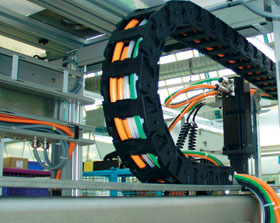 Cable harnessing is a method of binding cables of the same or different type into one structured assembly, known as a cable harness. Typically they are arrays of wire or cable that transmit electrical power and mechanical or electrical signalling.
The Lapp Systems Harnessing Service allows customers to utilise the company's extensive product range of over 40 000 articles which are suitable for industry applications from connection and control to flexible robotic applications and data transfer. On some harnesses, there may also be a need to source third-party connector accessories; this is where the Lapp Systems team excels with its extensive product knowledge and supplier base.
Cable assembly usage
Cable assemblies are used in many industries across the world. Due to the benefits, such as increased rigidity and less chance of short circuit, they are ideal for many different applications and can be adapted to a variety of technologies and environments.
Cable harnesses are commonly used in construction machinery, the automobile industry and industrial lighting and control applications. In cars, planes and spacecraft, where there is typically a very high volume of wiring and cables, cable assemblies are perfect for saving space whilst offering increased protection to the individual cables in the structure. In the case of aircraft, there can be miles of cabling which would cause a logistical nightmare without the use of harness technology. The process of fitting a cable harness makes things much quicker and easier due the fact that there is only one cable to fit.
Cable harnessing and wire assembly is also used in electrical architecture and in the entertainment industry. When there is a mix of light and sound cables in tandem for the same act or show, it makes the process and the logistics much simpler if a pre-formed cable assembly is supplied.
Cable harnessing specialities from Lapp

Cable harnessing is specific to an individual applications' requirement and each component can be chosen to produce the perfect cable harness. Each wire assembly can be individually tailored in terms of materials, size, weight and a host of other characteristics.
The outer sheath, or jacket, plays a big part in cable harness design. The cables and conductors are optimised for high and low bending cycles, compression force, high traction, and for application in waters, oils, acids and other aggressive substances. By using the correct material it allows application both in and outdoors and in dry, moist, hot and cold environments.
Cable harnessing is broken down into three main areas
Motor and drive assemblies
Motor and drive cable assemblies are the perfect solution for static and flexible cable installations. There are wire assemblies for use in multi-axis machines and cable chains as well as other high motion applications, or indeed for stationary technologies such as conveyor belts and systems.
Motor and drive cable assemblies can be amended to the exact specifications and by applying the most relevant and secure cable configuration users are guaranteed to get a safe and reliable harness.
Populated chain assembly
Custom populated cable chain assemblies are pre-fitted with connectors and are for use in a variety of applications in the drive industries and in automation control. The wide spectrum of application permits high flex operations through to standard fixed assemblies, and through individualised design processes it is easily possible to meet the unique demands of every application.
Populated cable chains are widely utilised in automation control industries and in robotics. The major benefits of their application are both the cost and time saved through their ease of use. Generally, all leading suppliers and servicers of cable harnesses will perform the installation process. This ensures less downtime whilst installing and increased reliability and lifetime of the assembly.
Box build assembly
Box build cable assembly is an all-round service for complex products and technologies that have the requirements of individual integration and specialised configuration.
By working from schematics, design briefs and end user interface information it is possible to construct turnkey box building applications that can be individually tailored to any precise or specialised system requirement.
Custom cable assembly
Using custom cable assembly it is possible to make any array of wire or cable to produce the ideal assembly for every specification.
Due to the individual variables that make up a sophisticated cable assembly, it is always possible to manipulate the technology advantages. There is a plethora of choice in terms of materials, interconnection requirements, voltage and flexibility. By hand picking each separate component users are guaranteed to get the right product.
Developing a concept up to production stage can be extremely time consuming and costly. That is why leading wire assembly suppliers like Lapp offer a team of design experts that can alleviate any cabling tasks and allow the core design team to concentrate on the other critical aspects.
Cable harness manufacturer
Across a wide range of industries, Lapp Group is working with clients to help them create the most effective harnessing systems. From aircraft, automation and oil, to food, beverage, robotics and renewable energy, Lapp offers guidance and services to help create the most effective cable technology solutions.
Typically, a cable harness assembly is manufactured according to geometric and electrical requirements. The cables are cut with specialised cutting machines, after which the ends of the cables are stripped and the relevant types of terminals or connector housings are installed.
Cables are grouped together and clamped onto a board that relates to the specification, this is the way the cable harness is created. Once the cable harness manufacturer has completed the job, assembly can be fitted directly onto or into the application.
Depending on the client's requirements, specific features can be included, such as low smoke halogen free properties, fire resistance, armour, flexibility and more. Much of the process is undertaken using highly specialised equipment that allows automatic processing such as routing cables through sleeves, inserting one sleeve into another and fastening strands along with tape.
Cable harness manufacturing is a specialist service that can benefit a business in any type of industry. Lapp has an outstanding range of customised cable harnessing solutions with many different aspects that can be covered by the expert team.
In short, with over 50 years of success in the cabling sector, Lapp has the necessary know-how to deliver exactly what customers require, when they require it. With over seventeen production sites across the world, the company's engineers are capable of implementing the requirements exactly on specification.
The Lapp Cable Harnessing Service enables Lapp to be a sole supplier for all cabling requirements. This reduces lead time and cost through turnkey solutions that meet application specific needs, from concept design through prototype, production and testing.
By providing assistance in the design and assembly of servo and motor drive cables, wire harnesses, junction and control panels, control panel remote access ports, populated cable track assemblies, switchboxes and non-standard industrial harness products, the Lapp Group is helping its customers to harness the power of connection.
Credit(s)
Further reading:
Rittal and Eplan join forces to add value for customers
September 2021 , Enclosures, Cabling & Connectors
By joining forces, sister companies Rittal and Eplan deliver solutions to speed up processes and boost productivity.
Read more...
---
Adjustable cable gland is easy to fit
August 2021 , Enclosures, Cabling & Connectors
Pratley, produces a uniquely adjustable cable gland that fits any size armouring.
Read more...
---
Legrand's Atlantic stainless steel cabinets
July 2021, Legrand , Enclosures, Cabling & Connectors
Legrand's Atlantic stainless steel cabinets have been designed for safe use in corrosive conditions and in areas requiring a high level of hygiene.
Read more...
---
Clean air for control systems
June 2021 , Enclosures, Cabling & Connectors
RTS Inertial Spin Filters provide an effective maintenance-free solution to dust problems in MCC rooms, transformer rooms, control rooms and other industrial spaces.
Read more...
---
Cable locator for failsafe cable fault diagnostics
May 2021, Comtest , Enclosures, Cabling & Connectors
What sets the UAT-600 Series apart from other underground locators is its CAT IV 600 V safety rating.
Read more...
---
Pratley develops another cable gland world-first
April 2021 , Enclosures, Cabling & Connectors
Pratley is well-known in the market for producing world-class electrical termination products.
Read more...
---
Legrand's Starfix ferrules, crimping tools and applicators
May 2021 , Enclosures, Cabling & Connectors
Legrand's Starfix ferrules, cable crimping tools and applicators are designed for new installations and renovations in commercial installations, offices and domestic environments.
Read more...
---
Monitoring for control cabinets
September 2020, Turck Banner , Enclosures, Cabling & Connectors
The IM18-CCM is particularly suitable for OEMs wishing to provide basic condition monitoring values in their IT system. It detects critical states of the control cabinet directly in the field.
Read more...
---
Automated marking of terminal strips
August 2020, Phoenix Contact , Enclosures, Cabling & Connectors
The Mark Master terminal strip marking system from the Phoenix Contact ClipX product range uses patented high-speed technology for the fast and efficient processing of marking tasks. In control cabinet 
...
Read more...
---
Rittal's range of compact and small enclosures
August 2020 , Enclosures, Cabling & Connectors
After more than 50 years and 35 million enclosures sold, Rittal has introduced its small and compact enclosures in the form of the AX and KX series. According to managing director of Rittal South Africa, 
...
Read more...
---