printer friendly version
ABB's infrared absorption technology
May 2014
Analytical Instrumentation & Environmental Monitoring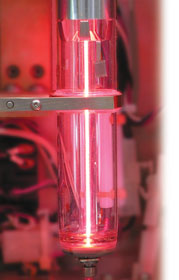 FTIR (Fourier Transform Infrared) technology has the capability to measure more than 100 of the 189 hazardous air pollutants (HAPs) listed in Title III of the Clean Air Act Amendments (USA) of 1990. In fact, when these Amendments were passed, existing measurement methods could only measure 40 of these HAPs.
As a result, FTIR technology has proved mission critical in the field of environmental monitoring. In 1995, scientists from the United States Geological Survey (USGS) mounted an FTIR spectroscope on a plane to measure gases being discharged from the caldera of one of the most active volcanoes on earth – Kilauea in Hawaii.
In the last few decades, with more and more regulation coming into force, ambient air quality has markedly improved in most Western countries. However, the "Global Burden of Disease" program of the World Health Organization (WHO) estimates that worldwide, 6.,4 million lives are lost every year from long-term exposure to ambient particulate matter (APM). Thus, environmental regulations continue to tighten.
Stricter environmental regulations and advanced technologies ensure that the emissions of harmful substances from domestic waste, hazardous waste and sewage sludge incinerators, cement plants and power stations continue to decrease. As the concentrations of harmful substances in waste gases fall, the demands on the measuring technology rise.
In addition to this, demand on the stability of an instrument over its entire operating lifetime increases at the same time as maintenance costs are being minimised. The ABB multi-component measuring system ACF-NT is an example of how innovative technologies enable the safe and stable measurement of gas concentrations in the parts per million (ppm) range.
The imperatives of automated measuring systems (AMS) for continuous emission measurement
Legal provisions for the limitation of emissions have a long tradition in Germany whose standards have been setting the trend in Europe since the 1980s.
With the introduction of EU Directives 2001/80/EC and 2000/76/EC, emission monitoring is subject to EN 14181 'Stationary source emissions – Quality assurance of automated measuring systems'. Compliance with the EN 14181 standard is a legal requirement under both the Large Combustion Plant Directive (LCPD) and the Waste Incineration Directive (WID). All vendor-supplied equipment must be EN 14181-compliant.
The quality assurance levels QAL1/2/3 were introduced to ensure this compliance.
Quality level QAL3 obliges the operator to carry out regular checks for precision and drift at the zero and end-point of his analyser measuring range. These checks are typically carried out during the maintenance interval. Longer intervals between routine maintenance minimise costs.'
ACF-NT capabilities for reducing downtime and hence, cost of operation
The range of application of the ACF-NT measuring system, which is based on the FTPA 2000 FTIR spectrometer, includes complex applications for emission monitoring in domestic waste, hazardous waste and sewage sludge incinerators, and in cement plants and power stations with co-combustion. These are pursuant to European Directive 2000/76/EC, and incorporate its quality demands pursuant to EN 14181. The loss-free measurement of the lowest concentrations of water-soluble components is achieved by seamless heating of the system to 180°C – from the probe element to the analyser.
A low-maintenance electronically controlled air injector system conveys the sample gas from the chimney stack to the analysers at constant pressure. In order to avoid pressure dependencies, which could arise from an uncontrolled feed pump, no moving parts are employed.
The spectrometer measures gaseous pollutants such as HCl, CO, NO and SO2 as well as NH3, H2O, CO2, HF, N2O and NO2. Measurements at very high moisture content are possible using a chemometric model optimised for refuse incineration processes. For measurements of O2 a zirconia sensor and organic Ctot with a flame ionised detector (FID) are optionally integrated in the system and are supplied with sample gas from the same sampling system.
In addition to the use of conventional analogue and digital interfaces, a modern interface concept offers the possibility of serial transmission of data. This can be by Modbus or Profibus, for instance, for a simplified connection to an emission analysis computer or control system. Data can also be transmitted via standard Ethernet and remote maintenance can be carried out via a telephone modem connection, in order to minimise maintenance costs.
The long intervals between maintenance and the resultant low operating costs are a particular advantage of the ACF-NT. Significant costs are incurred for adjustment during the maintenance interval, especially in multi-component measuring systems. The operating costs are estimated to be approximately 70% of the life-cycle costs of an analyser system. In particular, checking water-soluble sample components such as HCl, NH3 or HF means an increased outlay for the provision of a calibration gas generator for the test equipment. Typically, the time taken for complete adjustment of a measuring system with up to 12 sample components is approximately eight hours.
FTIR measurement technique with emphasis on optimum signal processing and stability
FTIR spectrometry is a full-spectrum method. This means that absorption processes in a wide spectral range are used for analysis of the substances and not just narrow wavelength ranges, as is the case for interference filter, gas filter correlation or dispersive photometry.
In the Michelson interferometer in the FTIR instrument each individual wavelength is modulated in extremely small sections, corresponding to the resolution of the instrument by means of interference. The modulated infrared radiation, as a sum of all the modulated (encoded) wavelengths, known as an interferogram, undergoes selective changes in the intensity distribution during interaction with the material, as it passes through the measuring cell filled with gas. The complete IR spectrum is calculated from the interferogram by means of a Fast Fourier Transformation. All the individual selective changes in intensity, based on emission absorption in the sample, can be qualitatively and quantitatively evaluated as a result.
Theory put to test
The applied theoretical stability considerations are confirmed by the experience gained from more than 600 systems that have been installed throughout the world since 1993. It has emerged from scheduled tests with test gases in the maintenance interval that the ACF-NT permits adjustment intervals of over a year. All the deviations identified so far can be attributed to incorrect handling in the test, incorrect adjustment, or the use of test gases of incorrect concentrations.
ABB's own experience concerning the stability of the FTIR spectrometer is borne out by two independent long-term studies carried out by the German Technical Inspection Authorities (TÜV) of the Rhineland region. The latter study tested the predecessor of the current ACF-NT for the first time in 1995, and the current ACF-NT system in 2004. Two systems were tested in parallel in each of the field tests. The first long-term study ran for six months, the second for 12 months. Both field tests met the respective requirements with regard to stability and availability.
Field test results for two lines of a refuse incineration plant
The new European Standard EN 14181 defines the maintenance interval as the maximum permissible period within which compliance with the stated values of the process variables is guaranteed without external maintenance requirement, for example refilling, calibration or adjustment. According to this definition, a maintenance interval of 12 months results for the current ACF-NT on the basis of the field test of 2004–5, ie ACF-NT is a measuring system with proven stability in field tests of one year. Tests with test gases only have to be carried out once a year.
Remote maintenance with the AnalyzeIT Explorer
The AnalyzeIT Explorer can be used in Ethernet TCP/IP networks to display all available data in a suitable manner and make it available for remote maintenance. The extent of servicing work can therefore be reduced and reliability increased by means of 'look ahead' maintenance. This results in increased system availability through rapid troubleshooting and reduced cost through planned, predictive maintenance.
Operational stress can accelerate deterioration of equipment in a corrosive environment and move both equipment and processes to the brink of failure. Limiting stresses within the operating environment maintains reliability. Hence, predictive maintenance is a crucial feature for leading environmental monitoring instruments for air quality and industrial emissions.
The ACF-NT is a leading environmental monitoring system. It is proven to be safe, stable, industry-compliant and capable of detecting gases in the lowest ppm concentrations.
Download the full White Paper at http://instrumentation.co.za/+C18800
For more information contact Jacolize Goosen, ABB South Africa, +27 (0)10 202 5000, jacolize.goosen@za.abb.com, www.abb.com/za
Credit(s)
Further reading:
Optimised fuel blending
May 2019, Yokogawa South Africa , Analytical Instrumentation & Environmental Monitoring
This risk has led the refiners to give more than the norms specify, resulting in a giveaway on quality and profit. The use of near infrared (NIR) technology has helped refiners get real-time data to ensure 
...
Read more...
---
Inline analytical technology for liquor process control
May 2019, Morton Controls , Analytical Instrumentation & Environmental Monitoring
One of the most important processes in the pulp and paper industry is the alkaline sulphate process, where lignin is separated from the fibrous material. Recycling of the chemicals used is vital for environmental 
...
Read more...
---
Gas monitors
Africa Automation Fair 2019 Preview , Analytical Instrumentation & Environmental Monitoring
RTS Africa Technologies is exhibiting LaserGas gas monitors from Neo Monitors.    These are ideal for accurate measurement of specific components in gas mixtures such as flue gases. The NEO LaserGas monitor 
...
Read more...
---
Spectrum analysers for RF signals
Africa Automation Fair 2019 Preview, Accutronics , Analytical Instrumentation & Environmental Monitoring
Accutronics is exhibiting the SignalShark real-time spectrum analysers for the detection, analysis, classification and localisation of RF Signals. These are on show at Stand D06. Features include a frequency 
...
Read more...
---
In-situ gas analyser
Africa Automation Fair 2019 Preview, Microsep , Analytical Instrumentation & Environmental Monitoring
Mettler Toledo Ingold's GPro 500 TDL system is ideal for tough and challenging gas measurement applications and is designed for in-situ petrochemical processes and safety applications. TDL gas analysers 
...
Read more...
---
Process filtration solutions
Africa Automation Fair 2019 Preview , Analytical Instrumentation & Environmental Monitoring
National Separations is showcasing its range of liquid and gas filtration systems supplied by Amazon Filters at Stand B10. Amazon Filters is a global supplier of a comprehensive range of microfiltration 
...
Read more...
---
Drone-based gas leak detection
May 2019, ABB South Africa , IS & Ex
Leaks in gas distribution and transmission pipelines present serious safety risks and result in lost revenue and profits to producers. The ABB Ability mobile gas leak detection system is a digital solution, 
...
Read more...
---
A huge range of process instrumentation
Africa Automation Fair 2019 Preview, Danntech , Analytical Instrumentation & Environmental Monitoring
Danntech Process Instrumentation's recently updated Vodex-200A for measuring the velocity of detonation of explosives is on show at Stand F03. Danntech has more than 80 products in local production, with 
...
Read more...
---
Control costs with ABB drives
Africa Automation Fair 2019 Preview, ABB South Africa , Motion Control & Drives
ABB is showcasing the ACS580 and ACS480 drives, which offer ready-made solutions for a wide range of applications. Along with energy savings, these drives contain enough functionality to replace various 
...
Read more...
---
A leader in process measurement
Africa Automation Fair 2019 Preview, PREI Instrumentation , Analytical Instrumentation & Environmental Monitoring
PREI Instrumentation is a leading supplier and technical support specialist for on-line, portable and laboratory analysers for the potable, waste and industrial water markets, as well as rotating machinery 
...
Read more...
---