printer friendly version
Modicon M580
April 2014
PLCs, DCSs & Controllers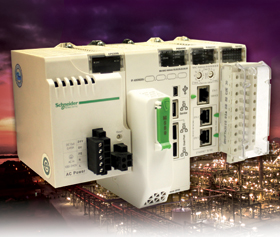 Schneider Electric's new Modicon M580 is the world's first ePAC – a PAC (programmable automation controller) based entirely on Ethernet. A pioneering automation controller, it fills the void between a universal Ethernet backbone, a distributed control system and a PAC. Importantly, it is also the key component of the energy management company's integrated automation architecture: PlantStruxure.
Interoperability becomes less critical
According to the ARC Advisory Group, the various multi-disciplinary functionalities needed to run plants, process organisations – within industries such as water and wastewater, food and beverage, metals and mining, hydropower, cement and glass – require secure, reliable interoperability among the automation products. The ARC Advisory Group says further that this need for functional interoperability has resulted in automation solutions that employ a multitude of different drivers, networks, and standards.
It argues, however, that interoperability becomes less critical if a single product can provide a large percentage of the required functionality. This has led to the growth of the multi-disciplined controller, which ARC dubbed the PAC back in 2002.
In its report focusing on Schneider Electric's innovative ePAC, titled 'Schneider Electric introduces first ePAC, combines PAC with Ethernet backbone', ARC Advisory Group highlights that system modernisation issues are becoming more important than ever. Several years ago, ARC estimated that worldwide, about $65 billion in installed process automation systems are reaching the end of their useful life, with most over 20 years of age. One of the major issues linked to this ageing equipment is the inability to meet the requirements for today's emerging threats, such as the inclusion of a sufficient cyber security scheme. This figure is likely to be even larger today.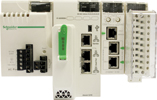 When evaluating automation system modernisation projects, ARC states that end users should seek solutions that minimise downtime and risk, while providing a tangible business value proposition that will have a real economic impact on their business. In many instances, ePACs will represent a viable, easily cost-justifiable modernisation solution.
ARC also recommends process end users follow a step-by-step approach that allows them to evolve the components of their legacy systems that have the greatest impact on their processing operations, while preserving the components that have not yet outlived their useful life. "Process end users require an approach that leverages automated tools and a range of services targeted at reducing or even eliminating the downtime required to complete a migration project. When modernising from PAC to ePAC, end users should consider the benefits of selecting an ePAC that embeds all legacy technology in its microprocessor to help ensure compliance with older ranges," says the ARC report.
"With today's process plants requiring more rapid changeover capabilities as the life cycles of the products produced continue to shrink and consumer demand constantly shifts, it is critical to be able to change automation configurations and architectures on the fly, without stopping the process. As a hub for both real-time control and information, PACs can benefit from being designed with an open Ethernet backbone to optimise connectivity and communications, increase bandwidth, and provide a high level of security. PACs must also have an architecture geared for maximising production flexibility, data and information transparency, and openness for diagnostics performed both locally and remotely. This has led to the next evolution of the PAC, an evolutionary new concept defined by Schneider Electric as the ePAC."
The benefits of open networking
The Modicon M580 gives industrial plant teams the power to design, implement and run a process that actively employs all the benefits of open networking, such as increased visibility to key process data and events, enhanced transparency and consistency of information, and large capacity for data traffic.
The core of the new cutting-edge Modicon M580 is the SPEAr microprocessor that embeds inside the controller standard unmodified deterministic Ethernet and applies it to all communications, including all the way to the backplane.
According to Steve Gerber, product marketing manager at Schneider Electric South Africa, the result is an outstanding level of transparency and performance, without any need for manual configuration of each connected device.
The SPEAr technology applies Ethernet communications to the fieldbus, control bus, and internal backplane bus and, consequently, to all the connected equipment and modules. Ethernet is also automatically applied to every device in the network, such as electrical distribution, low-voltage boards, and energy management functions to form a complete and open system.
As a result, many types of data are aggregated seamlessly and made available to the operators to help them:
* Rapidly diagnose and identify root causes.
* Access consistent and accurate data for timely decisions.
* Make informed decisions about energy management.
* Reduce downtime through detailed insight into alarms and events.
Marc Lafont, marketing director for Modicon M580 at Schneider Electric, adds: "The ultra-powerful 600 MHz ARM dual-core processor is the digital engine inside the M580. It delivers an extremely high level of computing power and connectivity, enabling us to build safety features right into the controller and enhance its resistance to cyber threats. In addition, with integrated change configuration on the fly, plant teams no longer need to stop their process to add a drop or module, change architecture or even modify the application."
Easy upgrade path
Upgrading to Modicon M580 is possible without additional investment in wiring, software development or training. Based on the proven Modicon X80 range, M580 extends processing and architecture capabilities, while allowing compliance with Xbus communications of Modicon Premium, meaning that users can switch between the different controller sizes in the Modicon range without changing their I/O racks and cabling.
Developed applications are preserved in the Unity Pro configuration software and remain fully operable with only minimum adjustment. "Modicon M580 is the controller of choice for PlantStruxure, the collaborative and integrated automation architecture from Schneider Electric. PlantStruxure brings together the Telemetry, PLC/scada and DCS offerings with complete life cycle services to help make operations more efficient. From initial design to modernisation, PlantStruxure connects control, operation and enterprise levels of the business," says Gerber.
Concluding its report, ARC Advisory Group says, "ARC believes that the concept of an Ethernet-based PAC will be well received in the marketplace and while, to the best of ARC's knowledge, Schneider Electric is first to market with this type of product, we believe that many other leading suppliers in the automation industry may soon follow suit."
For more information contact Steve Gerber, Schneider Electric South Africa, +27 (0)11 254 6400, stephen.gerber@schneider-electric.com, www.schneider-electric.com
Credit(s)
Further reading:
Siemens extends the Simine ­portfolio
June 2019, Siemens Digital Industries , PLCs, DCSs & Controllers
Siemens has extended the Simine portfolio for high-pressure grinding mills (HPGR) to include a new controller. Plug-and-play functionality makes the load share controller available for immediate use. 
...
Read more...
---
Schneider Electric announces a new era of control
June 2019, Schneider Electric South Africa , PLCs, DCSs & Controllers
Schneider Electric's new high-end Modicon M580 Ethernet programmable automation controller (ePAC) features redundant processors, native Ethernet, and cybersecurity embedded into its core. It combines 
...
Read more...
---
Selecting the right PLC
June 2019, AC/DC Dynamics , PLCs, DCSs & Controllers
Automation projects, big or small, start with a specification. Here are five factors to consider when choosing a PLC vendor.      
Broad range of devices
The selected brand must have a complete product 
...
Read more...
---
Industrial automation equipment
Africa Automation Fair 2019 Preview , PLCs, DCSs & Controllers
Anytech is an industrial automation equipment supplier that has been providing high tech solutions to a wide variety of customers in various industries throughout southern Africa since 1999. High tech 
...
Read more...
---
Multi-function PLC, HMI and I/O in a single 7" unit
Africa Automation Fair 2019 Preview, Vision Automation , PLCs, DCSs & Controllers
This multi-function UniStream PLC with an integrated, high-quality HMI touchscreen is available in a range of built-in I/O configurations. Showcased at Stand C04, the highly compact hardware profile with 
...
Read more...
---
PLCs and HMIs
Africa Automation Fair 2019 Preview, Ana-Digi Systems , PLCs, DCSs & Controllers
Among the new state-of-the-art products on show at Stand E07 are Ana-Digi's PLC range, which offers down to 8,5nS processing speeds and caters for systems up to 132 000 I/O, with full redundancy in processing 
...
Read more...
---
Programmable HMIs with PLC
May 2019, Turck Banner , PLCs, DCSs & Controllers
The new generation of the TX700 HMI/PLC series can control and visualise even more complex processes and applications than before. Thanks to several interfaces and an integrated OPC UA server, this device 
...
Read more...
---
Multi-function PLC, HMI and I/O in a single 5" unit
Africa Automation Fair 2019 Preview, Vision Automation , PLCs, DCSs & Controllers
On show at Stand C04 are the UniStream 5" and UniStream 5" Pro, which both support SNMP, VNC, FTP, SMS and email. The Pro version also offers a built-in webserver and SQL. Various built-in I/O configurations 
...
Read more...
---
Wireless controller
April 2019, Turck Banner , PLCs, DCSs & Controllers
With three times faster processing speed and eight times more memory than previous models of the DXM controller, the new DXM700 provides expanded ScriptBasic programming capabilities and faster script 
...
Read more...
---
Protect critical power assets
March 2019, Schneider Electric South Africa , IT in Manufacturing
Schneider Electric releases EcoStruxure Power 2.0 compliant with latest cybersecurity standards.
Read more...
---