printer friendly version
The future of touch control
February 2013
Industrial Computer Hardware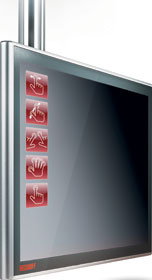 With the CP2xxx and CP3xxx Control Panel and Panel PC series with multi-touch functionality from Beckhoff, industrial applications can utilise the familiar features from smartphones and touch pads for machine operation. In order to obtain a truly optimum HMI, a wide range of application-specific industrial requirements must be met. This series offers a practical and versatile HMI hardware toolkit, complemented with mechanical pushbutton extensions, display sizes and Panel PC options.
These days a robust, industry-standard design is expected as a matter of course for advanced HMI panels. However, operating units can only achieve genuine added value and the associated competitive advantage for machine manufacturers if they offer innovative technologies coupled with comprehensive application expertise. The implementation of technologies that are familiar from the consumer world, such as multi-touch and widescreen displays, paves the way for new operating concepts. In addition, an elegant, ergonomic HMI design that matches the respective application contributes to user-friendly, error-free machine operation.
The built-in CP2xxx Panels and the CP3xxx Panels for mounting arm installation from Beckhoff are perfect examples for such HMI concepts. Originally introduced in November 2011, they are now available with 20 housing options, and the product range continues to expand. The latest additions are three further display sizes, offering eight new device options in total, in the form of built-in Panel PCs along with built-in and IP65 control panels.
The expansion of the modular multi-touch product range is complemented by additional electromechanical keys for existing standard devices. This C9900-G0xx pushbutton extension includes an emergency stop button and several pushbuttons keys with a signal lamp that can be labelled individually. Selection and key switches, and other elements can also be integrated. The range of processors will be expanded continuously. For example, two completely new ARM-based Panel PC series, CP26xx and CP36xx, will become available in the second quarter of 2013. These control panels with Ethernet connection are based on the ARM CortexTM A8 processor and therefore offer higher performance than the devices with Intel® IXP 420 533 MHz. According to Roland van Mark, Product & Marketing Management, Industrial PC, Beckhoff, this highly versatile HMI toolkit offers immense application potential: "It is the panel and panel PC platform of the future."

Clear practical benefits – cost-effective and convenient
Although widescreen (16:9) formats and multi-touch technology are new in the panel market, many machine manufacturers still prefer conventional 4:3 displays and single-touch operation. The wide range of devices offered with the new product lines not only meets this demand, but offers customers significant benefits for such applications, van Mark explains: "The two series are characterised by elegant and slim housing designs. In addition, they offer an optimised price/performance ratio, resulting in cost savings up compared with existing devices. The machine manufacturer therefore benefits in terms of design effort and investment costs and is able to use the existing visualisation without additional engineering effort."
As a result of their excellent technical features, multi-touch-capable displays offer fundamentally increased operator comfort: with their continuously dimmable LED backlight in combination with Beckhoff's own controller technology the displays are bright, with high contrast. The backlight can automatically be switched to energy-saving mode if no touch operation is detected after a set time, eg, after 10 minutes. A good viewing angle ensures optimum image visibility, even if the display is viewed from the side.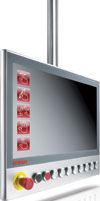 Multi-touch opens up new opportunities for machine operation
Single-touch screens are well-established in industrial applications. Driven by smartphones and Windows 7 touch pads, multi-touch will soon become the norm here. The question is not whether, but how quickly this operating philosophy will prevail. For example, there are customers today who want two-finger operation, ie, pressing a button and operation via a second button on-screen. Further options are offered by functions such as zooming for detailed information, browsing in a user guide or gesture (pattern) recognition in 5-finger mode. All this can be achieved with low engineering effort. In one case, a user was able to realise two-finger operation and gesture recognition within just a few days, using only the basic Windows 7 functionality.
The choice of touch technology is crucial
The resistive touch technology is widespread and has generally become accepted. But, according to van Mark, because it is based on a sensitive film it is less robust than capacitive touching directly via the glass pane. To ensure suitability for industrial applications Beckhoff therefore uses what is known as projective capacitive touch screen (PCT) technology. The high touch-point density offered by this technology enables exact and reliable operation with short reaction times. Even virtually continuous touch operation in very small steps is possible in a jerk-free manner.
The touch controller developed by Beckhoff enables the sensitivity of the touch surface, an antireflective glass pane, to be programmed individually and parameterised such that it can also be operated with thin work gloves. For most applications this eliminates the common PCT disadvantage that capacitive touch screens cannot be operated with gloves. In addition, the touch controller automatically prevents faulty operation, eg, caused by water drops or the operator's ball of the hand.
New options through Windows 8
Multi-touch functionality is available from Windows 7 and already offers excellent application options in conjunction with this reliable basic software. Further innovation potential is expected with Windows 8, which is optimised for touch pads. The programs, now referred to as apps, are visible on the start screen as individually placeable 'tiles'.
The benefits of this new interface include convenient and fast access to regularly used applications via the new Metro interface. Windows 8 runs on all Windows 7 computers, so that no new hardware is required. Beckhoff experts were able to confirm this in initial tests for the embedded WES8-CTP version. The Metro UI options are particularly useful for multi-touch systems. A gesture filter, for example, can be used to catch touch actions, similar to the keyboard or dialogue filter for suppressing Windows dialogues.
Future-proof technology
Innovations offer new opportunities, but also uncertainty: Is the technology really future-proof? For the multi-touch Panel series from Beckhoff the answer is Yes. In any case, multi-touch is certainly not a passing fad, but has already become the norm in many areas. And the CP2xxx and CP3xxx Panel series certainly offer future-proof technology:
This is ensured by the Beckhoff electronics, high-quality and robust glass panes, the elegant and timeless design and the long-term availability of display sizes and resolutions.
For more information contact Kenneth McPherson, Beckhoff Automation, +27 (0)11 795 2898, k.mcpherson@beckhoff.com, www.beckhoff.co.za
Credit(s)
Further reading:
PC-based control monitors road tunnel with flexible scalability
September 2020, Beckhoff Automation , System Integration & Control Systems Design
With more than 200 Industrial PCs in operation, the Kaisermühlen Tunnel in Vienna shows that scalable PC-based control technology from Beckhoff is an optimum automation platform in this environment.
Read more...
---
Modular towel production lines
September 2020, Beckhoff Automation , Motion Control & Drives
Rapid development and configuration of manufacturing systems for terrycloth towels with PC-based control.
Read more...
---
Open Beckhoff technology sets adoption record
September 2020, Beckhoff Automation , News
Now, with 3000 officially registered device manufacturers, EtherCAT has the broadest base of adoption in the industrial Ethernet market.
Read more...
---
EtherCAT I/O for conveyor control
September 2020, Beckhoff Automation , System Integration & Control Systems Design
Integrated compact motor controller reduces cabling effort and increases diagnostic capabilities for roller conveyor systems.
Read more...
---
New Allen-Bradley compact box PCs
September 2020, Rockwell Automation , Industrial Computer Hardware
The new box PCs and thin clients are the first of the Allen-Bradley VersaView 6300 family of industrial computers and leverage designs and technology from the acquisition of ASEM earlier this year.
Read more...
---
PC and EtherCAT-based control technology in next-generation telescope
August 2020, Beckhoff Automation , Motion Control & Drives
Key factors were the advantages of EtherCAT for site-wide real-time communication connecting all telescope functions. Various embedded PCs and AM8000 servomotors were also tested and specified, among 
...
Read more...
---
Smart engineering directly in the cloud
June 2020, Beckhoff Automation , IT in Manufacturing
PC-based control is an open, central control platform that integrates a full range of machine functionality and optimally supports the implementation of highly efficient IoT-based automation strategies. 
...
Read more...
---
Engineering 4.0: Automatic dashboard generation
July 2020, Beckhoff Automation , IT in Manufacturing
Many machine builders and systems integrators looking to transform their business models have identified machine and plant process data as being a core fundamental. When it comes to tailoring new data-driven 
...
Read more...
---
Edge device provides fanless control
June 2020, Beckhoff Automation , Industrial Computer Hardware
With its new C7015 ultra-compact industrial PC, Beckhoff has combined its extensive expertise with PC-based machine control and IP 65/67 components. The result is an industrial PC (IPC) designed with 
...
Read more...
---
PC-based control technology for process automation
May 2020, Beckhoff Automation , System Integration & Control Systems Design
Progress is not based on the innovative creation of buzzwords. Unfortunately, the development of enabling technologies in recent decades did not help to raise process automation to an advanced level. 
...
Read more...
---