printer friendly version
From the editor's desk: Can an open systems magician pull a DCS out of the hat?
October 2016
News
Heard at the recent ARC industry forum in Orlando, the call by ExxonMobil for a more open control system architecture laid down a challenge to traditional thinkers in the area of process automation.
ExxonMobil's chief engineer for downstream automation, Don Bartusiak, explained how, while a significant percentage of the company's control systems face obsolescence over the next decade, it is simply going to be too expensive to upgrade them. While newer systems do indeed offer value, the primary problem, it seems, is the cost of transferring thirty years' worth of hard-won process critical intellectual property from one proprietary platform to another. In fact, Bartusiak identified five reasons why it would not be viable simply to replace the legacy systems with a state-of-the-art DCS:
1. The high cost of 'technology refresh' (discussed above).
2. The expense associated with integrating third-party components.
3. A lack of the sophisticated platforms needed to entice third-party developers into the applications market.
4. Solutions come supplied with bundled functionality, versus best in class.
5. Current security models are 'bolt-on', rather than intrinsic.
To quote Automation Insider editor Walt Boyes: "What ExxonMobil is looking for is a standards-based, open, secure and interoperable process control architecture that enables access to leading edge capability, allows integration of best-in-class components, preserves asset owners' application software, uses an adaptive intrinsic security model, and promotes innovation and value creation."
Are standards-based systems the answer?
ExxonMobil's vision is to create a universal platform that will control and optimise processing operations, while also catering for equipment and information services expansion. One of the more successful standards it identified – which does something similar in the military systems environment – is called FACE (the Future Airborne Capability Environment). FACE is an open standard designed to ensure military avionics development becomes more robust, interoperable, portable and secure. The underwriter is the U.S. Department of Defense.
Once it had identified that this approach might work to solve similar problems in the field of process automation, ExxonMobil appointed Lockheed Martin, a founder member of the FACE consortium, as its development partner. The idea is to design and implement a new control platform based on architecture standards developed to ensure modularity, interoperability, portability, scalability and security.
What about the hardware?
The ARC Advisory Group's Sen Gupta takes up this challenge in his article 'Hardware in an open systems world.' From the hardware perspective, the functional building block of the ExxonMobil vision is the distributed control node (DCN) – a single-loop controller with universal I/O capability and the capacity to communicate on high-speed deterministic networks with both peers and supervisory nodes.
The article argues that the basic underlying controller platform, which has existed for decades, could simply be enhanced with the I/O technology available in any of today's leading DCS systems to support universality and smart field communications. Surely then, with a properly specified standard, I/O from multiple vendors could easily be integrated to meet any given need?
Well, perhaps herein lies the rub. It seems, conceptually at any rate, that the five ExxonMobil criteria can almost be met with technology that is already available today. Even the issue of security of control systems and sensor networks can now be resolved, with more than one vendor reportedly having designed devices with 'intrinsic security' built in.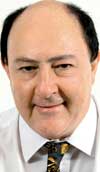 So why has no open system sorcerer yet announced the 'Abracadabra' moment? Well, because it will take more than just technical ingenuity to make this happen. Remember that in this instance there is no 'Department of Defense' to co-opt suppliers to comply with a new standard, which may not necessarily be in their best interests – at least not initially.
What it will take is a critical mass of end users all chanting a similar open architecture mantra. The probability of this is unclear, as many manufacturers simply do not see the benefit of disrupting a profitable operation for the sake of an automation 'cause'. But, if it does happen, the first open system rabbit will soon make its appearance in automation's hat – as if by magic.
Steven Meyer
Editor: SA Instrumentation & Control
Credit(s)
Further reading:
From the editor's desk: AI in manufacturing and a virtual exhibition booth
October 2020, Technews Publishing (SA Instrumentation & Control) , News
Artificial intelligence (AI) is seen by many as the core of the Fourth Industrial Revolution (4IR), yet its vision is not fundamentally new. The ideas have been around since the mid 1950s, but progress 
...
Read more...
---
Endress+Hauser strengthens presence in the Middle East
October 2020, Endress+Hauser South Africa , News
Endress+Hauser is strengthening the Group's presence on the Arabian Peninsula with the establishment of Endress+Hauser Middle East.
Read more...
---
BMG launches online shopping platform
October 2020, Bearing Man Group t/a BMG , News
BMG has announced the launch of the company's new online shopping platform - BMG Online - which makes doing business in the industrial sector even easier.
Read more...
---
WearCheck moves to Westville
October 2020 , News
Condition monitoring specialist, WearCheck, recently relocated its head office and main laboratory from Pinetown to Westville, just outside Durban.
Read more...
---
Skyriders inspection at pulp and paper plant
October 2020 , News
Online teaser: When a pulp and paper producer required inspection of its fire-water reticulation system, it turned to rope access specialist Skyriders.
Read more...
---
Trafo supplies skid-mounted dry-type transformer
October 2020 , News
In a specialised application on a coal mine, Trafo Power Solutions recently supplied a dry-type transformer mounted on a mobile skid.
Read more...
---
OPC Foundation welcomes Emerson to its board of directors
September 2020 , News
Emerson has joined the OPC Foundation Field Level Communications (FLC) initiative to drive a holistic approach to sensor and device level communications across process and factory automation.
Read more...
---
Siemens Energy MEA Energy Week conference draws world-class line-up
September 2020 , News
Siemens Energy & partners are holding a major Middle East and Africa-focused virtual conference, entitled "Shaping the Energy of Tomorrow", from 19-21 October.
Read more...
---
BMG launches online shopping platform
September 2020, Bearing Man Group t/a BMG , News
BMG has announced the launch of the company's new online shopping platform - BMG Online - which makes doing business in the industrial sector even easier.
Read more...
---
SJC Creative wins Media Communications Specialist Award
September 2020 , News
SJC Creative, a specialised B2B and industrial media communications consultancy, was recently awarded the Media Communications Specialist Award 2020, Gauteng.
Read more...
---