printer friendly version
SAIMC: From the President's desk
April 2016
SCADA/HMI
Before the fast approaching winter gets its icy grip on the country, I would like to share my observations on sociological, environmental and technological disruptions that are likely to shape or should shape the environment in which organisations operate.
Ageing population
In 2001 the Population Division of the United Nations Department of Economic and Social Affairs reported the highest ageing rate in the history of humanity across the world (Tulik, Ryan, Harper & George, 2014). This means that the proportion of the world's population that is approaching retirement age today is the highest it has ever been. Lower birth rates and mortality rates in more developed economies – a result of improved healthcare – have often been cited as the cause. An ageing population has, in turn, placed pressure on organisations to deal more effectively with the loss of skills caused by a retiring workforce, to equip new labour force entrants, and at the same time to put measures in place to address the scarcity of skilled youth. We are therefore likely to witness a change in the traditional norms of career entry, progression and exit – for example negotiating retirement terms with our current key resources. Noting that the latter would not necessarily be sustainable, the principal question that arises is:
What are our leaders putting in place to build the next generation of skills?
Technology, connectivity and innovation
From the 1990s, information technology began to underpin businesses transformation through the optimisation of business processes via the use of ever increasing computing power. The significant improvements in information availability, communication speed and worldwide connectivity via the Internet have led to the adoption of digital resources in order to create value. Furthermore, the very high adoption rate of smartphone technology has brought the point of sale interface to the hands of consumers – a shift that means that no wide-scale digital offering is now possible without making it available through a smartphone application. Technology advances have therefore enabled the transformation of functions such as marketing, supply chain, operations and business interfaces with customers (Bharadwaj, El Sawey, Pavlou & Venkatraman, 2013). The use of digital platforms for business enhancement is different from the high productivity and cheap labour models that China used to rise through the economic ranks since its 1978 economic reforms (Li, Li, Wu & Xiong, 2012). Technological advancement has allowed companies to operate globally, to employ human resources from a wider geography and to have near immediate impact on markets. On the contrary, some would argue that advancement in information technology has brought challenges such as cyber-attacks. For example, it was revealed at the 2015 Security Summit in Johannesburg that South Africa has become the most cyber-attacked country on the African continent.
Are we ready for the next technological disruptions?
Globalisation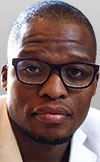 Oratile Sematle.
Over the years, emerging markets have fuelled globalisation and they continue to change the business landscape. The resulting global business expansion has been a result of saturated local markets and the potential to grow internationally, along with more favourable labour costs and productivity unit costs from further afield. As an example, the success story about Honda taking over the USA and British motor cycle industry (Pascale, 1984) in the 1970s and 1980s illustrates the push into European and USA markets by the Japanese industry to satisfy a need previously unexplored by local players (i.e. smaller motorcycles). Additionally the arrival in 2009 of a group of emerging economies, Brazil, Russia, India, China and South Africa – the BRICS – has impacted financial markets across the world and heightened the competition for scarce natural resources (Nieto, 2012). Institutionally these changes bring forth different challenges to business leaders, both globally and locally. For example, most of our local organisations are realising the need to invest in skills development. The question that arises is: Given the increasing degree of globalisation, what skill sets should organisations invest in?
Yours sincerely,
Oratile Sematle, President
Credit(s)
Further reading:
SAIMC: Johannesburg branch
July 2020, SAIMC , SAIMC
Technology can be a wonderful thing. We have resources that allow us to talk face to face with people thousands of kilometres away. We have the ability to order equipment, furniture, food, or clothing 
...
Read more...
---
SAIMC: Vaal branch
July 2020, SAIMC , SAIMC
The branch held an online technical evening on 3 June, which was presented by SICK Automation. Our presenter, Dustin Naicker, has more than 9 years' experience in analytical instrumentation and analysers. 
...
Read more...
---
SAIMC: Cape Town branch
July 2020, SAIMC , SAIMC
Technology evenings: Out with the new, in with the old… or not? With the lockdown slowly lifting and life stabilising into a new normal, we at the branch are grateful that another technology event 
...
Read more...
---
In memoriam: Hendrick Frederik (Hennie) Prinsloo
June 2020, SAIMC , SAIMC
It is with great sadness that the SAIMC announces the death of branch general manager Hennie Prinsloo after a short but brave battle with cancer. A stalwart and passionate member of the SAIMC since 
...
Read more...
---
SAIMC: From the office of the CEO
July 2020, SAIMC , SAIMC
Long name change for the SAIMC NPC: Society for Automation, Instrumentation, Mechatronics and Control.
Read more...
---
SAIMC: From the office of the CEO
June 2020, SAIMC , SAIMC
President Cyril Ramaphosa rightly stated in his letter of 11 May: "Imposing a nation-wide lockdown gave our country a strategic advantage. It bought us valuable time to prepare our health system and put 
...
Read more...
---
SAIMC: Johannesburg branch
June 2020, SAIMC , SAIMC
Here we are at the end of May, still in lockdown Level 4. While we at the Johannesburg branch are doing our best to bring technology to our loyal members, there is still nothing like the human touch.  
...
Read more...
---
SAIMC: Vaal branch
June 2020, SAIMC , SAIMC
On 5 March the first coronavirus case was recorded in South Africa. The government reacted swiftly and called for a nationwide lockdown which commenced on 27 March 2020. Since then there have been extensions 
...
Read more...
---
SAIMC: Vaal branch
May 2020, SAIMC , SAIMC
At the last technology evening, Albert Louw, mobile control systems specialist from ifm electronic, gave a presentation on control systems for mobile machines, applicable to all mobile vehicles from transport 
...
Read more...
---
SAIMC: Durban branch
May 2020, SAIMC , SAIMC
The last technology evening was held in March, and as we headed into lockdown we reluctantly cancelled future technology events pending the reopening of the country. There is much discussion about whether 
...
Read more...
---