printer friendly version
From the editor's desk: Where did the Internet of Things come from?
March 2016
News
Years before the first message was ever sent over the Internet, English mathematician and code-breaker Alan Turing (Enigma) hypothesised a world of smart connected machines all capable of communicating with each other. His assertion: "If machines could be provided with the best sense organs that money can buy, then they could be taught to understand and speak English," is the precursor of what is known today as artificial intelligence. What held things back was the lack of suitable microprocessor and sensor technologies.
The next 'big' things are tiny
The evolution of semiconductors solved the microprocessor problem, and now MEMS technology looks set to do the same for sensors. In essence, micro electro-mechanical systems (MEMS) are a combination of semiconductor and nanotechnology described as: "This vision whereby microsensors, microactuators and microelectronics can be integrated onto a single chip." It is likely to prove one of the most important technological breakthroughs of the 21st century.
Expect the number of devices connected to the Internet to balloon into billions over the next few years. (Thank goodness for IPV6.) They will be present all the time and everywhere; we will interact with all things around us. From refrigerators to parking spaces, IoT will transform the physical objects in our everyday existence into an information ecosystem designed to enrich our lives. The IoT is on hyper-curve growth to a multi-trillion dollar industry.
Manufacturing is set for a makeover as well. The Industrial Internet of Things (IIoT) is the use of IoT technologies in manufacturing. It incorporates the ideas of machine learning and Big Data technology by harnessing the sensor data, M2M communication and automation technologies that have existed for years.
The basic premise is that smart connected products and machines can be more flexible and perform better than their unconnected predecessors. Smart machines are better than humans at accurately and consistently capturing and communicating data. This data can then enable companies to pick up on inefficiencies and problems sooner, saving time and money through advanced business intelligence efforts in areas like quality control, energy efficiency and supply chain traceability.
The vision is to take an Internet down to the lowest possible level on the production floor: A world in which every sensor, actuator and work piece has its own IP address, and has been designed to contribute intelligently in an automated self-optimising network harmony. The real value lies in the contextualisation of the data streaming in over the networks. This is the realm of Big Data storage and analytics in the Cloud, but it is micro sensors and ubiquitous connectivity that will rule the IoT epoch.
In his report from Europe this month, Nick Denbow describes the status of IoT sensor development and presents some interesting applications and case studies. You'll find it all in "Nick Denbow's European report: Internet of Things micro sensors are coming".
When it comes to communication, we are at the forefront of a wireless world. In 1926, Nikola Tesla (the real father of wireless according to many) described this vision: "When wireless is perfectly applied, the earth will transform into one giant brain where all things form part of the rhythmic connected whole. The instruments used to achieve this will be so simple that every man will carry one in his vest pocket."
Just as Turing predicted sensor-based intelligent machines, Tesla prophesied an era of the Internet of Things. But how did either of them have the nous to foresee technologies like MEMS, Zigbee and Bluetooth, way back then?
To see where the Industrial Internet of Things is headed, SA Instrumentation and Control is planning a special feature on the subject in the September issue. Contact Jane or Tina for details.
X-Change 2014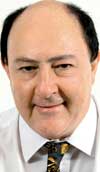 One of the landmark annual events on the local automation calendar is the hugely successful Wonderware X-Change conference. This year's event will focus on Wonderware's 2016 product releases designed to bring greater power to end users wishing to explore an even wider range of business improvement possibilities.
With a headline that boasts the release of the most significant new solutions since the launch of ArchestrA, and adding new meaning to integration, versatility, scalability and simplicity, Sun City looks well worth a visit from 17-20 April. We hope to see you all there.
Steven Meyer
Editor: SA Instrumentation & Control
Credit(s)
Further reading:
From the editor's desk: AI in manufacturing and a virtual exhibition booth
October 2020, Technews Publishing (SA Instrumentation & Control) , News
Artificial intelligence (AI) is seen by many as the core of the Fourth Industrial Revolution (4IR), yet its vision is not fundamentally new. The ideas have been around since the mid 1950s, but progress 
...
Read more...
---
Endress+Hauser strengthens presence in the Middle East
October 2020, Endress+Hauser South Africa , News
Endress+Hauser is strengthening the Group's presence on the Arabian Peninsula with the establishment of Endress+Hauser Middle East.
Read more...
---
BMG launches online shopping platform
October 2020, Bearing Man Group t/a BMG , News
BMG has announced the launch of the company's new online shopping platform - BMG Online - which makes doing business in the industrial sector even easier.
Read more...
---
WearCheck moves to Westville
October 2020 , News
Condition monitoring specialist, WearCheck, recently relocated its head office and main laboratory from Pinetown to Westville, just outside Durban.
Read more...
---
Skyriders inspection at pulp and paper plant
October 2020 , News
Online teaser: When a pulp and paper producer required inspection of its fire-water reticulation system, it turned to rope access specialist Skyriders.
Read more...
---
Trafo supplies skid-mounted dry-type transformer
October 2020 , News
In a specialised application on a coal mine, Trafo Power Solutions recently supplied a dry-type transformer mounted on a mobile skid.
Read more...
---
OPC Foundation welcomes Emerson to its board of directors
September 2020 , News
Emerson has joined the OPC Foundation Field Level Communications (FLC) initiative to drive a holistic approach to sensor and device level communications across process and factory automation.
Read more...
---
Siemens Energy MEA Energy Week conference draws world-class line-up
September 2020 , News
Siemens Energy & partners are holding a major Middle East and Africa-focused virtual conference, entitled "Shaping the Energy of Tomorrow", from 19-21 October.
Read more...
---
BMG launches online shopping platform
September 2020, Bearing Man Group t/a BMG , News
BMG has announced the launch of the company's new online shopping platform - BMG Online - which makes doing business in the industrial sector even easier.
Read more...
---
SJC Creative wins Media Communications Specialist Award
September 2020 , News
SJC Creative, a specialised B2B and industrial media communications consultancy, was recently awarded the Media Communications Specialist Award 2020, Gauteng.
Read more...
---