printer friendly version
SAIMC: From the President's desk
December 2014
SAIMC

The end of 2014 is upon us and it is time to take stock of the year that has been, the year that should have been, and the year that could have been. For us at the SAIMC, the past year was very successful and we met most of our objectives.
The main constraint that hindered achieving all of our objectives this year was funding. In order to achieve the ambitious objectives in our business plan, we need additional full-time staff. This is because our dedicated volunteers have time to formulate the plans and strategies, but to execute these plans requires much more time and resources, which they cannot afford as they already have full-time jobs themselves.
We are currently investigating business models that will either enable us to hire a senior manager to manage the organisation and support the president and council on a day-to-day basis. Such an individual will require a significant investment and a self-funding model of some sort has to be created. The other option is to hire a person who will market the organisation more broadly and hence increase revenues from membership fees. Such additional funds can then be deployed to hire more administrative staff to drive the execution of the strategy on a daily basis.
We would welcome suggestions from readers, members and interested parties out there as to what other models we can investigate. In these tough economic times, funding is always challenging. Even though the SAIMC is complimented on a regular basis for the good work we are doing, imagine how much more we could achieve for our industry if we had staff to run the organisation as some associations in other disciplines do? However, despite these challenges, the SAIMC will continue to make progress in its business strategy, no matter how small the steps are. We are passionate about the industry and will do our best under all circumstances.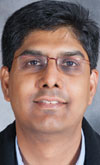 Vinesh Maharaj.
At this time of the year, we would also like to ask all our members to give careful consideration to joining one of our local committees, or suggest branches that need support to get started. We will have electronic voting at branch and council level this year, so look out for the invitation to nominate people from your region. We welcome new blood to support the growth and diversification of our branch committees and council – there is plenty to be done and we need as many hands as we can get!
In closing, I wish you all well over the festive season and ask that you take care whilst travelling. Merry Christmas to those who celebrate this important event and happy holidays to all!
As usual, please mail me your thoughts on vinesh.maharaj@saimc.co.za
Working together, achieving more,
Vinesh Maharaj, President.
Credit(s)
Further reading:
SAIMC: From the office of the CEO
September 2021, SAIMC , News
The registration process for people doing engineering work according to the Identification of Engineering Work, (IoEW) document gazetted in March, will start in earnest next year.       Surnames A through 
...
Read more...
---
SAIMC: Durban branch
September 2021, SAIMC , News
Kevin Preston of Phoenix Contact kindly presented at the virtual Durban branch technology meeting in August. Kevin is group manager IMA & IE at Phoenix Contact and is responsible for the interface, 
...
Read more...
---
SAIMC: Johannesburg branch
September 2021, SAIMC , News
Once again, the Johannesburg branch technology evening had to held virtually. We were happy to have Stahl SA involved, with Diogo Fidalgo doing a presentation on 'Ethernet and network technologies for 
...
Read more...
---
SAIMC: From the office of the CEO
July 2021, SAIMC , SAIMC, News
The Identification of Engineering Work that has been in the making since 2000, was eventually gazetted in March this year. People now have roughly three years to comply – depending on your surname.
...
Read more...
---
SAIMC: Durban branch
July 2021, SAIMC , SAIMC, News
The Durban branch held its latest technology meeting via Zoom on the first Wednesday of June. Bryan Baxter explained the importance of effective cybersecurity for industrial networks – something which 
...
Read more...
---
SAIMC: Johannesburg branch
July 2021, SAIMC , SAIMC, News
First hybrid meeting
Following lockdowns, shutdowns and the second wave, the Johannesburg branch rolled out a combined/online meeting for May, hosted by Adroit Technologies. Dave Wibberley spoke on 
...
Read more...
---
SAIMC: From the office of the CEO
August 2021, SAIMC , News
This month let's examine the question: what is considered engineering work? (Refer to Government Gazette Vol 669 published 26 March 2021 No 44333.) It is important to understand what is considered 
...
Read more...
---
SAIMC: Durban branch
August 2021, SAIMC , News
As a well-known and respected figure in the industry, Gary Friend (sales director, Extech Safety Systems) drew record crowds for the Durban branch's July (virtual) technology meeting. His presentation 
...
Read more...
---
SAIMC: Johannesburg branch
August 2021, SAIMC , News
The branch recently had the privilege of hosting Turck Banner for another hybrid technology evening, which was a great success. The topic was, 'Have you seen the light?' Kenneth McPherson, who was 
...
Read more...
---
SAIMC: Cape Town branch
June 2021, SAIMC , SAIMC
An integrated geared unit that combines the recently launched Nord IE5+ synchronous motor and a single-stage helical gear unit offers optimum system efficiency.
Read more...
---