printer friendly version
SAIMC: From the President's desk
July 2014
SAIMC

Midwinter is upon us with the mornings and nights not being very pleasant up here in Gauteng. Fortunately, there is only a month or two left before we can once again bask in the warmth of spring when the new blossoms appear…
On the subject of new blossoms, we as the SAIMC are very excited about the new African Automation Fair that will be taking place in May 2015. This is a revolutionary change from the previous Process Expo that has been the biennial meeting place of our industry over the past 20 odd years.
The SAIMC and the IIG (Industrial Instrumentation Group) were intimately involved with élancommunications in the development of this new concept for what will be the premier Automation and Control exhibition in Africa. It will be strongly based on the various international exhibitions around the world with due cognisance given to our African context. It will be the step-change our industry requires to become a serious player in the engineering space and emphasise our position as the people who put the 'brains' into the operation of plant and machinery. Such a high-profile exhibition will assist us in raising the profile of the Automation and Control Industry both nationally and in the rest of Africa, thereby assisting our objective of gaining recognition as the 10th Engineering discipline with ECSA. We are expecting a large contingent of our colleagues from the rest of Africa to join us!
I am terming this a high-profile exhibition because the various exhibitors will be bringing in their international experts, fresh from their international duties, to launch their latest technology and products. These experts will be on-hand to share their knowledge and experience in special lounges for those of you who want to take advantage of the opportunity. The new location we have chosen, the Coca-Cola Dome in Johannesburg, has ample space and the facilities to support an international event of this significance.
In accordance with global trends there will be a daily entrance fee of R100 per person for the event. A special show pass for all three days will also be available. The payment is to ensure that we only attract people who are serious about exposure to the latest industry trends. It will also ensure that there is commitment from individuals who register to attend the training sessions. In the past, there were many no-shows post registration and this led to an unnecessary waste of resources by the organisers and exhibitors.
As many of you in the training field would attest, it is a curious phenomenon that free training is not taken as seriously as paid-for training, even though the content is identical. This was the experience of many exhibitors who offered free training at the last Process Expo – where attendance was disappointing to put it mildly! Hence, next year the R100 entrance charge is to ensure that there is commitment from all parties involved, the attendees, their employers and the exhibitors. It has come to our attention that unfortunately some managers required their staff to take leave to attend the last Process Expo. So, with all these factors in mind, I am sure that you all will understand the reasoning behind an entrance fee and the desire to make this the showcase automation event on the African continent. There will be fantastic daily give-aways, one of which is an all-expenses-paid trip to the SPSS Automation Fair, in Nuremburg during November 2015. The R100 seems a small price to pay for an opportunity to see and learn all about the latest technology and maybe win a fantastic prize as a bonus!
Great prizes will also be up for grabs at our annual Gala Dinner to be held at the upmarket Maslow Hotel and Conference Centre in Sandton on Friday the 26 September. Table sales have already begun and special sponsorship opportunities will be available, even surpassing the value propositions on offer last year. Please contact Ina at admin@saimc.co.za for details and take advantage of the high-profile exposure your company can get at the Premier C&I Event of the year. The entertainment will maintain the high standard of last year and we will have you all in stitches once again.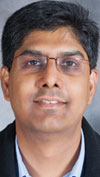 Vinesh Maharaj.
Apart from arranging these fairs and gala dinners, your servant leaders are still diligently working within our various sub-committees towards achieving our business plan objectives for this year. We hope to share some very exciting news regarding the Technical Standards sub-committee's achievements in the next month or so. This will be a HUGE achievement for our industry!
We are also still looking for members to join our various sub-committees to lighten the load on the rest, so please come forward and volunteer your expertise and time.
Please email me your thoughts on vinesh.maharaj@saimc.co.za so council and I can serve you better.
Working together, achieving more,
Vinesh Maharaj, President
Credit(s)
Further reading:
SAIMC: From the office of the CEO
September 2021, SAIMC , News
The registration process for people doing engineering work according to the Identification of Engineering Work, (IoEW) document gazetted in March, will start in earnest next year.       Surnames A through 
...
Read more...
---
SAIMC: Durban branch
September 2021, SAIMC , News
Kevin Preston of Phoenix Contact kindly presented at the virtual Durban branch technology meeting in August. Kevin is group manager IMA & IE at Phoenix Contact and is responsible for the interface, 
...
Read more...
---
SAIMC: Johannesburg branch
September 2021, SAIMC , News
Once again, the Johannesburg branch technology evening had to held virtually. We were happy to have Stahl SA involved, with Diogo Fidalgo doing a presentation on 'Ethernet and network technologies for 
...
Read more...
---
SAIMC: From the office of the CEO
July 2021, SAIMC , SAIMC, News
The Identification of Engineering Work that has been in the making since 2000, was eventually gazetted in March this year. People now have roughly three years to comply – depending on your surname.
...
Read more...
---
SAIMC: Durban branch
July 2021, SAIMC , SAIMC, News
The Durban branch held its latest technology meeting via Zoom on the first Wednesday of June. Bryan Baxter explained the importance of effective cybersecurity for industrial networks – something which 
...
Read more...
---
SAIMC: Johannesburg branch
July 2021, SAIMC , SAIMC, News
First hybrid meeting
Following lockdowns, shutdowns and the second wave, the Johannesburg branch rolled out a combined/online meeting for May, hosted by Adroit Technologies. Dave Wibberley spoke on 
...
Read more...
---
SAIMC: From the office of the CEO
August 2021, SAIMC , News
This month let's examine the question: what is considered engineering work? (Refer to Government Gazette Vol 669 published 26 March 2021 No 44333.) It is important to understand what is considered 
...
Read more...
---
SAIMC: Durban branch
August 2021, SAIMC , News
As a well-known and respected figure in the industry, Gary Friend (sales director, Extech Safety Systems) drew record crowds for the Durban branch's July (virtual) technology meeting. His presentation 
...
Read more...
---
SAIMC: Johannesburg branch
August 2021, SAIMC , News
The branch recently had the privilege of hosting Turck Banner for another hybrid technology evening, which was a great success. The topic was, 'Have you seen the light?' Kenneth McPherson, who was 
...
Read more...
---
SAIMC: Cape Town branch
June 2021, SAIMC , SAIMC
An integrated geared unit that combines the recently launched Nord IE5+ synchronous motor and a single-stage helical gear unit offers optimum system efficiency.
Read more...
---