printer friendly version
SAIMC: From the President's desk
May 2014
SAIMC

Your SAIMC servant-leaders have been as busy as usual this month! With the AGMs behind us, we are busy assimilating the new team members into the various sub-committees I mentioned in my January letter. This structure will lighten the load a bit on some of our council and committee members who have been burning the candle on both ends to keep the ambitious SAIMC ship on course! Council is also finalising the various funding packages for our patron members in line with their suggestions from our very successful meeting with them. We would have liked all the patrons to be present but unfortunately only a quarter were represented, so we have compiled an online survey to get feedback from the remainder.
An unfortunate episode
I am sad to report that on 24 March, a person using the alias of Adre Schoeman sent an email accusing the SAIMC and more specifically its immediate past president, Johan Maartens, of corruption. I am sure some of you have seen this disturbing email, but fortunately we have loyal patron members like Kenneth McPherson who immediately brought it to my attention instead of allowing the speculation to continue.
The SAIMC presented all the relevant information at both the patron members meeting and the AGM on the 26 March. As expected, the cowardly person who made these unfounded allegations did not attend the AGM to present their case against the SAIMC. I will summarise our presentation on this pathetic attempt to discredit the SAIMC and the highly ethical Johan Maartens for those who were not present at the meeting or AGM.
A specialist company initially undertook the secretarial work and managed the SAIMC website. Around 2010, the SAIMC terminated its relationship with this company due to issues that had festered over the years. The last straw was the unrecoverable loss of the entire SAIMC website! Claire Rosewarne then assumed the secretarial work, for the SAIMC on a half-day basis. Late in 2010 Claire decided to pursue another opportunity and the SAIMC, then under the leadership of Johan van Jaarsveld, interviewed three candidates some of whom were proposed by Claire. After an interview process conducted by him and the then general secretary, Vivian MacFadyen, a report was compiled in January 2011 with recommendations for council to decide on. The recommendation was that Ina Maartens be appointed. As the SAIMC does not have HR capacity to deal with employment legislation, taxes etc., it was decided to engage her services, on a half day basis, at a similar rate as Claire, via her company MaartensPro. It was unanimously agreed by council to accept this recommendation. This contract was renewed on an annual basis due to good performance by Ina.
In 2013 when I became president, the new council changed the contract from half to full day in order to provide more administrative support to the branches and council. The rate was increased proportionately and in 2014, MaartensPro did not increase its rate to the SAIMC. The market was tested in 2014 and a comparable service by another company cost almost four times more!
I hope this clarifies this matter and we can now put this issue to bed. We have traced the email to a person in Edenvale, Gauteng, but we have decided that we would rather focus our energy on the positives, so we will not take action against the person concerned. They have been shown to be unreliable and cowardly anyway! The SAIMC would like to thank all those members and patrons present at the meetings for their unequivocal support through this unfortunate episode.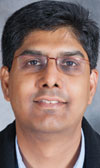 Vinesh Maharaj.
Moving on to brighter things
With that out of the way, I am glad to advise that our branches and council are in full swing arranging golf days and annual functions. Please watch the pages of this magazine for further information. Other exciting news is that our industry calendar is up and running. Please email admin@saimc.co.za to get your events loaded on this central portal. Ina will be contacting our patron members during the course of this month to gather their data.
We are also still looking for members to join our various sub-committees, so please come forward and volunteer your expertise and time.
Please email me your thoughts on vinesh.maharaj@saimc.co.za, so council and I can serve you better.
Working together, achieving more, Vinesh Maharaj, President.
Credit(s)
Further reading:
SAIMC: From the office of the CEO
June 2021, SAIMC , SAIMC
It was interesting to see the comments around Cuban engineers being imported to do engineering work in South Africa. This brings me to the Identification of Engineering Work and Professional Registration 
...
Read more...
---
SAIMC: Vaal branch
June 2021, SAIMC , SAIMC
Steam turbine control was the subject of the last technology evening presented by Moore Process Controls. A steam turbine is a device that extracts thermal energy from pressurised steam and uses it 
...
Read more...
---
SAIMC: Zambia branch
June 2021, SAIMC , SAIMC
SAIMC Zambia held customer training sessions via Zoom with VEGA Controls of South Africa, presented by Chris Van den Heever.    The sessions tackled were as follows:   
1. Radar basics on Vegapuls 64: applications 
...
Read more...
---
SAIMC: Durban branch
June 2021, SAIMC , SAIMC
'IIoT Ecosystem – from sensors to digital services' was the topic of the May technology evening. Held via zoom and open to all branches throughout the country, it attracted record attendance from an attentive 
...
Read more...
---
SAIMC: Cape Town branch
June 2021, SAIMC , SAIMC
n integrated geared unit that combines the recently launched Nord IE5+ synchronous motor and a single-stage helical gear unit offers optimum system efficiency.
Read more...
---
SAIMC: From the office of the CEO
May 2021, SAIMC , SAIMC
In my last letter, I discussed the lack of skills available to operate and maintain our infrastructure. This month, I present a more specific look at the critical skills required in manufacturing, which 
...
Read more...
---
SAIMC: Durban branch
May 2021, SAIMC , SAIMC
The branch held its April (virtual) technology evening on 7 April where SAIMC CEO, Johan Maartens, discussed the new skills trust fund initiative: how it works, how we will all benefit from it and how 
...
Read more...
---
SAIMC: Cape Town branch
April 2021, SAIMC , SAIMC
We had an interesting presentation last month given by Allan Pead from Microsoft on the open source platform from Microsoft Azure Sphere – a secure IoT platform.       Allan is currently an Xamarin 
...
Read more...
---
SAIMC: Johannesburg branch
April 2021, SAIMC , SAIMC
The technology evening was once again hosted virtually and this time it was the turn of Albert Louw from ifm electronic, presenting on the topic: Systems for mobile machinery. One could ask the question, 
...
Read more...
---
SAIMC: Durban branch
April 2021, SAIMC , SAIMC
Members and visitors were treated to a Zoom presentation that had the understated title: Introduction to ultrasonic flow measurement, by Marco Lopes of NIC KZN. Marco was ably backed up by Howard Lister, 
...
Read more...
---