printer friendly version
From the editor's desk: iOps emerging an Emerson hero
May 2014
News
I was first introduced to Emerson's iOps (Integrated Operations) at the 2012 Global Users Exchange in California. At this year's EMEA Exchange, iOps had elevated itself to centre stage taking pride of place in the exhibition area at the International Congress Centre in Stuttgart.
Strategically, Emerson's view of the future is an evolution from pure process automation to an all-encompassing partner for full optimisation across the complete manufacturing chain. Emerson Process Management's chief strategic officer, Peter Zorino, put it like this: "Running safe, profitable production operations is becoming increasingly challenging in many of the locations that our customers work in. These locations are often referred to as 'The Four Ds': dull, distant, dirty and dangerous. They are places few people want to go, which means the challenges are compounded by the cost and scarcity of skilled workers."
Poorly monitored assets can lead to unexpected shutdowns or suboptimal production. So, how does an organisation operate faster and more profitably with fewer resources and in an increasingly sophisticated trading environment?
Integrated operations powered by pervasive sensing
The underlying principle of iOps is real-time access to process and asset data all along the supply chain – pervasive sensing of everything. Layered on top of this are ubiquitous connectivity, collaboration tools and video conferencing. This allows cross functional teams from locations all over the world to work together virtually, and with full access to all the data pertinent to any particular operational problem.
Communication and process technologies have converged leaving companies free to reconsider their traditional operating constraints. Andrew Dennant, Emerson's regional director for oil and gas, explained it during a discussion one afternoon, "By adopting the principles of iOps, companies are able to reinvent their operational structures and work processes in ways that find solutions to all the problems traditionally associated with running an efficient operation in an environment like the Four Ds."
The idea is that with the right technology architecture in place, manufacturers can locate multi-disciplinary teams in collaborative centres that may be placed hundreds of kilometres from actual operations. Pervasive sensors are the remote eyes and ears of the organisation, while the iOps centre is the operational brain. The power is in the way scarce resources can now be leveraged to bring Emerson expertise ever closer to its customers. For example:
* An expert in critical assets like turbo-machinery, or a new complex process, can be located anywhere in the world and have access to the same information available to operators and reliability engineers.
* Diagnostics embedded in remote machinery can warn of deteriorating conditions and provide insight into whether operational effectiveness is likely to be compromised within a specified time window.
These extra degrees of insight into operational readiness, at a remote off-shore platform say, allow for better decision making in the quest to pursue an opportunity like a potentially lucrative futures contract in the oil and gas spot-market. This can make a difference when prices are right in the sweet spot, but a critical asset is scheduled for overhaul that could be deferred if only the right information were available.
This is one way that the convergence between ICT and process automation could drive the manufacturing value chain of the future. But how do you sell an idea like this?
Andrew Dennant sold me rather easily using an analogy: "iOps is a marriage between Emerson and its customers; it's a long-term commitment – not a date." This resonates strongly with the belief of Emerson leadership that technology will become the enabling platform for the company's 'Full-Service' offering of the future.
Integrated Operations Consulting Services has been designed to get things moving. First, consultants help customers develop a vision for their organisations based on operational best practices. Then, Emerson turns to its project management roots to transform vision into (virtual) reality through site visits, executive interviews, assessments and analysis.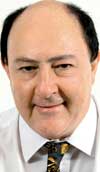 The result is something like the Integrated Operations Centre opened in Austin, Texas, earlier this year. Here, in an experimental laboratory-like environment, customers can explore new ways of managing remote operations and enabling easier collaboration by experts located anywhere in the world http://tinyurl.com/l5dcfo8.
Based on the iOps premise, collaborative, aligned teams of the future will be empowered to make better decisions based on process data that improves business performance. At SA Instrumentation and Control we are looking forward to reporting on the first iOps centre in Africa. Perhaps it will be opened at the new oil refinery that is being planned for Walvis Bay? (More in 'Nigeria and Namibia set to partner in oil refinery')
Steven Meyer
Editor: SA Instrumentation & Control
Credit(s)
Further reading:
From the editor's desk: Is additive manufacturing poised to go mainstream?
March 2021, Technews Publishing (SA Instrumentation & Control) , News
As digital manufacturing technology pushes its way further towards the production floor, additive manufacturing (3D printing) is emerging as a viable option to complement the more traditional methods 
...
Read more...
---
Endress+Hauser opens vaccination centre
July 2021, Endress+Hauser South Africa , News
As part of a model project, Endress+Hauser is operating a vaccination centre for employees in Maulburg.
Read more...
---
IS³ accelerates digital transformation through its AVEVA Select partnership
July 2021, IS³ - Industry Software, Solutions & Support , News
IS³ has announced that it has become the first AVEVA Select partner in the EMEA region, making it the only authorised distributor for AVEVA products in southern Africa.
Read more...
---
Flow Software joins the Eclipse Foundation and Sparkplug Working Group
July 2021 , News
Sparkplug governing body and industry collective welcomes an innovative industrial data analytics and information management software provider to help drive the future of the protocol.
Read more...
---
IS³ accelerates digital transformation through its AVEVA Select partnership
July 2021, IS³ - Industry Software, Solutions & Support , News
IS³ has announced that it has become the first AVEVA Select partner in the EMEA region, making it the only authorised distributor for AVEVA products in southern Africa.
Read more...
---
New B2C online shopping platform for engineering consumables
July 2021, Bearing Man Group t/a BMG , News
BMG's online shopping platform now encompasses a newly launched E-commerce service, designed especially for consumers, to boost their buying experience of engineering consumables.
Read more...
---
ETG hosts second EtherCAT Interoperability Testing Week
July 2021 , News
After the first EtherCAT Interoperability Testing Week of the EtherCAT Technology Group (ETG) met with a great response, the second event was also very well received.
Read more...
---
Africa's economic recovery needs to focus on creating a more resilient continent
July 2021 , News
As a continent, Africa needs to focus on growing its manufacturing capability and lessen its reliance on imports from other regions.
Read more...
---
SAIMC: From the office of the CEO
July 2021, SAIMC , SAIMC, News
The Identification of Engineering Work that has been in the making since 2000, was eventually gazetted in March this year. People now have roughly three years to comply – depending on your surname.
...
Read more...
---
SAIMC: Durban branch
July 2021, SAIMC , SAIMC, News
The Durban branch held its latest technology meeting via Zoom on the first Wednesday of June. Bryan Baxter explained the importance of effective cybersecurity for industrial networks – something which 
...
Read more...
---