printer friendly version
Eliminate power outages caused by steam leaks
November 2019
Maintenance, Test & Measurement, Calibration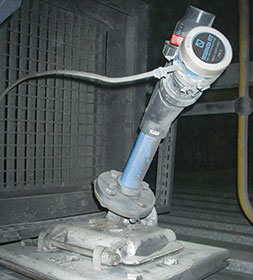 The current system Inspecta FFT, first released some 20 years ago, is reaching its end-of-life, and Instrotech's design engineers felt the time was right to upgrade to newer technology, by combining their 30 years' experience with the latest industry-standard technology.
"There hasn't been a major upgrade in quite some time and there has been so much advancement in technology that we could really throw everything at it – do it differently and build Inspecta III with the latest technology and a suite of impressive new add-ons," says the company's MD, Pieter Deysel.
The pressure is on
As technology advances, so has boiler technology. Power generators are pushing materials technology by increasing boiler operating pressures to get greater efficiency, which in turn makes the early detection of steam leaks even more critical to the performance of a facility or power station. There has always been a requirement for the early detection of steam leaks but with the modern boiler technology, if steam at these levels escapes out of the system, it can understandably, cause further secondary damage.
This is why the positive identification of a leak is critically important to a power station/facility. If good data is captured and analysed to provide the relevant information, it can be determined if the leak is serious or not and what the rate of progression is, slow or catastrophic. This information is vital as if the location and progression of the leak can be ascertained, an effective decision can be made as whether to continue or shut down boiler operation. For certain leaks, delaying the shut-down decision for a period of 2 hours can result in the down time of a boiler changing from 2 days to in excess of 14 days. Thus a few hours can sometimes be crucial in making a correct remedial decision.
Typically, for a 600 MW boiler at a large power generating facility, an hour of down time will lose approximately R600 000 of billable electricity sales, charged out to consumers at R1 per kilowatt hour. Inspecta III goes an appreciable way to mitigating these punitive income losses, and pays for itself in early leak detection within a short period of time.
Inspecta FFT was an unconnected, stand-alone system, giving an alarm to the operator who would attend to the problem. Later it was connected to the power station's DCS, taking the data collected and incorporating it into the facility's scada system. This required interpretation by the operators of the captured data to diagnose the presence of a leak. The system was thus limited by the level of technology and skills available at the time. Today's technology provides low-cost computing power, mobile communications and the Internet, which Instrotech has taken full advantage of, allowing the delivery of a vastly enhanced Inspecta III.
"With current technology, we now have access to unlimited computing power that means infinite possibilities. Our clients can do so much more with the features we have added to Inspecta III," concludes du Plessis. "Providing reliable early steam leak detection is, in its essence, a time-critical operation. Shutting down a large boiler unnecessarily will cause loss of production and incur significant start-up costs. Delaying the shutdown of a boiler with damaging steam leaks will incur even more production losses and expense. Thus the decision as to whether to continue operation or shut down the boiler had better be an informed one. We believe that our new system provides exactly that – precise, information that an operator can act on with confidence."
For more information contact Instrotech, +27 10 595 1831, sales@instrotech.co.za, www.instrotech.co.za
Credit(s)
Further reading:
Emerson monitoring accelerates asset digitalisation
December 2019, Emerson Automation Solutions , Maintenance, Test & Measurement, Calibration
Emerson has introduced the AMS Asset Monitor edge analytics device, which digitalises essential asset data and analytics for better operations performance and improved decision making. AMS Asset Monitor 
...
Read more...
---
Pressure measurement converter for harsh conditions
December 2019, Instrotech , Pressure Measurement & Control
Kobold's PNK pressure measurement converter is used for the remote electrical transmission of pressure signals. For use in heavy machinery, engines, shipbuilding and automotive engineering, this robustly 
...
Read more...
---
Electronic position indicator with Ethernet interface
December 2019, Instrotech , Sensors & Transducers
Instrotech now offers the Siko AP20 position indicator, equipped to detect the position of spindle adjustments in machines. It displays the corresponding positional data to the operator and passes it 
...
Read more...
---
SKF condition monitoring system to boost reliability at biomass electricity plant
November 2019, SKF South Africa , Maintenance, Test & Measurement, Calibration
As a global bearing and rotating technology specialist, SKF South Africa is committed to assisting companies to achieve their productivity goals whilst remaining environmentally friendly. The Multilog 
...
Read more...
---
Self-cleaning flow indicator for liquids
November 2019, Instrotech , Flow Measurement & Control
To check the flow processes in pipeline systems and for insight into the interior of process pipes, many flow indicators are used in which the flowing medium sets a rotor turning and thus to a large extent 
...
Read more...
---
Ultrasonic sensor for remote water level measurement
October 2019, Instrotech , Level Measurement & Control
Instrotech has available the Senix ToughSonic CHEM range of ultrasonic sensors, in service around the world in some of the most demanding and corrosive industrial environments. They measure a wide variety 
...
Read more...
---
Clamp-on ultrasonic flow measurement
October 2019, Instrotech , Flow Measurement & Control
Kobold's portable DUC-MP and the stationary DUC-MF are designed for continuous flow measurement. They are highly accurate and drift-free operating flowmeters for liquids in filled pipes. The devices are 
...
Read more...
---
Do more with less and generate ROI with an Integrated Calibration Solution
October 2019, QTEK Instrumentation & Calibration Solutions , Maintenance, Test & Measurement, Calibration
Instrument calibration is just one of the many maintenance-related activities in a process plant, but the last thing anyone needs is to have precious resources wasting time performing unnecessary calibrations 
...
Read more...
---
RS adds food grade maintenance line
October 2019, RS Components SA , Maintenance, Test & Measurement, Calibration
RS Components has launched a new range of food grade maintenance products for use in the food processing and catering sector. All RS Pro food grade products are registered with the NSF (National Sanitisation 
...
Read more...
---
Improved design tips balance toward HV motor replacement
October 2019, Zest WEG Group , Maintenance, Test & Measurement, Calibration
The applications knowledge of Zest WEG Group, coupled with the design capability of parent company WEG, now make it easier than ever for old high voltage (HV) motors to be replaced with new improved machines, 
...
Read more...
---