printer friendly version
Batteries in motive power applications
October 2019
Electrical Power & Protection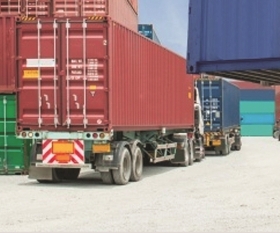 When discussing motive power applications, the initial thought is that their batteries must be similar to transportation batteries. After all, this equipment is 'motive' just like a car or truck. However, this is not the case. Motive power applications, such has forklifts, electric golf carts and electric lawnmowers, use batteries more closely related to stationary than transportation batteries.
How these batteries are stationary
How are these batteries different than those in motor vehicles? Transportation batteries function as start/stop batteries. The primary discharge occurs when the vehicle is started. After that, it spends the rest of the drive time recharging.
Motive power batteries, on the other hand, do not operate in this fashion. Instead of only being used to start the machinery, there is a continual discharge. These batteries are used constantly while in operation. This is similar to other stationary batteries in that they are used until depleted, or until the job is done, and then recharged after use.
Why stationary batteries are used
Stationary batteries are used in these applications because of their nature. They tend to be 'dirtier' with a higher output threshold. It is imperative that they have low downtime and increased, continual productivity. Transportation batteries simply cannot keep up with these needs.
Industrial machinery is used for a variety of day-to-day plant operations and batteries are among the reasons for underperformance. This is why testing and maintenance is vitally important. If neglected, it can contribute to higher repair and replacement costs, a significant decrease in the machine's lifespan, and even safety risks.
Midtronics' electrical system testing technology is used by six major automotive manufacturing facilities in South Africa in on-vehicle equipment, recording events that may lead to battery or electrical system failure. In addition to this, two leading South African battery manufacturers and distributors have committed to using the technology in their facilities and distribution outlets.
Midtronics is entirely focused on the development and marketing of technology products for manufacturers, distributors and users of lead-acid batteries and continues its aggressive research and development of products for alternative chemistry batteries.
For more information contact Comtest, +27 10 595 1821, sales@comtest.co.za, www.comtest.co.za
Credit(s)
Further reading:
Detect compressed air, steam, gas and vacuum leaks
September 2020, Comtest , Maintenance, Test & Measurement, Calibration
Comtest has introduced the Fluke ii900, a handheld sonic industrial imager that enables maintenance to quickly locate air, steam, gas and vacuum leaks in compressed air systems. The straightforward, intuitive 
...
Read more...
---
Comtest announces Microchip rebrand
August 2020, Comtest , News
Microchip Technology Incorporated (Microchip) is the result of a rebranding of Microsemi, represented in South Africa by Comtest. Microchip is a leading provider of embedded control and system solutions, 
...
Read more...
---
Mines reduce fire hazards
August 2020 , Electrical Power & Protection
Underground mines in southern, central, and west Africa have been seeing the safety benefits of dry-type transformers from Johannesburg-based Trafo Power Solutions. According to managing director 
...
Read more...
---
RS Components stocks Eaton contactors
August 2020, RS Components SA , Electrical Power & Protection
RS Components now stocks Eaton's complete Moeller series of compact DILMT contactors. Easy to integrate in a variety of industrial machines and systems, the contactors enable space savings of up to 40%, 
...
Read more...
---
Power supplies for building automation
June 2020, Phoenix Contact , Electrical Power & Protection
The new Step Power power supplies from Phoenix Contact are specifically tailored to the needs of modern building automation. With their comprehensive approval package, which includes the standard 
...
Read more...
---
Skid-mounted dry-type transformer
June 2020 , Electrical Power & Protection
In a specialised application on a coal mine, Trafo Power Solutions recently supplied a dry-type transformer mounted on a mobile skid. "The harsh environment of a coal mine required us to specially 
...
Read more...
---
Customised transformers for renewables and beyond
June 2020 , Electrical Power & Protection
A focus on application engineering allows Trafo Power Solutions to supply customised dry-type transformers for a range of sectors including renewable energy. "We begin at the proposal stage by engaging 
...
Read more...
---
Speedy valve testing
June 2020, Comtest , Maintenance, Test & Measurement, Calibration
Control valve testing has often meant using complicated testers that require extensive training, the removal of the valve, and often one to two hours of test time on the bench. Comtest now offers Fluke's 
...
Read more...
---
Measure bearing vibration and temperature
June 2020, Comtest , Maintenance, Test & Measurement, Calibration
Vibration in rotating machinery is merely the back and forth movement, or oscillation, of a machine and components, such as drive motors, driven devices (pumps, compressors, etc.), and the bearings, shafts, 
...
Read more...
---
Electrical certificate of compliance (COC) for instrumentation: non-hazardous installations
June 2020, Everest Equipment & Control , Electrical Power & Protection
An instrument and control installation's scope of work often never makes a request for a certificate of compliance: it is assumed to be an electrical function and hence many installations are non-compliant. 
...
Read more...
---