printer friendly version
Batteries in motive power applications
October 2019
Electrical Power & Protection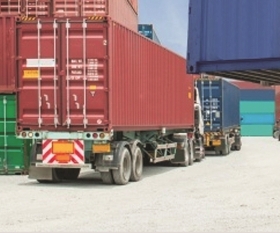 When discussing motive power applications, the initial thought is that their batteries must be similar to transportation batteries. After all, this equipment is 'motive' just like a car or truck. However, this is not the case. Motive power applications, such has forklifts, electric golf carts and electric lawnmowers, use batteries more closely related to stationary than transportation batteries.
How these batteries are stationary
How are these batteries different than those in motor vehicles? Transportation batteries function as start/stop batteries. The primary discharge occurs when the vehicle is started. After that, it spends the rest of the drive time recharging.
Motive power batteries, on the other hand, do not operate in this fashion. Instead of only being used to start the machinery, there is a continual discharge. These batteries are used constantly while in operation. This is similar to other stationary batteries in that they are used until depleted, or until the job is done, and then recharged after use.
Why stationary batteries are used
Stationary batteries are used in these applications because of their nature. They tend to be 'dirtier' with a higher output threshold. It is imperative that they have low downtime and increased, continual productivity. Transportation batteries simply cannot keep up with these needs.
Industrial machinery is used for a variety of day-to-day plant operations and batteries are among the reasons for underperformance. This is why testing and maintenance is vitally important. If neglected, it can contribute to higher repair and replacement costs, a significant decrease in the machine's lifespan, and even safety risks.
Midtronics' electrical system testing technology is used by six major automotive manufacturing facilities in South Africa in on-vehicle equipment, recording events that may lead to battery or electrical system failure. In addition to this, two leading South African battery manufacturers and distributors have committed to using the technology in their facilities and distribution outlets.
Midtronics is entirely focused on the development and marketing of technology products for manufacturers, distributors and users of lead-acid batteries and continues its aggressive research and development of products for alternative chemistry batteries.
Credit(s)
Further reading:
Humidity generator for probe calibration
Comtest Maintenance, Test & Measurement, Calibration
Portable humidity generator delivers fast, accurate multi-point calibration of humidity probes and loggers.
Read more...
---
TeSys Giga with digital innovation
Schneider Electric South Africa Electrical Power & Protection
Schneider Electric has announced the release of the new generation of TeSys Giga series motor starters.
Read more...
---
Zest WEG minimises downtime at local mine
Zest WEG Group Africa Electrical Power & Protection
Zest WEG has supplied one of its locally manufactured MV switchboards to a gold producer in Gauteng.
Read more...
---
Fluke doubles the troubleshooting power
Comtest Maintenance, Test & Measurement, Calibration
Comtest now offers the Fluke 787B and 789 process meters that double the troubleshooting capabilities of previous versions by combining the power of a safety-rated, digital multimeter and mA loop calibrator into a single, compact test tool.
Read more...
---
Reduce the risk of shock and arc flash
Comtest IS & Ex
Comtest now offers a new Fluke tester to the market, which sources both AC and DC steady-state voltage for Hi-Z and Lo-Z instruments, thus simplifying safety compliance testing.
Read more...
---
Dry-type transformers for auto plant
Electrical Power & Protection
An important expansion to South Africa's automotive industry is benefiting from the installation of 10 dry-type transformers and two mini-substations supplied by Trafo Power Solutions.
Read more...
---
Fluke's T6-1000 PRO electrical tester
Comtest Maintenance, Test & Measurement, Calibration
Comtest now offers the Fluke T6-1000 PRO true-RMS electrical tester. It measures voltage up to 1000 V AC and current up to 200 A without test lead contact to live voltage.
Read more...
---
Low profile 5 kW PSU with outputs up to 200 VDC
Vepac Electronics Electrical Power & Protection
Vepac has announced the addition of a low-profile enclosure to the HPT5K0 series of high efficiency 5 kW AC-DC power supply modules.
Read more...
---
Three key principles to build a strong safety culture
Comtest IS & Ex
To build a strong culture of safety, one first needs to create a climate that allows for adaptation and change.
Read more...
---
DC-DC converters
Vepac Electronics Electrical Power & Protection
Vepac Electronics offers an extensive portfolio of power converters.
Read more...
---