printer friendly version
Batteries in motive power applications
October 2019
Electrical Power & Protection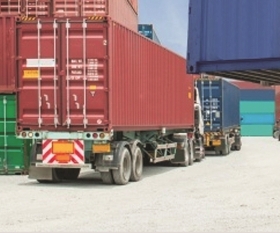 When discussing motive power applications, the initial thought is that their batteries must be similar to transportation batteries. After all, this equipment is 'motive' just like a car or truck. However, this is not the case. Motive power applications, such has forklifts, electric golf carts and electric lawnmowers, use batteries more closely related to stationary than transportation batteries.
How these batteries are stationary
How are these batteries different than those in motor vehicles? Transportation batteries function as start/stop batteries. The primary discharge occurs when the vehicle is started. After that, it spends the rest of the drive time recharging.
Motive power batteries, on the other hand, do not operate in this fashion. Instead of only being used to start the machinery, there is a continual discharge. These batteries are used constantly while in operation. This is similar to other stationary batteries in that they are used until depleted, or until the job is done, and then recharged after use.
Why stationary batteries are used
Stationary batteries are used in these applications because of their nature. They tend to be 'dirtier' with a higher output threshold. It is imperative that they have low downtime and increased, continual productivity. Transportation batteries simply cannot keep up with these needs.
Industrial machinery is used for a variety of day-to-day plant operations and batteries are among the reasons for underperformance. This is why testing and maintenance is vitally important. If neglected, it can contribute to higher repair and replacement costs, a significant decrease in the machine's lifespan, and even safety risks.
Midtronics' electrical system testing technology is used by six major automotive manufacturing facilities in South Africa in on-vehicle equipment, recording events that may lead to battery or electrical system failure. In addition to this, two leading South African battery manufacturers and distributors have committed to using the technology in their facilities and distribution outlets.
Midtronics is entirely focused on the development and marketing of technology products for manufacturers, distributors and users of lead-acid batteries and continues its aggressive research and development of products for alternative chemistry batteries.
For more information contact Comtest, +27 10 595 1821, sales@comtest.co.za, www.comtest.co.za
Credit(s)
Further reading:
Latest power monitoring device
November 2019, ElectroMechanica , Electrical Power & Protection
A new panel-mounted power monitoring device (PMD) from Socomec has been launched locally by ElectroMechanica (EM). The Socomec DIRIS A-40 has been designed for measuring, monitoring, and reporting electrical 
...
Read more...
---
Vibration tester diagnoses machine problems
October 2019, Comtest , Maintenance, Test & Measurement, Calibration
Comtest now offers the Fluke 810 vibration tester, an advanced troubleshooting instrument that enables maintenance teams to collect data, diagnose and solve mechanical problems. The handheld instrument 
...
Read more...
---
WEG IE3 compliant motor control and protection
October 2019, Zest WEG Group , Electrical Power & Protection
The increased move towards the use of IE3 electric motors has made it increasingly important that the most appropriate starting method be selected to ensure optimum performance. With this move it is essential 
...
Read more...
---
Electronic monitoring devices from EM
October 2019, ElectroMechanica , Electrical Power & Protection
A comprehensive range of electronic monitoring and timing devices in different formats for ease of use and retrofit purposes is available from ElectroMechanica (EM). The ElectroDev units are suited to 
...
Read more...
---
Integrated earth leakage protection
October 2019, Schneider Electric South Africa , Electrical Power & Protection
Schneider Electric has announced the introduction of integrated earth leakage protection for its Compact NSX and NSXm moulded circuit breaker ranges. "The award-winning Compact NSX moulded case circuit 
...
Read more...
---
Better transformer design improves safety
October 2019 , Electrical Power & Protection
As electricity utilities and users worldwide look to become more safety conscious and efficient in their use of electrical energy, it is important to leverage the improvements that have been made in the 
...
Read more...
---
Stakeless ground loop tester
October 2019, Comtest , Electrical Power & Protection
Testing the grounding components of equipment in hard to reach spaces, including areas that are indoors or fully paved and do not permit driving auxiliary test stakes, is always challenging. Comtest is 
...
Read more...
---
Portable thermal camera for industrial inspection
October 2019, Comtest , Maintenance, Test & Measurement, Calibration
Fluke's new PTi 120 pocket thermal imager for easy troubleshooting and industrial inspection offers a first line of defence for easy troubleshooting on the job. It is a camera small enough to carry around 
...
Read more...
---
Tektronix simplifies automotive Ethernet testing with new software
October 2019, Comtest , Fieldbus & Industrial Networking
Tektronix has released two new software packages that greatly simplify Automotive Ethernet testing, debug and protocol decode, for use with its 5 and 6 series mixed-signal oscilloscopes (MSO). Using the 
...
Read more...
---
Easy way to detect compressed air, steam and gas leaks
September 2019, Comtest , Maintenance, Test & Measurement, Calibration
Comtest has announced Fluke's new ii900, a handheld sonic industrial imager that enables maintenance teams to locate air, steam, gas and vacuum leaks. The intuitive interface allows technicians to isolate 
...
Read more...
---