printer friendly version
Integrated earth leakage protection
October 2019
Electrical Power & Protection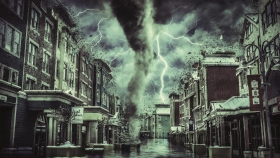 Schneider Electric has announced the introduction of integrated earth leakage protection for its Compact NSX and NSXm moulded circuit breaker ranges.
"The award-winning Compact NSX moulded case circuit breaker range and the new, smaller Compact NSXm range, now both feature integrated earth leakage protection, Micrologic Vigi," explains Maphuti Levy Moholola, offer manager at Schneider Electric South Africa. "This is a technology that monitors the flow of current and sends pre-alarms in the event of earth leakage, interrupting the circuit instantly, should it detect any disruptions, effectively preventing the danger of electric shocks.
"This innovation means that during the process of installing circuit breakers, panel builders and contractors are no longer required to install an additional earth leakage module, which can lead to savings of up to 40% in installation time. Because the ranges have integrated earth leakage protection, the same frame size as a standard breaker, they are designed to fit in the same row."
EcoStruxure Power connectivity
The ranges are part of the Connected Products portfolio of the Schneider Electric IoT-enabled architecture, EcoStruxure Power, an open, interoperable system architecture and platform, delivers enhanced value around safety, reliability, efficiency, sustainability and connectivity.
The system leverages advancements in IoT, mobility, sensing, cloud, analytics, and cybersecurity to deliver innovation at every level. This includes connected products, edge control, apps and analytics services. EcoStruxure has been deployed in 480 000+ sites, with the support of 20 000+ system integrators and developers, connecting over 1,6 million assets under management through 40+ digital services.
Reliability that fits and efficiency that clicks
"Designed with high-breaking capacities for all standard and specific applications, and with an operating current up to 630 A, the Compact NSX circuit breaker range features integrated earth leakage protection, and offers local and remote communication with trip alarm and pre-alarms for proactive operational and energy efficiency," explains Moholola. "The range provides corrective, preventative and predictive maintenance and energy management to enable potential savings, and ensure customer installations can be optimised, in terms of performance and protection.
"As the newcomer for applications up to 160 A, the Compact NSXm range is designed for low-voltage panel boards and control panels. As the smallest frame size in the Compact NSX range, and similarly featuring integrated earth leakage protection, it is an ideal space-saving solution for installations.
"This efficient solution offers a flexible installation thanks to a built-in DIN rail and plate mount capability, while field-installable options such as rotary handles and one-click auxiliaries make it easy to configure the circuit breaker to the user's specific needs. The Compact NSXm range also features EverLink creep-compensating technology. This ensures a lasting connection by mitigating the loosening effects of heat cycling or vibration."
Increased efficiency
Today, there is more pressure than ever on panel builders and contractors to come up with time and cost-saving solutions through efficient mounting, installation and cabling of switchboards for their customers.
"As a leader in the digital transformation of energy management and automation, we recognise that our partners demand innovations that offer efficiency, reliability and connectivity," concludes Moholola. "We are responding to this need with integrated earth leakage protection technology, all of which means that Compact NSX and NSXm circuit breakers are easier than ever to install, which in some cases, can help to make installation time up to 40% faster."
For more information contact Prisca Mashanda, Schneider Electric SA, +27 11 254 6400, prisca.mashanda@se.com, www.se.com/za
Credit(s)
Further reading:
EnI Electrical delivers at the sharp end of African contracts
March 2020, Zest WEG Group , Electrical Power & Protection
Usually the last contractor on site, electrical instrumentation and control (EC&I) specialist EnI Electrical puts extra effort into helping clients around Africa meet their scheduled start-ups. With 
...
Read more...
---
In-house testing of transformers
March 2020, Zest WEG Group , Electrical Power & Protection
The recent installation of an impulse voltage generator at Zest WEG's transformer manufacturing facility in Heidelberg will allow in-house testing of transformers, saving time and money for customers. According 
...
Read more...
---
Sulphate and chloride monitoring
March 2020, Microsep , Electrical Power & Protection
Chlorides and sulphates cause pitting and stress corrosion in expensive power plant components, such as turbines and boilers, leading to extensive maintenance and unplanned shutdowns. Monitoring these 
...
Read more...
---
Legrand's high-performance UPS systems
March 2020, Legrand , Electrical Power & Protection
Legrand's advanced uninterruptible power supply (UPS) systems ensure maximum continuity of service of essential electrical equipment, by providing reliable performance in terms of power and backup time, 
...
Read more...
---
Bringing critical power distribution infrastructure out of the dark
March 2020, Schneider Electric South Africa , Electrical Power & Protection
As the trend towards digitisation becomes pervasive across many industries and operations, the benefits offered to power distribution systems should not be overlooked. However, due to the ageing infrastructure 
...
Read more...
---
DIN rail redundancy power modules
February 2020, RS Components SA , Electrical Power & Protection
RS Components has announced availability of a new series of DIN rail-mount redundancy power modules from TDK-Lambda, a group company of TDK corporation and a leading maker of highly reliable power supplies 
...
Read more...
---
The importance of surge protection in the lightning protection arena
February 2020, DEHN Protection South Africa , Electrical Power & Protection
In order to understand the need for surge protection, it is important to understand how lightning causes damage. The sources of lightning damage can be quite different, therefore different protection 
...
Read more...
---
Power measurement from sensor to cloud
February 2020, Beckhoff Automation , Electrical Power & Protection
With the new SCT current converters, Beckhoff completes the power measurement chain that now ranges from measuring the physical value to transmitting the captured data to the cloud. The portfolio of current 
...
Read more...
---
Solar plant monitoring and control
February 2020, RJ Connect , Electrical Power & Protection
The power industry is now ready for clean power such as solar energy. Utility-scale solar power stations with electric power capacity of more than 50 MW and the capability to feed excess power back to 
...
Read more...
---
Enabling IIoT connectivity for virtual power plants
December 2019, RJ Connect , Electrical Power & Protection
The power grid has seen many changes that have enabled the integration of power from distributed energy sources (DERs).
Read more...
---