printer friendly version
Integrated earth leakage protection
October 2019
Electrical Power & Protection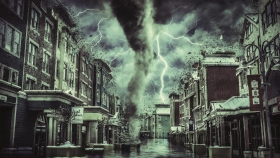 Schneider Electric has announced the introduction of integrated earth leakage protection for its Compact NSX and NSXm moulded circuit breaker ranges.
"The award-winning Compact NSX moulded case circuit breaker range and the new, smaller Compact NSXm range, now both feature integrated earth leakage protection, Micrologic Vigi," explains Maphuti Levy Moholola, offer manager at Schneider Electric South Africa. "This is a technology that monitors the flow of current and sends pre-alarms in the event of earth leakage, interrupting the circuit instantly, should it detect any disruptions, effectively preventing the danger of electric shocks.
"This innovation means that during the process of installing circuit breakers, panel builders and contractors are no longer required to install an additional earth leakage module, which can lead to savings of up to 40% in installation time. Because the ranges have integrated earth leakage protection, the same frame size as a standard breaker, they are designed to fit in the same row."
EcoStruxure Power connectivity
The ranges are part of the Connected Products portfolio of the Schneider Electric IoT-enabled architecture, EcoStruxure Power, an open, interoperable system architecture and platform, delivers enhanced value around safety, reliability, efficiency, sustainability and connectivity.
The system leverages advancements in IoT, mobility, sensing, cloud, analytics, and cybersecurity to deliver innovation at every level. This includes connected products, edge control, apps and analytics services. EcoStruxure has been deployed in 480 000+ sites, with the support of 20 000+ system integrators and developers, connecting over 1,6 million assets under management through 40+ digital services.
Reliability that fits and efficiency that clicks
"Designed with high-breaking capacities for all standard and specific applications, and with an operating current up to 630 A, the Compact NSX circuit breaker range features integrated earth leakage protection, and offers local and remote communication with trip alarm and pre-alarms for proactive operational and energy efficiency," explains Moholola. "The range provides corrective, preventative and predictive maintenance and energy management to enable potential savings, and ensure customer installations can be optimised, in terms of performance and protection.
"As the newcomer for applications up to 160 A, the Compact NSXm range is designed for low-voltage panel boards and control panels. As the smallest frame size in the Compact NSX range, and similarly featuring integrated earth leakage protection, it is an ideal space-saving solution for installations.
"This efficient solution offers a flexible installation thanks to a built-in DIN rail and plate mount capability, while field-installable options such as rotary handles and one-click auxiliaries make it easy to configure the circuit breaker to the user's specific needs. The Compact NSXm range also features EverLink creep-compensating technology. This ensures a lasting connection by mitigating the loosening effects of heat cycling or vibration."
Increased efficiency
Today, there is more pressure than ever on panel builders and contractors to come up with time and cost-saving solutions through efficient mounting, installation and cabling of switchboards for their customers.
"As a leader in the digital transformation of energy management and automation, we recognise that our partners demand innovations that offer efficiency, reliability and connectivity," concludes Moholola. "We are responding to this need with integrated earth leakage protection technology, all of which means that Compact NSX and NSXm circuit breakers are easier than ever to install, which in some cases, can help to make installation time up to 40% faster."
For more information contact Prisca Mashanda, Schneider Electric SA, +27 11 254 6400, prisca.mashanda@se.com, www.se.com/za
Credit(s)
Further reading:
Latest power monitoring device
November 2019, ElectroMechanica , Electrical Power & Protection
A new panel-mounted power monitoring device (PMD) from Socomec has been launched locally by ElectroMechanica (EM). The Socomec DIRIS A-40 has been designed for measuring, monitoring, and reporting electrical 
...
Read more...
---
WEG IE3 compliant motor control and protection
October 2019, Zest WEG Group , Electrical Power & Protection
The increased move towards the use of IE3 electric motors has made it increasingly important that the most appropriate starting method be selected to ensure optimum performance. With this move it is essential 
...
Read more...
---
Electronic monitoring devices from EM
October 2019, ElectroMechanica , Electrical Power & Protection
A comprehensive range of electronic monitoring and timing devices in different formats for ease of use and retrofit purposes is available from ElectroMechanica (EM). The ElectroDev units are suited to 
...
Read more...
---
Batteries in motive power applications
October 2019, Comtest , Electrical Power & Protection
When discussing motive power applications, the initial thought is that their batteries must be similar to transportation batteries. After all, this equipment is 'motive' just like a car or truck. However, 
...
Read more...
---
Better transformer design improves safety
October 2019 , Electrical Power & Protection
As electricity utilities and users worldwide look to become more safety conscious and efficient in their use of electrical energy, it is important to leverage the improvements that have been made in the 
...
Read more...
---
Stakeless ground loop tester
October 2019, Comtest , Electrical Power & Protection
Testing the grounding components of equipment in hard to reach spaces, including areas that are indoors or fully paved and do not permit driving auxiliary test stakes, is always challenging. Comtest is 
...
Read more...
---
Cut the complexity of panel design
September 2019, ElectroMechanica , Electrical Power & Protection
A low-voltage electrical distribution system design to reduce the complexities often associated with panel design is available from leading local supplier ElectroMechanica (EM). Quadro+ from Hager combines 
...
Read more...
---
Digitisation requires new skills
September 2019, Schneider Electric South Africa , IT in Manufacturing
Smart grid investments by municipal and public power utilities typically focus on electric distribution and customer systems. The expected benefits include lower costs, better customer service and more 
...
Read more...
---
Ultra slim DIN rail power supplies
September 2019, Vepac Electronics , Electrical Power & Protection
XP Power has announced the DSR range of AC-DC DIN rail power supplies approved for industrial control systems and information technology equipment applications. These versatile supplies provide reliable 
...
Read more...
---
Oil dielectric RF termination loads
September 2019, Comtest , Electrical Power & Protection
For maximum process repeatability and consistency, modern plasma applications require precise RF power regulation and control. A key component in ensuring accurate and repeatable RF power delivery to 
...
Read more...
---