printer friendly version
Universal enclosure system for electrical explosion protection
October 2019
Enclosures, Cabling & Connectors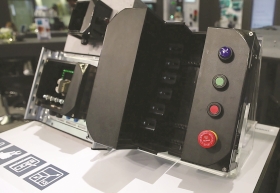 For many years, users have been waiting for a new, universal enclosure system in the field of electrical explosion protection. Having invested in this area, Pepperl+Fuchs has developed the GRP enclosure series with its wide variety of relevant features. The design concept is the result of extensive experience in explosion protection and brings together a high degree of flexibility, for wide range of applications with little planning required.
The sophisticated mounting grid demonstrates the tremendous flexibility of the system and its high level of practical relevance. With this design, terminals and control elements can be planned and implemented according to customer-specific requirements and any DIN rails can be easily mounted using self-tapping screws, without the need for time-consuming engineering. An innovative spacer system enables the use of different components at different heights within an enclosure. In addition, this system increases flexibility during the planning process and allows significantly more functions to be combined in a single box.
Flexible planning, efficient handling
The boxes themselves are offered in a range of enclosure sizes and depths, which, when combined with the new spacers, guarantees virtually unlimited flexibility in the planning process and the optimum use of space.
Perhaps an unusually high number of cable glands has been specified? No problem, this is simple to implement with minimum effort. Is an extra row of terminals required in addition to the operating elements?
Just like that, the required result can be achieved quickly and efficiently without mounting plates. And likewise, when planning straightforward terminal boxes the new flexibility offers far more possibilities for customised tailoring. If the customer wants the DIN rail to be mounted slightly higher because cables need to run below it, this can be achieved quickly and efficiently with the new enclosure series.
However, what truly makes the GRP enclosure is its many useful and innovative features. The sealing concept for IP66 impresses not just with a captive formed-in-place silicone foam seal, but the concept also features a new protective upstand that prevents mechanical damage to the sealing edge and is completely unique on the market. Using this sealing concept, it is even possible to stack the boxes with the lid open with the sealing edge well protected during installation or when adding extensions. A further innovation with significant benefits for process automation, the new GR box can be used at a temperature of -60°C. The customer therefore has a low-cost alternative to stainless steel, in many cases even under difficult environmental conditions.
The new solution also offers significantly reduced effort required for installation. Due to the intelligent design, it now takes just one person to fit even larger and heavier boxes. First, two screws are drilled into the wall and used to hold the enclosure in place. The remaining screws are then inserted, and everything is tightened at the end. This process saves time, therefore considerably reducing costs during installation and maintenance. Another feature the service team may find practical are the especially sturdy hinges that allow easy opening of the lid. The hinges are fastened with screws that do not pierce through the enclosure. This approach is taken for nameplates too. And one more thought put in for practitioners: leverage points for screwdrivers enable easy opening of the lid, thus saving time and ensuring easy handling during maintenance.
Quick availability
For plant engineers and machine builders, what counts in an enclosure solution is not only that it is tailored to their needs, but how quickly the product is available to them. For this reason, Pepperl+Fuchs supplies enclosures that are precisely tailored to user requirements almost as quickly as if the products were available off the shelf.
Terminal boxes and control stations are the first products available with the new GR-enclosure series. Later, the enclosures will become available for remote I/O and fieldbus applications. In addition, an engineering team, specialists in electrical installation and hazardous area protection, stand by to plan tailor-made solutions. During planning, engineering and production, the priority is always the requirements of the enclosure and the shortest possible delivery time.
Credit(s)
Further reading:
Rittal's new innovative adaptor
November 2019, Rittal , Enclosures, Cabling & Connectors
Answering to the call by Industry 4.0, Rittal's Blue e cooling units can now integrate into existing condition monitoring and IIoT systems thanks to a special adaptor that retrofits comprehensive communications 
...
Read more...
---
Crimp and cleave solution for fibre optic terminations
October 2019, KVMTech , Enclosures, Cabling & Connectors
This product was launched by KVMTech at Africa Automation Fair 2019.
Read more...
---
No weak links
October 2019 , Enclosures, Cabling & Connectors
EKD Kolibri energy chain from Powermite.
Read more...
---
RS announces availability of interconnection solutions from HARTING
October 2019, RS Components SA , Enclosures, Cabling & Connectors
RS Components has extended its industrial connector portfolio with new solutions from HARTING, including the recently launched Han 1A connector. The new Han 1A is a significantly smaller connector than 
...
Read more...
---
Understanding data cables, their categories, and what they mean
September 2019, Helukabel , Enclosures, Cabling & Connectors
For many end-users, engineers and purchasing agents, who do not work with these types of cables on a daily basis, the different categories can seem complicated and overwhelming.
Read more...
---
Clever chilling with less refrigerant
September 2019, Rittal , Enclosures, Cabling & Connectors
Rittal expands its cooling technology for enclosures and machines with new Blue e+ chillers.
Read more...
---
Smart devices for Ex areas
September 2019, Pepperl+Fuchs , IS & Ex
The Pepperl+Fuchs brand ecom has launched its next generation ATEX Zone 1/21 and Div. 1 certified, intrinsically safe 4G/LTE-Android smartphone – Smart-Ex. The Smart-Ex 02 is a complete new development 
...
Read more...
---
Hutchings Hydraulics and Rittal project success in KZN
August 2019, Rittal , Enclosures, Cabling & Connectors
With extensive experience in the food processing industry, Durban-based automation specialists Hutchings Hydraulics, was tasked with a unique challenge by one of KZN's largest food manufacturers. Exposed 
...
Read more...
---
Weidmüller's u-mation embraces the digitally connected world
Technews Industry Guide: Industrial Internet of Things & Industry 4.0, Phambili Interface , Enclosures, Cabling & Connectors
Weidmüller's u-mation system is more than just automation, it's a connected digital solution for a diverse range of businesses. That is because u-mation is a hardware and software solution that embraces 
...
Read more...
---
Rittal invests in new global smart factory
Technews Industry Guide: Industrial Internet of Things & Industry 4.0, Rittal , Enclosures, Cabling & Connectors
Investing in the future, Rittal's new plant in Haiger embraces the principles of Industry 4.0. The company has made its largest single investment, totalling €250 million, to establish an advanced facility 
...
Read more...
---