printer friendly version
Electronic monitoring devices from EM
October 2019
Electrical Power & Protection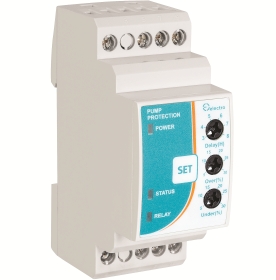 A comprehensive range of electronic monitoring and timing devices in different formats for ease of use and retrofit purposes is available from ElectroMechanica (EM). The ElectroDev units are suited to all industrial applications where parameter monitoring is essential for the wellbeing of plant and machinery.
The timing devices, on the other hand, are machine devices to facilitate easy timing and control functions, according to EM product manager Jaap Grobler. He adds that ElectroDev is a key supplier, and has enjoyed a two-decade-long business relationship with EM to date.
"The most popular products in the ElectroDev line-up are its voltage and phase monitoring devices to protect plant and machinery," highlights Grobler. "Of course, the timing devices are very popular as well due to their versatility and simplistic programming methods. In addition, all products and applications are supported by EM's countrywide network of offices and sales and technical personnel."
The success of the ElectroDev product range is attributable to the combination of EM's large stockholding to meet all requirements, and the quality of the products themselves. Another key factor is the extensive range. As an example, products are available in a DIN rail mounting format, with or without display, as well as in 11-pin plug mount format.
"ElectroDev fits in perfectly with our complementary products needed to complete plant and machine installations," concludes Grobler. "A number of exciting new launches are on the cards pending an official announcement from EM."
For more information contact Karen Zotter, ElectroMechanica, +27 11 249 5000, karenz@em.co.za, www.em.co.za
Credit(s)
Further reading:
Power supplies for building automation
June 2020, Phoenix Contact , Electrical Power & Protection
The new Step Power power supplies from Phoenix Contact are specifically tailored to the needs of modern building automation. With their comprehensive approval package, which includes the standard 
...
Read more...
---
Skid-mounted dry-type transformer
June 2020 , Electrical Power & Protection
In a specialised application on a coal mine, Trafo Power Solutions recently supplied a dry-type transformer mounted on a mobile skid. "The harsh environment of a coal mine required us to specially 
...
Read more...
---
Customised transformers for renewables and beyond
June 2020 , Electrical Power & Protection
A focus on application engineering allows Trafo Power Solutions to supply customised dry-type transformers for a range of sectors including renewable energy. "We begin at the proposal stage by engaging 
...
Read more...
---
Complete Hager electrical distribution solutions available from EM
June 2020, ElectroMechanica , News
A complete range of products and systems for electrical distribution in industrial, residential and commercial buildings is available from leading supplier ElectroMechanica (EM). "Customers include professional 
...
Read more...
---
Electrical certificate of compliance (COC) for instrumentation: non-hazardous installations
June 2020, Everest Equipment & Control , Electrical Power & Protection
An instrument and control installation's scope of work often never makes a request for a certificate of compliance: it is assumed to be an electrical function and hence many installations are non-compliant. 
...
Read more...
---
Modular mid-range PLC series
June 2020, ElectroMechanica , PLCs, DCSs & Controllers
The Delta compact modular mid-range AS series PLCs, available locally from ElectroMechanica (EM), is a high-performance, multi-purpose controller designed for all kinds of automated equipment. The series 
...
Read more...
---
Five tips to manage energy use while staying at home
May 2020 , Electrical Power & Protection
Covid-19 continues to impact many aspects of our lives. Many are now required to stay at home in an effort to curb the spread of the pandemic. One of the many implications of staying at home will be the 
...
Read more...
---
EM launches 2020 catalogue with 450 new products
April 2020, ElectroMechanica , News
ElectroMechanica has launched the latest edition of its biannual product catalogue. The catalogue covers a broad range of new developments across each of the various categories. "We place the same emphasis 
...
Read more...
---
Holistic approach to energy security
April 2020 , Electrical Power & Protection
As South Africans settle into the routine and inconvenience of load shedding and planning their activities around shifting electricity supply, it is businesses that are taking the biggest hit through 
...
Read more...
---
Save energy costs with highly-efficient Delta VFDs
April 2020, ElectroMechanica , Electrical Power & Protection
Customers can realise significant savings on their total energy costs by replacing older motor starters with energy-efficient Delta variable frequency drives (VFDs), distributed locally by ElectroMechanica 
...
Read more...
---