printer friendly version
WEG IE3 compliant motor control and protection
October 2019
Electrical Power & Protection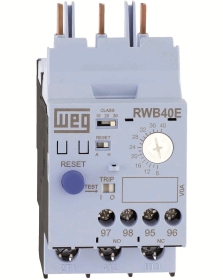 The increased move towards the use of IE3 electric motors has made it increasingly important that the most appropriate starting method be selected to ensure optimum performance. With this move it is essential that the motor switching and protection components are engineered to meet the demands of the IE3 motor.
Generally, the most basic starting method for an electric motor would be a direct online or star delta starter. However, older generation switchgear has not been engineered for IE3 motor compatibility and may generate nuisance tripping. Not only is this undesirable, it can also have a severe knock-on effect in terms of operational productivity and efficiencies.
WEG IE3 compliant low voltage switchgear has been engineered to offer absolute reliability when using devices to start and operate WEG IE3 motors. Users can be confident that when using compliant switchgear, their drive system will provide the highest levels of energy efficiency over a long service life. This will, in turn, translate into a reduction in the total cost of ownership while complying with current environmental regulations.
Motor protective circuit breakers
Typically, motor protective circuit breakers are affected most when starting electric motors because of sensitivities to transients and instantaneous values of current.
WEG circuit breakers were evaluated specifically in terms of this and the multiple of short circuit release was changed from 12 to 13 times the rms value of the rated current. Following this modification, extensive testing was conducted to verify that, with these modifications, the whole range of circuit breakers is IE3 compliant.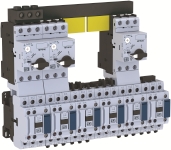 Contactors
The entire range of contactors is IE3 compliant. The application of sound engineering principles ensured that there is no mechanical or electrical lifespan reduction, or an increase in the contactor's coil consumption.
Overload relays
Overload relays are designed to protect motors thermally against overload conditions and unlike motor protective circuit breakers these are not sensitive to instantaneous currents. WEG solid-state and thermal overload relays conform to IE3 motor application.
Significantly, as a leading manufacturer of premium (IE3) and super-premium (IE4) electric motors, the company has developed extensive expertise in IE3 equipment conformity and all its current switchgear and protection devices can be used without restriction to ensure the reliable operation of IE3 motors.
New products and support
Zest WEG Group's technical team is able to assist customers in the appropriate selection of IE3 compliant control and protection components to optimise the efficiency of motor installations.
New products are continually being added to the low voltage switchgear range, leveraging off the ongoing research and development conducted by WEG Brazil. These products are available off the shelf and include contactors, motor protection relays, motor circuit protection breakers, push buttons and indicating lights, field isolator stations, motor starters in either polycarbonate or sheet metal enclosures and other associated products.
Backed by SABS certification, this switchgear product range is gaining popularity in the mining, general industry, commercial and domestic sectors. Among the leading products are the CSW range of push buttons and pilot lights, now available in complete sets; contactors and thermal overload relays; direct online starters; a full range of miniature circuit breakers and the most intelligent product in the range – the innovative SRW01 smart relay for protecting motors of high value and preventing extended downtime. This low voltage electric motor management system incorporates state-of-the-art technology and network communication capabilities, and its modular concept makes it suitable for a variety of applications.
A full catalogue of switchgear products is accessible online at www.zestweg.com. These products are sold out of a sales centre at the company's Linbro Business Park facility in Sandton, easily accessible from Johannesburg, Pretoria and Krugersdorp.
Credit(s)
Further reading:
Power supplies for building automation
June 2020, Phoenix Contact , Electrical Power & Protection
The new Step Power power supplies from Phoenix Contact are specifically tailored to the needs of modern building automation. With their comprehensive approval package, which includes the standard 
...
Read more...
---
Skid-mounted dry-type transformer
June 2020 , Electrical Power & Protection
In a specialised application on a coal mine, Trafo Power Solutions recently supplied a dry-type transformer mounted on a mobile skid. "The harsh environment of a coal mine required us to specially 
...
Read more...
---
Zest grows Africa base with local partners
June 2020, Zest WEG Group , News
"The key to sustainable growth in Africa is partnering with locally owned companies which have proven track records, are technically sound, have strong market knowledge and a business culture aligned 
...
Read more...
---
Customised transformers for renewables and beyond
June 2020 , Electrical Power & Protection
A focus on application engineering allows Trafo Power Solutions to supply customised dry-type transformers for a range of sectors including renewable energy. "We begin at the proposal stage by engaging 
...
Read more...
---
Electrical certificate of compliance (COC) for instrumentation: non-hazardous installations
June 2020, Everest Equipment & Control , Electrical Power & Protection
An instrument and control installation's scope of work often never makes a request for a certificate of compliance: it is assumed to be an electrical function and hence many installations are non-compliant. 
...
Read more...
---
Zest WEG partners with Panaco Katanga
June 2020, Zest WEG Group , News
As part of strengthening its African footprint, Zest WEG has appointed established local firm Panaco as its value-added reseller (VAR) in the Katanga region of the Democratic Republic of Congo (DRC). 
...
Read more...
---
Zest adds geared motors to product range
May 2020, Zest WEG Group , Motion Control & Drives
A range of WEG geared motors with benefits including efficiency and reliability will soon be available to customers in South Africa and the rest of the continent from Zest WEG. According to national sales 
...
Read more...
---
Five tips to manage energy use while staying at home
May 2020 , Electrical Power & Protection
Covid-19 continues to impact many aspects of our lives. Many are now required to stay at home in an effort to curb the spread of the pandemic. One of the many implications of staying at home will be the 
...
Read more...
---
Holistic approach to energy security
April 2020 , Electrical Power & Protection
As South Africans settle into the routine and inconvenience of load shedding and planning their activities around shifting electricity supply, it is businesses that are taking the biggest hit through 
...
Read more...
---
Save energy costs with highly-efficient Delta VFDs
April 2020, ElectroMechanica , Electrical Power & Protection
Customers can realise significant savings on their total energy costs by replacing older motor starters with energy-efficient Delta variable frequency drives (VFDs), distributed locally by ElectroMechanica 
...
Read more...
---