printer friendly version
Sawmills and sugar mills underpin growth for SEW-Eurodrive
October 2019
Motion Control & Drives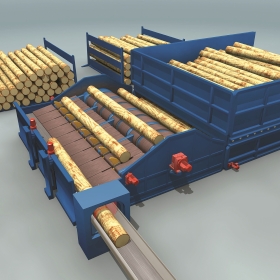 Ageing sawmills and sugar mills in KwaZulu-Natal represent a significant growth opportunity for SEW-Eurodrive to introduce its latest energy-efficient technology. This is an increasing trend as both the pulp and paper and sugar industries strive to cut costs and boost productivity.
This is according to Clive O'Reilly, branch manager for KwaZulu-Natal, who is based in Prospecton, Durban. The Durban branch is one of the key strategic locations for the company. Apart from its significant stockholding, the branch also has a repair and service capability, an assembly line for new drive units, and even an in-house spray-painting facility.
While pulp and paper and sugar are highly specialised industries with specific requirements, SEW-Eurodrive is able to meet most of these needs with its standard geared units and industrial gearboxes, which are assembled locally. "These are energy-intensive industries, and therefore energy efficiency and optimisation are key," stresses O'Reilly. "This is why when it comes to standard IEC motors our range plays such an important role.
"The opportunity for growth in these sectors is substantial, especially as so many sawmills and sugar mills have old gearboxes long past their service life, some of which have been running 20 years and longer. Not only do these now need to be replaced, but the sector is looking to leapfrog to the latest technology at the same time."
While the older drive trains comprise traditional components such as sprockets and chains, the latest trend is for direct drives onto the application itself. This reduces maintenance for end users, as it means less stockholding of critical spares such as V belts, pulleys, sprockets and chains, and increased efficiency simply due to the fact that it is a direct drive as opposed to a traditional mechanical system.
The Durban branch also has a technical team that can attend to any issues on-site, such as emergency repairs or breakdowns. "Our fast turnaround time on both delivery and aftermarket service is a key differentiator for us," concludes O'Reilly. "This is especially important in industries such as pulp and paper and sugar, where any downtime has a major impact on the bottom line."
For more information contact Jana Klut, SEW-Eurodrive, +27 11 248 7000, jklut@sew.co.za, www.sew-eurodrive.co.za
Credit(s)
Further reading:
New XTS functionality enables novel solutions in machine building
November 2019, Beckhoff Automation , Motion Control & Drives
XTS is a smart transport system of magnetically driven movers that travel along tracks consisting of motor modules and guide rails. A Beckhoff Industrial PC is able to control the movers independently 
...
Read more...
---
SEW-Eurodrive passes international audit with flying colours
November 2019, SEW-Eurodrive , News
The Durban branch of SEW-Eurodrive has passed an internal audit by its German parent with flying colours. This means that not only does it comply with the latest standards such as ISO 9001:2015, but it 
...
Read more...
---
Couplings for high torque applications
November 2019, SKF South Africa , Motion Control & Drives
Available in a variety of configurations, SKF's range of Disc Couplings provide affordable, lubrication-free service in medium to high torque applications that require torsional rigidity. These innovative 
...
Read more...
---
Belting for food applications
November 2019, Bearing Man Group t/a BMG , Motion Control & Drives
BMG's Light Materials Handling division supplies and supports a comprehensive range of belting products suitable for the food processing, bottling and packaging sectors. "New to BMG's range of belting 
...
Read more...
---
SEW-Eurodrive launches Generation X.e
October 2019, SEW-Eurodrive , News
Generation X.e represents the latest iteration of the highly-successful X series of industrial gear units, which has gained significant traction globally in industries as diverse as mining, cement and 
...
Read more...
---
Smart devices for Ex areas: Unbelievably simple mistakes that prevent control.
September 2019, Michael Brown Control Engineering , Editor's Choice, Motion Control & Drives
I am often astounded by finding really basic problems with controls in plants, which have operated that way for years. These problems are so basic that one can only wonder at how these controls could 
...
Read more...
---
DLM V-Drives
September 2019, Dupleix Liquid Meters (DLM) , Motion Control & Drives
DLM V-Drives control the latest generation of permanent magnet and standard induction motors. DLM offers the AMC (advanced motor control) and EPC (efficient pump control) V-Drives, which are available 
...
Read more...
---
Complete drive solutions to boost efficiency and cut costs
September 2019, SEW-Eurodrive , Motion Control & Drives
The importance of the sugar industry in KwaZulu-Natal to SEW-Eurodrive as a key growth area for its complete drive solutions was underscored when it exhibited at the Congress of the South African Sugar 
...
Read more...
---
RS announces drive controller kit
September 2019, RS Components SA , Motion Control & Drives
RS Components has announced the launch of the K4 Drive System Development Kit (K4DSDK) from ebm-papst, one of the world's leading manufacturers of high-efficiency fan and motor drive products. Targeting 
...
Read more...
---
SEW-Eurodrive provides on-site training and service in Africa
August 2019, SEW-Eurodrive , News
A key differentiator for SEW-Eurodrive in Africa is its capability to offer on-site training and service. This not only familiarises clients with the drive automation specialist's complete range, but 
...
Read more...
---