printer friendly version
DLM V-Drives
September 2019
Motion Control & Drives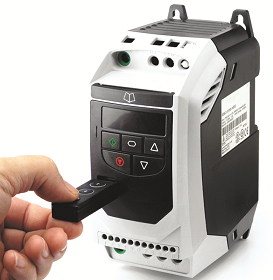 DLM V-Drives control the latest generation of permanent magnet and standard induction motors. DLM offers the AMC (advanced motor control) and EPC (efficient pump control) V-Drives, which are available in IP20, IP55 and IP66 enclosures.
V-Drive AMC
These drives offer the perfect combination of high performance together with ease of use to allow even the most demanding applications such as slurry pumps, cranes, conveyors and plastic injection moulding pumps to be resolved easily, using:
• Sensorless vector control providing up to 200% torque from zero speed to ensure reliable starting and accurate speed control under all load conditions.
• PM motor control that allows upgrading to latest generation of high efficiency permanent magnet motors.
• I/O and communications: the AMC V-Drive supports a wide range of protocols for modern industrial requirements.
Low installation cost is achieved through features such as a built-in EMC filter and an integral brake transistor.
V-Drive EPC
This range offers Optiflow as standard on every unit to provide coordinated pump station control. This allows multiple pumps to be controlled, each at a variable speed to ensure maximum energy saving. Automatic reconfiguring is offered should a pump fail, including the master. An internal PID controller is provided that is fully integrated with HVAC and energy efficient features, presented in a user friendly menu to ensure ease of use and fast commissioning. The drives also support a wide range of protocols including those for mining, process control and HVAC requirements including pumps, fans and compressors.
Smart tools for all V-Drive VSDs
Optistick Smart is a USB stick utilising Bluetooth and near field communication. This handy feature allows copying, restoring and backup of the V-Drive parameters. It also provides a Bluetooth interface to a PC running Optitools Studio or the Optitools Mobile app on a smart-phone for convenient mobile commissioning within range.
Credit(s)
Further reading:
Modular towel production lines
September 2020, Beckhoff Automation , Motion Control & Drives
Rapid development and configuration of manufacturing systems for terrycloth towels with PC-based control.
Read more...
---
BMG solutions for efficient agriculture
August 2020, Bearing Man Group t/a BMG , Motion Control & Drives
BMG's Boer Slim/Smart-Farming agricultural team works closely with farmers throughout southern Africa, assisting them with the selection, installation and operation of new electromechanical systems. These 
...
Read more...
---
PC and EtherCAT-based control technology in next-generation telescope
August 2020, Beckhoff Automation , Motion Control & Drives
Key factors were the advantages of EtherCAT for site-wide real-time communication connecting all telescope functions. Various embedded PCs and AM8000 servomotors were also tested and specified, among 
...
Read more...
---
Commander series drives
August 2020, Nidec Industrial Automation Southern Africa , Motion Control & Drives
The Commander series are simple and compact AC motor speed controllers that meet advanced requirements in a wide range of applications. Their small footprint makes them ideal for machine builders and 
...
Read more...
---
Belting products for furnace belts
August 2020, Bearing Man Group t/a BMG , Motion Control & Drives
BMG's Light Materials Handling division supplies and supports a comprehensive range of belting products suitable for use in diverse sectors, including high-temperature applications, like glass bottle 
...
Read more...
---
BMG's new generation of IE5+ motors
July 2020, Bearing Man Group t/a BMG , Motion Control & Drives
In 1916, BMG and German precision engineers, Getriebebau Nord, entered into a partnership agreement to assemble, distribute and support Nord Drivesystems throughout southern Africa. BMG has made 
...
Read more...
---
Rockwell Automation upgrade for Ghana Water
June 2020, Rockwell Automation , Motion Control & Drives
Over the last five years, Rockwell Automation has been working with Intermerc Ghana in supplying medium-voltage motor control and automation technologies to some of its recent pump upgrade and rehabilitation 
...
Read more...
---
Danfoss addresses the challenges in water and wastewater applications
July 2020, Danfoss , Motion Control & Drives
As the world population rises and people pursue higher standards of living, more water is needed in homes and for the production of food and other products. By 2050, the United Nations projects global 
...
Read more...
---
Incledon launches latest Tekflo couplings
June 2020 , Motion Control & Drives
Incledon, a leading provider of quality fluid conveyance products and solutions, recently launched a new range of universal couplings, adding to its current range of Tekflo-branded products based on quality, 
...
Read more...
---
BMG's specialist solutions for industrial water infrastructure
July 2020, Bearing Man Group t/a BMG , Motion Control & Drives
BMG's solutions for the water, wastewater and sewage sectors encompass the supply of quality branded drive systems, enhanced by the BMG team's technical expertise and installation, condition monitoring, 
...
Read more...
---