printer friendly version
Industry 4.0: Manufacturing Executing Systems
September 2019
IT in Manufacturing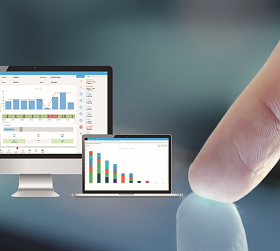 Industry 4.0 is set to lead the way for digitisation of manufacturing processes. Manufacturing Executing Systems (MES) are a critical component of Industry 4.0 as they act as an enabler for end-to-end digitisation.
What is MES?
Manufacturing Executing Systems are information systems that control complex manufacturing processes on the factory floor. MES achieves this by tracking and gathering accurate, real-time data about the production lifecycle. The data which is collected is about product genealogy, performance, traceability, material management, WIP and other plant activities. The importance of the MES lies within its functionality as it serves as a layer between the enterprise resource planning (ERP) and the process control systems on the factory floor, giving manufacturers real-time workflow visibility and insight into how best to improve manufacturing operations across the enterprise.
How Industry 4.0 influences MES
Industry 4.0 dictates the end of traditional centralised applications for production control. Industry 4.0's vision of ecosystems of smart factories with intelligent and autonomous shop-floor entities is inherently decentralised. A new environment is created due to customer demands for tailor-made products. These plants are fuelled by technology enablers such as 3D printing, Internet of Things (IoT), Cloud Computing, mobile devices and Big Data. Future manufacturing systems, including MES, will have to be built to support this paradigm shift.
Lighthouse MES
S4 Integration offers the South African market a tried and tested MES/MOM platform. Lighthouse MES is modular, consisting of the four main areas of manufacturing operations, namely: production operations, quality operations, inventory operations and maintenance operations.
Lighthouse MES software allows organisations achieve:
• Smart manufacturing through the digitisation of manufacturing processes and operations.
• An uninterrupted thread of time critical data throughout the manufacturing operation.
• An improvement in efficiency, output, compliance and customer satisfaction and.
• The removal of traditional organisational silos to optimise business practices.
S4 Integration offers Lighthouse MES to the end customer covering installation, integrations, development and support. With a number of local installations within the automotive and packaging sector, Lighthouse MES has become synonymous with a Manufacturing Executing System with measurable benefits to the end user.
For more information contact Sigourney Bruintjies, S4 Integration, +27 41 451 1250, sigourney.bruintjies@s4.co.za, www.s4.co.za
Credit(s)
Further reading:
Predictive analytics for artificial lifts
September 2020, Emerson Automation Solutions , IT in Manufacturing
Machine learning and artificial intelligence applications in artificial lift systems have seen a growth in importance recently and are no longer a nice to have, but essential tools for well optimisation.
Read more...
---
Making Machine-as-a-Service a reality
September 2020, RJ Connect , IT in Manufacturing
Using cloud-based software, machine builders can access their machines anytime, allowing connections to be set up to link the machine builders and their clients.
Read more...
---
Validation goes digital
September 2020, Siemens Digital Industries , IT in Manufacturing
CVal allows customers in the pharmaceutical industry to produce digital, auditable plant documentation through efficient data handling across all disciplines using a central database and object orientation.
Read more...
---
The Eight Commandments to digitising your shop floor workforce
September 2020 , IT in Manufacturing
Digitise your shop floor workforce and bundle insights, examples and lessons learned from PwC's experience in digital transformation into eight practical commandments.
Read more...
---
The digital twin explained
August 2020, Yokogawa South Africa , IT in Manufacturing
The digital twin defined
A digital twin is a virtual, digital copy of a device, system, or process that accurately mimics actual performance in real time, is executable, can be manipulated, and allows 
...
Read more...
---
Aguru trials Safe-Trace Contact Tracing at Adcock Ingram
August 2020 , IT in Manufacturing
Aguru Business Solutions (Aguru), a company specialising in automation and digital transformation advisory and project management services, has successfully completed a Proof of Concept (PoC) trial of 
...
Read more...
---
The Fourth Industrial Revolution
July 2020 , IT in Manufacturing
Read more...
---
Smart engineering directly in the cloud
June 2020, Beckhoff Automation , IT in Manufacturing
PC-based control is an open, central control platform that integrates a full range of machine functionality and optimally supports the implementation of highly efficient IoT-based automation strategies. 
...
Read more...
---
Creating specific SensorApps
June 2020, SICK Automation Southern Africa , IT in Manufacturing
Create individual SensorApps without programming skills and solve new automation tasks easily. Starting at the end of the year, this will all be possible in the SICK AppStudio, part of the SICK AppSpace 
...
Read more...
---
Mobile robots speed production at new smart factory
July 2020, Omron Electronics , IT in Manufacturing
A dozen industrial robots, each in individual workstations or cells, perform different steps in the manufacturing process. However, to attain the high efficiency, safety, and convenience of a modern 
...
Read more...
---