printer friendly version
Digitisation requires new skills
September 2019
IT in Manufacturing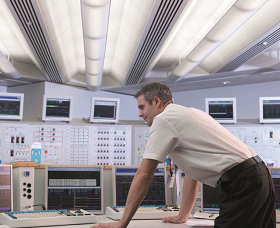 Smart grid investments by municipal and public power utilities typically focus on electric distribution and customer systems. The expected benefits include lower costs, better customer service and more reliable and efficient electrical system operations.
The uptake in South Africa has not reached its potential and Taru Madangombe, vice president of power systems in southern Africa for Schneider Electric, comments on the reasons and solutions to increase South Africa's implementation of smart grids.
"The energy revolution is causing dynamic changes in the market," he explains. One of the major challenges is the unavailability of good technical competencies, as people need to adapt from traditional power systems, with labour intensive practices, to a new model based on digitisation. This fourth industrial revolution (4IR), ushering in the IIoT, requires new skills and expertise based on digital expertise.
"In the implementation of a smart grid system, there is a gap between the available skills and understanding of the system. We are involved in the updating of digital training courses at universities and technical colleges across South Africa and in the Anglophone region (including east Africa).
"These skills need to address the region's requirements of new connectivity, new mobility, remoteness of regions and how you make systems more efficient, smarter and reliable. It is no longer about learning how to commission switchgear, it is about reading, analysing and reacting to data coming in from multiple sources on the grid.
"Of even more interest to South Africa is the concept of microgrids, a localised power grid that can operate either in conjunction with the main electrical grid, or independently of it, as an 'island'. It offers new opportunities to smaller municipalities and remote communities.
"This is one of most feasible opportunities for Africa as a whole, as electrification still has not reached 600 million in sub-Saharan Africa because of the huge capital investment required for grid strengthening through construction of large substations and long transmission line. In South Africa, we have achieved 89% electrification, but that figure has not shifted much in the past 10 years because there is not sufficient infrastructure, to justify investment in such long transmission lines to some remote areas. Therefore off-grid systems are the answer to these challenges."
For more information contact Prisca Mashanda, Schneider Electric SA, +27 11 254 6400, prisca.mashanda@se.com, www.se.com/za
Credit(s)
Further reading:
Digitisation and automation for mining: the only way forward
March 2020, SICK Automation Southern Africa , IT in Manufacturing
A global specialist for factory automation, logistics and process automation applications, SICK Automation has over 44 000 products for the most challenging industry applications that require high precision proximity detection systems.
Read more...
---
Bringing critical power distribution infrastructure out of the dark
March 2020, Schneider Electric South Africa , Electrical Power & Protection
As the trend towards digitisation becomes pervasive across many industries and operations, the benefits offered to power distribution systems should not be overlooked. However, due to the ageing infrastructure 
...
Read more...
---
2020 IT trends by Rittal South Africa
March 2020, Rittal , IT in Manufacturing
Rapid upgrades to data centres and rising energy consumption are key factors to consider.
Read more...
---
Allianz Risk Barometer 2020
March 2020 , IT in Manufacturing
Cyber top peril for companies in South Africa.
Read more...
---
Finding the common thread in process industries
March 2020, Absolute Perspectives , IT in Manufacturing
Initially focused on financial management and MRP (materials resource planning), ERP has evolved to embrace the whole value chain, from vendor management, manufacturing, supply chain/logistics, customer relationship management and more.
Read more...
---
Smart engineering directly in the cloud
March 2020, Beckhoff Automation , IT in Manufacturing
PC-based control offers a central, open and comprehensive machine control platform ideal for delivering highly efficient, IoT-based automation strategies. It enables machines, plants and production lines 
...
Read more...
---
Protect against DDoS attacks
February 2020 , IT in Manufacturing
The recent slew of distributed denial of service (DDoS) attacks against South African banks and ISPs have highlighted the fact that even the largest organisations with the latest security tools and solutions 
...
Read more...
---
Siemens Industrial Edge takes cloud processing benefits to the field
February 2020, Siemens Digital Industries , IT in Manufacturing
With Industrial Edge, Siemens offers users the opportunity to close the gap between conventional local and cloud-based data processing, depending on individual requirements. With edge computing, large 
...
Read more...
---
End-to-end supply chain visibility and analytics now a reality
February 2020 , IT in Manufacturing
Line of sight is a challenge for many supply chain aspects, from the manufacturer to the wholesaler, distributor and the reseller, and even the end consumer. This lack of visibility and control results 
...
Read more...
---
Micromine assists mining operations in the Industry 4.0 era
January 2020 , IT in Manufacturing
Global trends such as Industry 4.0 are transforming the traditional methods deployed to extract ore from rock. Mining operations are instead looking at innovations such as automated drilling in high risk 
...
Read more...
---