printer friendly version
Digitisation requires new skills
September 2019
IT in Manufacturing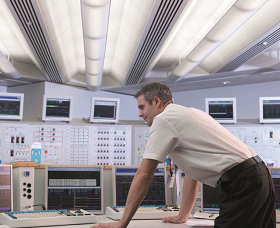 Smart grid investments by municipal and public power utilities typically focus on electric distribution and customer systems. The expected benefits include lower costs, better customer service and more reliable and efficient electrical system operations.
The uptake in South Africa has not reached its potential and Taru Madangombe, vice president of power systems in southern Africa for Schneider Electric, comments on the reasons and solutions to increase South Africa's implementation of smart grids.
"The energy revolution is causing dynamic changes in the market," he explains. One of the major challenges is the unavailability of good technical competencies, as people need to adapt from traditional power systems, with labour intensive practices, to a new model based on digitisation. This fourth industrial revolution (4IR), ushering in the IIoT, requires new skills and expertise based on digital expertise.
"In the implementation of a smart grid system, there is a gap between the available skills and understanding of the system. We are involved in the updating of digital training courses at universities and technical colleges across South Africa and in the Anglophone region (including east Africa).
"These skills need to address the region's requirements of new connectivity, new mobility, remoteness of regions and how you make systems more efficient, smarter and reliable. It is no longer about learning how to commission switchgear, it is about reading, analysing and reacting to data coming in from multiple sources on the grid.
"Of even more interest to South Africa is the concept of microgrids, a localised power grid that can operate either in conjunction with the main electrical grid, or independently of it, as an 'island'. It offers new opportunities to smaller municipalities and remote communities.
"This is one of most feasible opportunities for Africa as a whole, as electrification still has not reached 600 million in sub-Saharan Africa because of the huge capital investment required for grid strengthening through construction of large substations and long transmission line. In South Africa, we have achieved 89% electrification, but that figure has not shifted much in the past 10 years because there is not sufficient infrastructure, to justify investment in such long transmission lines to some remote areas. Therefore off-grid systems are the answer to these challenges."
For more information contact Prisca Mashanda, Schneider Electric SA, +27 11 254 6400, prisca.mashanda@se.com, www.se.com/za
Credit(s)
Further reading:
Predictive analytics for artificial lifts
September 2020, Emerson Automation Solutions , IT in Manufacturing
Machine learning and artificial intelligence applications in artificial lift systems have seen a growth in importance recently and are no longer a nice to have, but essential tools for well optimisation.
Read more...
---
New Modicon IIoT-ready controller
September 2020, Schneider Electric South Africa , PLCs, DCSs & Controllers
The Modicon M262 is IIoT-ready, designed and delivered with intuitive direct cloud connectivity and no gateways are required for OEMs to design solutions for performance demanding applications.
Read more...
---
Making Machine-as-a-Service a reality
September 2020, RJ Connect , IT in Manufacturing
Using cloud-based software, machine builders can access their machines anytime, allowing connections to be set up to link the machine builders and their clients.
Read more...
---
Validation goes digital
September 2020, Siemens Digital Industries , IT in Manufacturing
CVal allows customers in the pharmaceutical industry to produce digital, auditable plant documentation through efficient data handling across all disciplines using a central database and object orientation.
Read more...
---
The Eight Commandments to digitising your shop floor workforce
September 2020 , IT in Manufacturing
Digitise your shop floor workforce and bundle insights, examples and lessons learned from PwC's experience in digital transformation into eight practical commandments.
Read more...
---
The digital twin explained
August 2020, Yokogawa South Africa , IT in Manufacturing
The digital twin defined
A digital twin is a virtual, digital copy of a device, system, or process that accurately mimics actual performance in real time, is executable, can be manipulated, and allows 
...
Read more...
---
Aguru trials Safe-Trace Contact Tracing at Adcock Ingram
August 2020 , IT in Manufacturing
Aguru Business Solutions (Aguru), a company specialising in automation and digital transformation advisory and project management services, has successfully completed a Proof of Concept (PoC) trial of 
...
Read more...
---
The Fourth Industrial Revolution
July 2020 , IT in Manufacturing
Read more...
---
Smart engineering directly in the cloud
June 2020, Beckhoff Automation , IT in Manufacturing
PC-based control is an open, central control platform that integrates a full range of machine functionality and optimally supports the implementation of highly efficient IoT-based automation strategies. 
...
Read more...
---
Creating specific SensorApps
June 2020, SICK Automation Southern Africa , IT in Manufacturing
Create individual SensorApps without programming skills and solve new automation tasks easily. Starting at the end of the year, this will all be possible in the SICK AppStudio, part of the SICK AppSpace 
...
Read more...
---