printer friendly version
Digitisation requires new skills
September 2019
IT in Manufacturing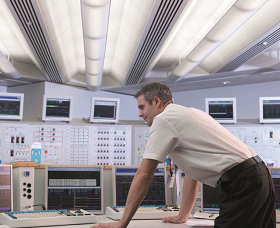 Smart grid investments by municipal and public power utilities typically focus on electric distribution and customer systems. The expected benefits include lower costs, better customer service and more reliable and efficient electrical system operations.
The uptake in South Africa has not reached its potential and Taru Madangombe, vice president of power systems in southern Africa for Schneider Electric, comments on the reasons and solutions to increase South Africa's implementation of smart grids.
"The energy revolution is causing dynamic changes in the market," he explains. One of the major challenges is the unavailability of good technical competencies, as people need to adapt from traditional power systems, with labour intensive practices, to a new model based on digitisation. This fourth industrial revolution (4IR), ushering in the IIoT, requires new skills and expertise based on digital expertise.
"In the implementation of a smart grid system, there is a gap between the available skills and understanding of the system. We are involved in the updating of digital training courses at universities and technical colleges across South Africa and in the Anglophone region (including east Africa).
"These skills need to address the region's requirements of new connectivity, new mobility, remoteness of regions and how you make systems more efficient, smarter and reliable. It is no longer about learning how to commission switchgear, it is about reading, analysing and reacting to data coming in from multiple sources on the grid.
"Of even more interest to South Africa is the concept of microgrids, a localised power grid that can operate either in conjunction with the main electrical grid, or independently of it, as an 'island'. It offers new opportunities to smaller municipalities and remote communities.
"This is one of most feasible opportunities for Africa as a whole, as electrification still has not reached 600 million in sub-Saharan Africa because of the huge capital investment required for grid strengthening through construction of large substations and long transmission line. In South Africa, we have achieved 89% electrification, but that figure has not shifted much in the past 10 years because there is not sufficient infrastructure, to justify investment in such long transmission lines to some remote areas. Therefore off-grid systems are the answer to these challenges."
For more information contact Prisca Mashanda, Schneider Electric SA, +27 11 254 6400, prisca.mashanda@se.com, www.se.com/za
Credit(s)
Further reading:
Siemens launches report on Dawn of Digitalisation and its Impact on Africa
October 2019, Siemens Digital Industries , IT in Manufacturing
Africa needs a digitalisation strategy to compete in the global economy.
Read more...
---
Integrating IT with Operations Technology - a CIO perspective
October 2019, Absolute Perspectives , IT in Manufacturing
Digitisation projects, spurred on by Industry 4.0 and technological advances, have opened up many possibilities to create new value.
Read more...
---
The power of data
October 2019, Throughput Technologies , IT in Manufacturing
Gain access to important information with ProSoft's new OPC UA-based gateway and data logger.
Read more...
---
Securing and managing devices the modern way
October 2019 , IT in Manufacturing
Organisations of all types and sizes are bringing vast numbers of devices into their IT infrastructure and networks. Moreover, these devices are not only smartphones, wearables and tablets because the 
...
Read more...
---
Integrated earth leakage protection
October 2019, Schneider Electric South Africa , Electrical Power & Protection
Schneider Electric has announced the introduction of integrated earth leakage protection for its Compact NSX and NSXm moulded circuit breaker ranges. "The award-winning Compact NSX moulded case circuit 
...
Read more...
---
Reliable gas production
September 2019, Siemens Digital Industries , IT in Manufacturing
Energy supplier uses Siemens technology for optimum information exchange.
Read more...
---
Automotive supplier relies on Siemens PLM solution
September 2019, Siemens Digital Industries , IT in Manufacturing
Küster Automotive is an internationally active family-run company and a part of Küster Holding. A full-service supplier, Küster manufactures components for the automotive industry. For its production 
...
Read more...
---
Top tips to help you implement 4IR projects that deliver value
September 2019 , Editor's Choice, IT in Manufacturing
In the just over 10 years I have spent working on IT projects in the manufacturing space, the amount of new fads and IT jargon that has to be adopted has reached the heavens, and ascended into other realms. 
...
Read more...
---
Industry 4.0: Manufacturing Executing Systems
September 2019, S4 Integration , IT in Manufacturing
Industry 4.0 is set to lead the way for digitisation of manufacturing processes. Manufacturing Executing Systems (MES) are a critical component of Industry 4.0 as they act as an enabler for end-to-end 
...
Read more...
---
Safety and cybersecurity convergence goes beyond safety systems
August 2019 , IT in Manufacturing
However, the scope of safety and cybersecurity goes well beyond process safety systems alone. Across the industrial and infrastructure worlds, an increasing number of end users are adopting more sophisticated 
...
Read more...
---