printer friendly version
Clever chilling with less refrigerant
September 2019
Enclosures, Cabling & Connectors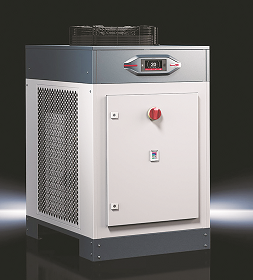 Rittal has significantly improved its cooling technology for machines and enclosures with its new Blue e+ chillers in the 11 to 25 kW output class range. Using 40% less refrigerant, these devices are making an important contribution to sustainable environmental protection. Simultaneously, users are benefitting from the precise temperature control, simplified operation and installation, and the new safety functions of Blue e+ chillers.
The range's ability to re-cool liquids addresses the basic requirement for smooth operation in many industrial manufacturing processes. It was designed with the understanding that enclosures and machine tools must have an exact temperature control feature for the precise machining of metal.
Sustainable and environmentally friendly cooling
With the development of its new chillers, Rittal can offer a mature solution package to meet all requirements. As well as the Blue e+ chillers with 1,5 to 6 kW, units are now available in the robust industrial standard (IP44, electrical) in four output classes ranging from 11 to 25 kW and in the two enclosure sizes of 660 x 1265 x 1315 mm and 760 x 1265 x 1515 mm.
Regulating according to need
The chillers' fan and compressor ae regulated centrally via a digital controller. This way, the temperature of the cooling medium can be precisely regulated: by default, the hysteresis is 2K; however, a precision control (hot gas bypass) of 0,25K is also possible as an option. According to Rittal South Africa's managing director, Adrian Buddingh, this prevents temperature fluctuations that cause inaccuracies on the machined workpiece and works to ensure consistent quality.
Easy to use
The multilingual and industrial-grade touch display on the front of the chiller, plus the intelligent communication interfaces, make both operation and analysis easy for users. Consequently, the parameterisation of the devices, as well as the read-out of the data and system messages are performed clearly and quickly and shown in plain text. Error messages are prioritised and displayed in three escalation levels (note, error and maintenance) as an easy way to assess necessary action.
Rapid assembly
Blue e+ Chillers are pre-wired ready for connection and can be quickly put into operation via plug-and-play. Lifting eyebolts make transport easy, as does the base/plinth, which is suitable for transport by forklift truck. Uniform water connections, an adjustable overflow (bypass valve) and ideal accessibility to all the components make it easy for fitters and service staff to work on the units, cutting down on maintenance time.
Comprehensive safety as a priority
Integrated overflow valves ensure a constant circulation of cooling water when the consumer is closed and the pump is running, protecting the coolant pump from overload. The valve is pre-set for the pump being used and for 50 Hz operation, but it can also be set for 60 Hz. "A filling level monitoring system ensures maximum reliability and improved availability," adds Buddingh. "In addition to these safety features, optional flow monitors emit an alarm if the flow rate is too low and they can detect hydraulic errors such as contamination and blockages in the system at an early stage."
Added value
As an extra service, Rittal also offers preconfigured option packages that are available from stock and which offer a suitable solution for almost any demand. One such option is performance enhanced pumps (4 and 6 bar) that are available for multi-circuit systems. If necessary, a precision control system (hot gas bypass) can be used to improve control accuracy from 2K to 0,25K. In addition, the Blue e+ chillers can be prepared for cold zones of down to -20°C, as well as for laser applications, and they can also be fitted with a water-cooled condenser or with heating and customised with special paint.
Credit(s)
Further reading:
Monitoring for control cabinets
September 2020, Turck Banner , Enclosures, Cabling & Connectors
The IM18-CCM is particularly suitable for OEMs wishing to provide basic condition monitoring values in their IT system. It detects critical states of the control cabinet directly in the field.
Read more...
---
Automated marking of terminal strips
August 2020, Phoenix Contact , Enclosures, Cabling & Connectors
The Mark Master terminal strip marking system from the Phoenix Contact ClipX product range uses patented high-speed technology for the fast and efficient processing of marking tasks. In control cabinet 
...
Read more...
---
Rittal's range of compact and small enclosures
August 2020 , Enclosures, Cabling & Connectors
After more than 50 years and 35 million enclosures sold, Rittal has introduced its small and compact enclosures in the form of the AX and KX series. According to managing director of Rittal South Africa, 
...
Read more...
---
Fast IT rack launched in South Africa
July 2020, Rittal , IT in Manufacturing
Introducing a new generation of IT racks
Conceived as a universal modular system, the VX IT has been designed for all common applications and its versatility makes it suitable for use as a network and 
...
Read more...
---
New range of compact enclosures
April 2020, Rittal , Enclosures, Cabling & Connectors
After more than 50 years and 35 million enclosures sold, Rittal has introduced its small and compact enclosures in the form of the AX and KX series respectively. According to managing director of Rittal 
...
Read more...
---
SMC offers services as well as components
April 2020, SMC Corporation South Africa , Enclosures, Cabling & Connectors
Besides being a leading supplier of industrial automation components, SMC South Africa also offers value-added services. One of these is in-house control panel design and construction. This takes a labour 
...
Read more...
---
Enclosures with modular design
April 2020, Vepac Electronics , Enclosures, Cabling & Connectors
CamdenBoss CNMB DIN rail enclosures, feature a modular design. Terminal guards and top covers can be snap-fitted for a quick and simple assembly. PCBs can be placed into the DIN rail enclosure in five 
...
Read more...
---
Self-venting compressed air safety couplers
April 2020, Parker Hannifin - Sales Company South Africa , Enclosures, Cabling & Connectors
Motion control technologies specialist, Parker Hannifin, has introduced a new series of safety couplings for compressed air systems. The new KP series is an ergonomic push-button, self-venting coupler 
...
Read more...
---
Pick-to-light solutions kit
April 2020, Turck Banner , Enclosures, Cabling & Connectors
The Pick-to-Light Solutions kit is an integrated solution that consists of an enclosure, an DXM controller, a HMI, plus direct connections for PTL110 devices and power. The integrated device and power 
...
Read more...
---
What's the difference between round and flat cables?
Technews Industry Guide: Maintenance, Reliability & Asset Optimisation 2020, Helukabel , Enclosures, Cabling & Connectors
Understanding how to make reliable connections to an application starts with proper cable selection.
Read more...
---