printer friendly version
Dry-type transformer excels on mobile process plant
August 2019
Electrical Power & Protection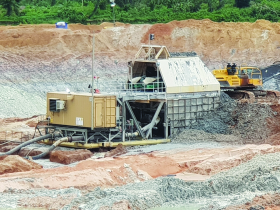 Four dry-type transformers from Trafo Power Solutions have been proving their worth on a mobile process plant at a Sierra Leone mine. So successful have they been that the customer has ordered six more for its recent Phase Two upgrade.
"The mine required a solution that would withstand the demanding conditions of a mobile process plant needing to be moved frequently over rugged mining terrain, as often as once a month," says Trafo Power Solutions managing director David Claassen. "They could not risk using a conventional oil-cooled transformer as they needed to avoid any risk of fire or oil leaks. They also needed a product that would require little to no maintenance."
The second contract comprises two 800 kVA units, one 1600 kVA unit and one 2000 kVA unit, as well as a further two transformers, 1600 kVA and 800 kVA, which will replace two existing oil filled types. Demonstrating its flexibility in meeting specific customer requirements, Trafo Power Solutions designed the equipment to cater for the mine's unusual voltage levels of 13,2 kV/480 V at 60 Hz.
The transformers are installed in a six metre long E-house on the mobile process plant, which is moved around the site on skids as required by the mining plan.
"We were able to customise the design of the transformers for the customer's specific application," says Claassen. "This required a special reinforced frame to accommodate the constant vibration of the working plant, as well as the bumping motion when the skid-mounted plant is dragged to a new location. The design also included anti-vibration damping on the transformer feet, to further mitigate the impact of the vibration."
The entry of Trafo Power Solutions dry-type transformers to the African market coincides with a growth in the use of modularised sub-stations. Due to the absence of oil as a coolant in dry-type transformers, they are suitable to be used in confined spaces without any of the conventional infrastructure usually necessary to protect the environment from possible oil spillage.
"Modular and mobile sub-stations are growing in popularity for applications all around Africa, as they can be fully prepared under workshop conditions, reducing the work required on site," adds Claassen. "In terms of the installation of the transformer, for instance, we ensure that the temperature control relays are fully programmed and tested in South Africa, along with the fan system, making it ready for action on site."
In the unlikely event of any further attention being necessary, Trafo Power Solutions can mobilise service support to any of the sites it supplies.
For more information contact David Claassen, Trafo Power Solutions, +27 11 325 4007, david@trafo.co.za, www.trafo.co.za
Further reading:
Power supplies for building automation
June 2020, Phoenix Contact , Electrical Power & Protection
The new Step Power power supplies from Phoenix Contact are specifically tailored to the needs of modern building automation. With their comprehensive approval package, which includes the standard 
...
Read more...
---
Skid-mounted dry-type transformer
June 2020 , Electrical Power & Protection
In a specialised application on a coal mine, Trafo Power Solutions recently supplied a dry-type transformer mounted on a mobile skid. "The harsh environment of a coal mine required us to specially 
...
Read more...
---
Customised transformers for renewables and beyond
June 2020 , Electrical Power & Protection
A focus on application engineering allows Trafo Power Solutions to supply customised dry-type transformers for a range of sectors including renewable energy. "We begin at the proposal stage by engaging 
...
Read more...
---
Electrical certificate of compliance (COC) for instrumentation: non-hazardous installations
June 2020, Everest Equipment & Control , Electrical Power & Protection
An instrument and control installation's scope of work often never makes a request for a certificate of compliance: it is assumed to be an electrical function and hence many installations are non-compliant. 
...
Read more...
---
Five tips to manage energy use while staying at home
May 2020 , Electrical Power & Protection
Covid-19 continues to impact many aspects of our lives. Many are now required to stay at home in an effort to curb the spread of the pandemic. One of the many implications of staying at home will be the 
...
Read more...
---
Holistic approach to energy security
April 2020 , Electrical Power & Protection
As South Africans settle into the routine and inconvenience of load shedding and planning their activities around shifting electricity supply, it is businesses that are taking the biggest hit through 
...
Read more...
---
Save energy costs with highly-efficient Delta VFDs
April 2020, ElectroMechanica , Electrical Power & Protection
Customers can realise significant savings on their total energy costs by replacing older motor starters with energy-efficient Delta variable frequency drives (VFDs), distributed locally by ElectroMechanica 
...
Read more...
---
Utility made easy
April 2020, Schneider Electric South Africa , Electrical Power & Protection
In recognition of the growing demand for reliable power provision, Schneider Electric strives to assist network operators to deliver electricity safely and efficiently. The company's Advanced Distribution 
...
Read more...
---
Specialised transformers for renewable energy projects
April 2020, Zest WEG Group , Electrical Power & Protection
Zest WEG's local transformer manufacturing facility has supplied 36 specialised photovoltaic (PV) transformers to a solar energy generation plant in the Northern Cape. According to sales team leader, 
...
Read more...
---
Meeting the needs of the mining industry
April 2020, Varispeed (Div of Hudaco Trading) , Electrical Power & Protection
Both above and below ground, Varispeed keeps the interests of its customers top of mind, all the time. The company was recently approached by a platinum mine in South Africa to assist with a robust application. 
...
Read more...
---