printer friendly version
Motor repair in Zambia keeps mine pumping
August 2019
Electrical Power & Protection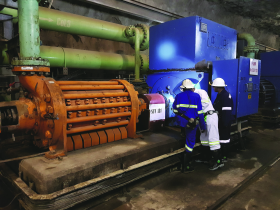 Marthinusen & Coutts' Cleveland Engineering Services Division, a division of Actom, recently teamed up with the Marthinusen & Coutts Kitwe facility in Zambia to rehabilitate medium voltage pump motors in one of the wettest mines in Africa.
A pump OEM had approached Marthinusen & Coutts, the largest after-market service provider of electrical and mechanical rotating machines in Africa, to assess several underground pump motors. There was an urgency to the situation due to the risk of flooding should there be any undue interruptions in pumping operations.
Investigations revealed that the motors driving the pumps were in a poor condition, with this severely affecting the availability and the performance of the pump chambers. This required the initiation of a detailed refurbishment programme, involving the procurement of spare parts, the setting up of an on-site bearing store, and taking the lead in returning the motors to full service.
Where possible, the motors were repaired in situ, thus avoiding any possible crisis of underground flooding, while others were removed for full refurbishment. The highest level of engineering practices were followed during repairs, re-installation and commissioning. Ongoing support is also being provided, including the training of mine maintenance staff, the development of installation and commissioning specifications, conducting of regular site inspections, management of spares, and continual engagement with mine engineering management.
Marthinusen & Coutts operates six state-of-the-art repair and manufacturing facilities in Johannesburg, Benoni, Sasolburg, Rustenburg, Harare and Kitwe. Supported by a network of technically equipped partners throughout Africa, it provides services not only in Africa, but globally.
For more information contact Marthinusen & Coutts, +27 11 607 1700, commercial@mandc.co.za,  www.mandc.co.za
Further reading:
Power supplies for building automation
June 2020, Phoenix Contact , Electrical Power & Protection
The new Step Power power supplies from Phoenix Contact are specifically tailored to the needs of modern building automation. With their comprehensive approval package, which includes the standard 
...
Read more...
---
Skid-mounted dry-type transformer
June 2020 , Electrical Power & Protection
In a specialised application on a coal mine, Trafo Power Solutions recently supplied a dry-type transformer mounted on a mobile skid. "The harsh environment of a coal mine required us to specially 
...
Read more...
---
Customised transformers for renewables and beyond
June 2020 , Electrical Power & Protection
A focus on application engineering allows Trafo Power Solutions to supply customised dry-type transformers for a range of sectors including renewable energy. "We begin at the proposal stage by engaging 
...
Read more...
---
Electrical certificate of compliance (COC) for instrumentation: non-hazardous installations
June 2020, Everest Equipment & Control , Electrical Power & Protection
An instrument and control installation's scope of work often never makes a request for a certificate of compliance: it is assumed to be an electrical function and hence many installations are non-compliant. 
...
Read more...
---
Five tips to manage energy use while staying at home
May 2020 , Electrical Power & Protection
Covid-19 continues to impact many aspects of our lives. Many are now required to stay at home in an effort to curb the spread of the pandemic. One of the many implications of staying at home will be the 
...
Read more...
---
Holistic approach to energy security
April 2020 , Electrical Power & Protection
As South Africans settle into the routine and inconvenience of load shedding and planning their activities around shifting electricity supply, it is businesses that are taking the biggest hit through 
...
Read more...
---
Save energy costs with highly-efficient Delta VFDs
April 2020, ElectroMechanica , Electrical Power & Protection
Customers can realise significant savings on their total energy costs by replacing older motor starters with energy-efficient Delta variable frequency drives (VFDs), distributed locally by ElectroMechanica 
...
Read more...
---
Utility made easy
April 2020, Schneider Electric South Africa , Electrical Power & Protection
In recognition of the growing demand for reliable power provision, Schneider Electric strives to assist network operators to deliver electricity safely and efficiently. The company's Advanced Distribution 
...
Read more...
---
Specialised transformers for renewable energy projects
April 2020, Zest WEG Group , Electrical Power & Protection
Zest WEG's local transformer manufacturing facility has supplied 36 specialised photovoltaic (PV) transformers to a solar energy generation plant in the Northern Cape. According to sales team leader, 
...
Read more...
---
Meeting the needs of the mining industry
April 2020, Varispeed (Div of Hudaco Trading) , Electrical Power & Protection
Both above and below ground, Varispeed keeps the interests of its customers top of mind, all the time. The company was recently approached by a platinum mine in South Africa to assist with a robust application. 
...
Read more...
---