printer friendly version
Hutchings Hydraulics and Rittal project success in KZN
August 2019
Enclosures, Cabling & Connectors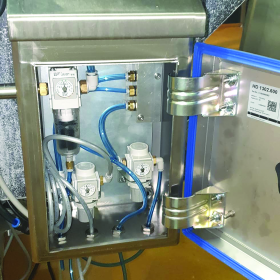 With extensive experience in the food processing industry, Durban-based automation specialists Hutchings Hydraulics, was tasked with a unique challenge by one of KZN's largest food manufacturers.
Exposed to daily chemical wash-downs, pneumatic valve banks operate in harsh environments where any damage can result in expensive repairs and downtime. According to Paul Newman of Hutchings, while the valve banks in this particular plant were covered, these were not IP-rated enclosures. These valve banks are subjected to harsh wash-downs to ensure that no bacteria is present.
With machine manufacturers moving from conventional solenoid valves to bus and cat systems as a means of control, these valve banks are now more susceptible to damage during such processes. If they are not protected, it can prove costly.
Ingenuity
"Based on this, we looked for a better solution to protect these valve banks and came up with a unique idea," continues Newman.
"As a proud Rittal distributor, we selected the Rittal Hygienic Design enclosure for protection. Complying to stringent hygiene standards, these enclosures are easy to clean, reduce the risk of contamination and ensures food safety.
"For this application, we fitted the enclosure with HD wall spacers to ensure easy access behind. We also fitted HD glands, matched to the pneumatic tube currently used to ensure a hygienic seal."
In terms of potential issues that could occur, the team at Hutchings kept condensation, high humidity and gland restrictions to the air flow top-of-mind. "Thanks to the precise modifications made by our team, we managed to avoid these potential pitfalls," says Newman.
For the testing phase of this project, a filter was installed along with two regulators and a manifold. The team at Hutchings ensured that all pneumatic tubing entries and exits ran through HD glands, which included running an auto drain on the filter through a gland to exhaust moisture outside of the enclosure. The enclosure was installed during May and put into service right away."
Success
After 10 days, the first inspection was carried out to check for any moisture inside the enclosure. "We found none," explains Newman. "The quality control department took swabs inside the enclosure and had these tested by the internal laboratory for bacteria, but the tests came back negative. The enclosure was tested again during June and this time the tests were sent to an independent laboratory for testing. Again the results came back negative for bacteria."
The reason this enclosure has proved so effective in this application is due to its IP rating and the HD accessories available from Rittal. "With an IP rating of 69, the enclosure doesn't need to be opened and cleaned as no moisture gets in. This also means that there is no bacteria growth on the inside."
Unlike other collaborations that Rittal has done overseas, the approach that Hutchings took is not limited in terms of pneumatic brands, valve configurations or application, and is extremely flexible.
Thanks to the early success of this project, the company is now looking at the Rittal enclosures for electrical applications as well. "I personally have never seen a comparative product like this in a food processing plant and I was pleased at how well the pilot project worked," says Newman.
In a closing statement, Adrian Buddingh, Rittal's managing director, concludes that the company is pleased with the success of this project: "We look forward to future collaborations with this food giant, and this particular project once again affirms our commitment to Hutchings as a valued partner".
Credit(s)
Further reading:
New range of compact enclosures
April 2020, Rittal , Enclosures, Cabling & Connectors
After more than 50 years and 35 million enclosures sold, Rittal has introduced its small and compact enclosures in the form of the AX and KX series respectively. According to managing director of Rittal 
...
Read more...
---
SMC offers services as well as components
April 2020, SMC Corporation South Africa , Enclosures, Cabling & Connectors
Besides being a leading supplier of industrial automation components, SMC South Africa also offers value-added services. One of these is in-house control panel design and construction. This takes a labour 
...
Read more...
---
Enclosures with modular design
April 2020, Vepac Electronics , Enclosures, Cabling & Connectors
CamdenBoss CNMB DIN rail enclosures, feature a modular design. Terminal guards and top covers can be snap-fitted for a quick and simple assembly. PCBs can be placed into the DIN rail enclosure in five 
...
Read more...
---
Self-venting compressed air safety couplers
April 2020, Parker Hannifin Sales Company South , Enclosures, Cabling & Connectors
Motion control technologies specialist, Parker Hannifin, has introduced a new series of safety couplings for compressed air systems. The new KP series is an ergonomic push-button, self-venting coupler 
...
Read more...
---
Pick-to-light solutions kit
April 2020, Turck Banner , Enclosures, Cabling & Connectors
The Pick-to-Light Solutions kit is an integrated solution that consists of an enclosure, an DXM controller, a HMI, plus direct connections for PTL110 devices and power. The integrated device and power 
...
Read more...
---
What's the difference between round and flat cables?
Technews Industry Guide: Maintenance, Reliability & Asset Optimisation 2020, Helukabel , Enclosures, Cabling & Connectors
Understanding how to make reliable connections to an application starts with proper cable selection.
Read more...
---
Connectors for automotive applications
April 2020, RS Components SA , Enclosures, Cabling & Connectors
RS Components has launched the A Series of high-specification automotive connectors from Amphenol, one of the world's leading makers of interconnection devices suitable for a huge diversity of markets 
...
Read more...
---
2020 IT trends by Rittal South Africa
March 2020, Rittal , IT in Manufacturing
Rapid upgrades to data centres and rising energy consumption are key factors to consider.
Read more...
---
How cable categories relate to data transmission speeds
December 2019, Helukabel , Enclosures, Cabling & Connectors
Customers often ask about data cable categories and what they mean. For many end-users, engineers and purchasing agents, who do not work with these types of cables on a daily basis, the different categories can seem complicated and overwhelming.
Read more...
---
Rittal's new innovative adaptor
November 2019, Rittal , Enclosures, Cabling & Connectors
Answering to the call by Industry 4.0, Rittal's Blue e cooling units can now integrate into existing condition monitoring and IIoT systems thanks to a special adaptor that retrofits comprehensive communications 
...
Read more...
---