printer friendly version
Network management software essential for smart manufacturing
August 2019
System Integration & Control Systems Design
Visibility of network devices and infrastructure is just as important as production machinery for maintaining reliable and efficient factory operations. For example, an unrecoverable fault in a network switch or damaged cable could cause production to come to a halt. When a technician is called to fix the issue, the process can take hours if network management software (NMS) is not available. It is common for smart factory applications to have anywhere from hundreds to thousands of connected devices, making it nearly impossible to find the source of the problem without extensive manual effort. In this scenario, the ability to identify the error and pinpoint its exact location on the network is crucial to bring operations back online in the shortest amount of time. For many businesses, these types of downtime situations could easily become costly in terms of lost revenue. This is where NMS plays a crucial role to ensure operational reliability.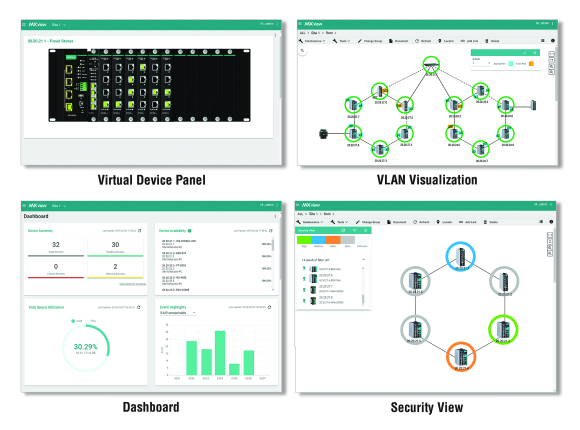 Basic scada software limited to monitoring production equipment will eventually become inadequate for manufacturers. As smart manufacturing is adopted, or extended, the need for a robust NMS will become a requirement. So, what are some of the key capabilities the NMS should have?
Scalability: Moxa's MXview is an integrated management platform that can discover networking devices and SNMP/IP devices installed on subnets.
Remote accessibility: similar to how Google Glasses are being adopted by factory workers, mobile apps offer network engineers a better way to remotely view and manage facilities and devices. For large deployments with interconnected smart manufacturing sites across multiple locations, mobile apps are becoming a requirement when implementing NMS.
Whether designing a small or large scale IIoT deployment for smart manufacturing, planning for future growth is good practice. Therefore, designers need to create a networked infrastructure that can evolve as the business grows.
Credit(s)
Further reading:
Tailor-made intralogistics solutions harness scalable control and drive technology
January 2020, Beckhoff Automation , System Integration & Control Systems Design
RO-BER Industrieroboter of Kamen, Germany, develops automation solutions based on area and linear gantry robots for intralogistics. These solutions, including the new Twin-Gantry robot system, are characterised 
...
Read more...
---
Festo's digitalised product world
January 2020, Festo , System Integration & Control Systems Design
HoloLens, mobile phones, 3D printing and smart glasses – the gadgets that captured the public imagination in the blockbuster movie 'Back to the Future' over 30 years ago have now become a reality, all thanks to digitalisation.
Read more...
---
Electromechanical motion products for the machines of today
January 2020, Parker Hannifin Sales Company South , System Integration & Control Systems Design
Engineers from the older generation will remember the days when machine design had to be based around catalogued electromechanical actuators.
Read more...
---
Adding mobile network visibility
January 2020, RJ Connect , Fieldbus & Industrial Networking
A high-speed railway operator built a fibre Ethernet backbone for data transmission between its operational management centre and railway stations to ensure high network availability. The customer used 
...
Read more...
---
Siemens contributes to Coca-Cola Beverages Africa's digitalisation vision
January 2020 , System Integration & Control Systems Design
The Nairobi Bottler's Embakasi Plant based in Nairobi, Kenya, a fully owned subsidiary of Coca-Cola Beverages Africa (CCBA), received a Totally Integrated Automation (TIA) training rig from Siemens Digital 
...
Read more...
---
Enabling IIoT connectivity for virtual power plants
December 2019, RJ Connect , Electrical Power & Protection
The power grid has seen many changes that have enabled the integration of power from distributed energy sources (DERs).
Read more...
---
PC-based control decorates plastic lids and containers
December 2019, Beckhoff Automation , System Integration & Control Systems Design
In-mold labelling (IML) is ideally suited to meet today's customer requirements in the plastics industry, especially in the packaging segment.
Read more...
---
Advanced controller for data acquisition
December 2019, RJ Connect , Data Acquisition & Telemetry
The ioThinx 4530 series is an advanced modular controller product with a unique hardware design, making it an ideal solution for a variety of industrial data acquisition applications. The controller has 
...
Read more...
---
Project-based learning challenges the modern engineering student
December 2019, Test Dynamics , System Integration & Control Systems Design
Projects that inherently challenge students to use innovative design thinking often involve interacting with an unknown process or device. Students are encouraged to understand the unknown through theory, 
...
Read more...
---
FieldEcho: the future of integrated IO-Link technology
December 2019, SICK Automation Southern Africa , System Integration & Control Systems Design
Integrated IO-Link technology that enables full data accessibility and transparency across all platforms is here with the FieldEcho from SICK Automation. IO-Link is an increasingly used manufacturer-independent 
...
Read more...
---