printer friendly version
Mobile app configures level transmitters
August 2019
IT in Manufacturing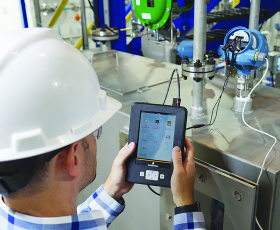 Emerson has added the Radar Master app for the AMS Trex Device Communicator, making it easier for field technicians to configure Rosemount radar level transmitters. Radar level devices are critical to help deliver accurate, reliable measurements on both liquid and solid materials and the new app allows users to bring the radar configuration tools of Radar Master software to the field.
Radar level devices in the field are typically mounted in high, hard-to-reach locations that sometimes do not have onsite power. Technicians hoping to configure these devices typically carry cumbersome laptops and device power sources into the field to perform configuration.
The AMS Trex Device Communicator solves these problems by enabling technicians to carry a handheld communicator that is capable of both configuring and powering radar devices via the Radar Master app.
Dynamic graphics and an intuitive touchscreen interface help ensure that users can more quickly configure tank measurement devices with the correct settings. Tank geometry is drawn to match the physical parameters of the actual tank, allowing technicians to tune measurement settings to prevent false echoes from static objects in the tank such as ladder rungs, agitator blades, and baffles, which can delay the process of obtaining accurate measurements.
The compact design of the AMS Trex communicator is ideal for working in the small, and often hazardous, environment of a tank. One-handed operation, NFC-enabled user security, and intrinsic safety ratings enable technicians to work safely and effectively in these difficult areas.
"Now, Radar Master users can leave their laptops behind when they go to the field and more easily achieve accurate, reliable configuration even in hazardous locations by using the AMS Trex," said Anna Olander, general manager for process radar at Emerson.
Users can track, view, and trend tank level and alert information to identify issues and aid troubleshooting by using the new built-in historian. Technicians can also view and compare snapshots of past configuration data in a timeline, giving better insight to operational impact of changes.
Every configuration change made in the field is automatically recorded and time-stamped, providing an automated audit trail. Changes are updated to the AMS Device Manager database whenever the AMS Trex device detects a WiFi signal or USB connection to ensure database accuracy and measurement data integrity.
For more information contact Devesh Roopnarain, Emerson Automation Solutions, +27 11 451 3700, devesh.roopnarain@emerson.com, www.emerson.com
Credit(s)
Further reading:
SA company launches AI-based risk screening mobile app
October 2020 , IT in Manufacturing
The Instant Vitals app converts a mobile phone into a key vital signs medical device that could save lives when screening for Covid-19 symptoms.
Read more...
---
Danfoss debuts Alsense
November 2020, Danfoss , IT in Manufacturing
Danfoss has updated and enhanced its service offering to create a more sustainable, scalable and secure cloud-based portal for managing food retail operations.
Read more...
---
Digitalising mineral processing operations
November 2020 , IT in Manufacturing
Mining's accelerated move toward digital solutions is being supported by FLSmidth's decades of research and development. The company has over 80 projects underway to improve its mining-related offerings.
Read more...
---
Schneider Electric provides digital technologies to the mining industry
November 2020, Schneider Electric South Africa , IT in Manufacturing
"The organisation has invested significantly to develop a specialised competence in mining applications," explains Marc Ramsay, vice president industry business unit at Schneider Electric South Africa. 
...
Read more...
---
Smart manufacturing and the new normal
November 2020, Absolute Perspectives , IT in Manufacturing
In manufacturing, it is likely that billions of dollars have been lost in 2020, while a high percentage of manufacturing jobs have been negatively impacted.
Read more...
---
Emerson to acquire Progea Group
November 2020, Emerson Automation Solutions , News
Acquisition complements Emerson's portfolio and helps customers in discrete and hybrid end markets to accelerate digital transformation.
Read more...
---
Edge controller provides high availability
November 2020, Emerson Automation Solutions , Fieldbus & Industrial Networking
Emerson's industrial edge controllers offer connectivity to various I/O on a proven industrial network that provides deterministic data and automatic switchover for continuous operations.
Read more...
---
Will OT take over MES?
October 2020 , IT in Manufacturing
Industry 4.0 forces the convergence where IT needs to knock on the door of a manufacturing plant and sell OT, not IT or MES.
Read more...
---
Get full value from data science
October 2020, Omron Electronics , IT in Manufacturing
As huge amounts of data become available from the factory floor, information must be extracted and presented to the right audience, at the right time, and in the right way.
Read more...
---
Predictive analytics for artificial lifts
October 2020, Emerson Automation Solutions , IT in Manufacturing
Machine learning and artificial intelligence applications in artificial lift systems have seen a growth in importance recently and are no longer a nice to have, but essential tools for well optimisation.
Read more...
---