printer friendly version
Intelligent industrial devices for automation
July 2019
IT in Manufacturing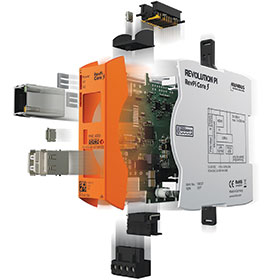 RS Components has introduced Kunbus to its supplier portfolio, a specialist developer of intelligent communications modules, including fieldbus and industrial Ethernet based devices for a range of automation markets. The Kunbus products include 14 new lines including industrial computers, PLCs and data acquisition and HMI devices. A key series from Kunbus is the Revolution Pi series of open source and modular industrial PCs, based on the well established Raspberry Pi platform.
This innovative and reliable modular system, which meets the EN61131-2 international standard for PLCs, offers a series of central processing units including the RevPi Connect, RevPi Core and RevPi Core 3. Installed in DIN-rail housings, all the products come with USB, Ethernet and HDMI connections and are based around the Raspberry Pi Compute module, making them highly compatible with the Raspberry Pi model 3 or Raspberry Pi B+. Depending on application requirements, these base modules can be expanded seamlessly using the appropriate digital or analog I/O modules, as well as fieldbus gateways to connect them to an industrial network.
For example, due to its open platform concept, the RevPi Connect gateway provides users with maximum freedom when implementing IIoT projects, including full root rights. Implemented as a DIN-rail PC, or purely as a small control unit, the system uses a specially modified version of the Raspbian operating system with a real-time patch, as well as supporting common IIoT protocols such as MQTT and OPC UA. Individual applications can be programmed using a range of languages including Node-RED, Python, or directly in C.
The RevPi Connect can also be upgraded with Profinet, Ethernet IP, EtherCAT, Modbus TCP and Modbus RTU functionality without the use of expansion modules. The product's Ethernet interfaces enable it to be integrated within IT and automation networks and transmit data from the production environment up to the cloud, for example.
"The Kunbus Revolution Pi is an innovative series of communication modules based on Raspberry Pi computing technology," said portfolio manager, James Milne. "This exciting open-source and highly modular platform can provide many of our customers with an inexpensive way of connecting up their automation processes and enabling them to reap the benefits of IIoT."
Credit(s)
Further reading:
DIN rail redundancy power modules
February 2020, RS Components SA , Electrical Power & Protection
RS Components has announced availability of a new series of DIN rail-mount redundancy power modules from TDK-Lambda, a group company of TDK corporation and a leading maker of highly reliable power supplies 
...
Read more...
---
Protect against DDoS attacks
February 2020 , IT in Manufacturing
The recent slew of distributed denial of service (DDoS) attacks against South African banks and ISPs have highlighted the fact that even the largest organisations with the latest security tools and solutions 
...
Read more...
---
Siemens Industrial Edge takes cloud processing benefits to the field
February 2020, Siemens Digital Industries , IT in Manufacturing
With Industrial Edge, Siemens offers users the opportunity to close the gap between conventional local and cloud-based data processing, depending on individual requirements. With edge computing, large 
...
Read more...
---
End-to-end supply chain visibility and analytics now a reality
February 2020 , IT in Manufacturing
Line of sight is a challenge for many supply chain aspects, from the manufacturer to the wholesaler, distributor and the reseller, and even the end consumer. This lack of visibility and control results 
...
Read more...
---
RS Components expands 3D printer portfolio
February 2020, RS Components SA , News
RS Components has announced an expansion of its portfolio of Ultimaker 3D printers to include the lower cost Ultimaker S3, plus the Ultimaker S5 Pro Bundle aimed at professional production environments. The 
...
Read more...
---
Micromine assists mining operations in the Industry 4.0 era
January 2020 , IT in Manufacturing
Global trends such as Industry 4.0 are transforming the traditional methods deployed to extract ore from rock. Mining operations are instead looking at innovations such as automated drilling in high risk 
...
Read more...
---
11th annual MESA Africa conference
January 2020 , IT in Manufacturing
I recently attended the MESA conference held at the Zulu Inyala Country Manor.
Read more...
---
Digital twin allows process simulations
December 2019, Siemens Digital Industries , IT in Manufacturing
The high-tech company Grenzebach's portfolio includes the simulation of material flow in complex plants in the glass industry, which it achieves using Siemens simulation solutions. Together, the two companies 
...
Read more...
---
Game-changing digital solutions for mines
December 2019, SKF South Africa , IT in Manufacturing
With digitalisation creeping into the mining industry and transforming day-to-day operations, this sector is enhancing its Industry 4.0 operation and process compliancy. As a preferred supplier of premium 
...
Read more...
---
Protect critical infrastructure and manufacturing plants
December 2019 , IT in Manufacturing
As manufacturers around the world analyse and embrace the importance of being more connected to the IIoT, cybersecurity experts caution that the benefits of being interconnected come with a warning, and 
...
Read more...
---