printer friendly version
Leonardo fitted with backup power by Zest WEG Group
July 2019
Electrical Power & Protection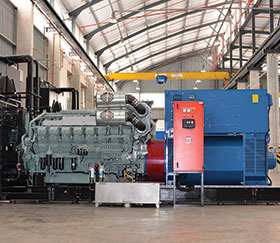 As Sandton anticipates the completion this year of the Leonardo, the top end mixed-use skyscraper being constructed by Aveng-Grinaker LTA, Level 1 BBBEE-rated Zest WEG Group has supplied generator sets to keep lights on during outages. The iconic structure, that will dominate the skyline as the tallest building in Africa, is being built for 75 on Maude, a partnership between Legacy Group and Nedbank.
According to Craig Bouwer, projects and product manager at Zest WEG Group genset division, the commissioning of the units was undertaken in the first quarter of 2019 with practical completion in the second quarter of 2019. This follows the original awarding of the tender in November 2017.
"We are proud to have designed, manufactured and supplied the two 2000 kVA, 11 kV generator sets which are installed in the Leonardo's dedicated plant room on ground level," says Bouwer. "Our contract included delivering the units to site and placing them in position, which was done in September last year. We were also responsible for the complete installation, testing, commissioning and handing over to the client in full working order."
The gensets will provide the building with emergency power backup and comprise prime rated Mitsubishi powered diesel generators coupled to WEG alternators. To reduce noise levels to local council requirements, Zest WEG Group supplied and installed inlet and outlet splitter attenuators. The fuel storage and transfer system ensures eight hours of operation, with bulk and day fuel tanks installed in compliance with local fire regulations.
The company also installed medium voltage (MV) generator protection and a control panel, as well as a main MV distribution panel for the building, comprising six tiers for all incoming supply and feeder breakers. All the related cabling for the MV and low voltage (LV) reticulation were also provided for the generator sets, fuel system and auxiliary control equipment.
Significantly, Zest WEG Group holds a Construction Industry Development Board (CIDB) rating of 6EB for electrical engineering work in buildings, as well as a 9EP rating for infrastructural electrical engineering work.
"We conducted full in-house MV testing of the system at our modern Cape Town facility before delivery to site," Bouwer says. "We were assisted by our transformer division with the supply of three 500 kVA, 11 kV to 400 V step-down transformers to enable load testing at 400 V. This allowed us to conduct functional and load tests on the generator sets in our workshop, testing them individually as well as in full synchronisation and load share operation."
He adds that the location of the generator plant room and the physical size of the generator sets meant that the generator sets could not be installed as fully assembled units. "This challenge was overcome by disassembling the generator sets prior to delivery and re-assembling them in the generator plant room," he concludes. "Due to the weight of the equipment, special rigging equipment was required inside the plant room to facilitate the re-assembly process."
Credit(s)
Further reading:
Guaranteed power protection
July 2019, Schneider Electric South Africa , Electrical Power & Protection
During energy month, it may be time to assess what equipment in your office or data centre is critical to keep online. Adopting smart uninterruptible power supply (UPS) technology has become the preferred 
...
Read more...
---
Quick transformer turnaround for KZN mine
July 2019 , Electrical Power & Protection
When a mining company in KwaZulu-Natal experienced a transformer failure recently, it was hoping for a quick solution. The mine got one from dry-type transformer specialist Trafo Power Solutions. It took 
...
Read more...
---
UPS for industrial networks
July 2019, Phoenix Contact , Electrical Power & Protection
The new Quint DC UPS uninterruptible power supply can be integrated into established networks, and continues to supply systems without interruption even in the event of a mains failure. It can be integrated 
...
Read more...
---
Smart Grid solutions enhance utility revenue collection
July 2019, Schneider Electric South Africa , Electrical Power & Protection
At African Utility Week in Cape Town, Johan Pretorius, business development manager, Schneider Electric South Africa, presented a paper on 'The Impact of Revenue Collection on Non-Technical Losses'. "The 
...
Read more...
---
UPS with integrated power supply and USB interface
June 2019, Phoenix Contact , Electrical Power & Protection
Supplying critical DC loads safely, increased system availability, confined spaces, and tough ambient conditions present system designers and operators with a variety of challenges.
Read more...
---
Power analysis and energy saving evolved
June 2019, HellermannTyton , Electrical Power & Protection
Advanced power and energy consumption analysis is now available using a smartphone or tablet. The TPQA820 is a true RMS, self-powered 3-phase power quality analyser used to analyse and record the most 
...
Read more...
---
Zest helps farmers find good 'ground'
June 2019, Zest WEG Group , Electrical Power & Protection
According to Zest WEG Group, there are misconceptions around what constitutes 'earth' and 'neutral' connections, and not understanding the differences can create serious problems when connections are 
...
Read more...
---
BMG enhances efficiency of solar tracking system
June 2019, Bearing Man Group t/a BMG , Electrical Power & Protection
BMG has extended the supply of Varvel gearboxes for small and medium power applications to include customised worm gearboxes for installation in photovoltaic solar tracking systems. "As part of BMG's 
...
Read more...
---
RS Components introduces new Power over Ethernet injectors
June 2019, RS Components SA , Electrical Power & Protection
RS Components has announced availability of a new selection of Power over Ethernet (PoE) single-port mid-span power injectors manufactured by Phihong, a leader in advanced power solutions and a specialist 
...
Read more...
---
Residual circuit breaker with overcurrent protection
Africa Automation Fair 2019 Preview , Electrical Power & Protection
Entek Electric's RCBO models KBL-6 and KBL-10 are used to protect electrical circuits with a high level of reliability in industrial machines or residential buildings. Both models are widely in demand 
...
Read more...
---