printer friendly version
Guaranteed power protection
July 2019
Electrical Power & Protection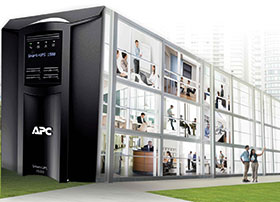 During energy month, it may be time to assess what equipment in your office or data centre is critical to keep online. Adopting smart uninterruptible power supply (UPS) technology has become the preferred course of action to take, especially in South Africa, where blackouts occur frequently.
Downtime caused by power outages is frustrating for anyone but can be financially crippling for a business or organisation. Every year, millions of rands are lost due to downtime caused by power disruptions that could have been prevented by a UPS. Small to medium-sized businesses may be most at financial risk due to a limited ability to generate revenue during downtime.
Schneider Electric's UPS offers guaranteed power protection for connected electronics. When power is interrupted, or fluctuates outside safe levels, the UPS will instantly provide clean battery backup power and surge protection for plugged-in, sensitive equipment. It can be selected for home, office or even data centres and configured to provide a reliable source of power.
Selection criteria
When selecting a UPS, electronics have both maximum watt ratings and maximum VA (volt-ampere) ratings. Neither rating may be exceeded by attached equipment. Watts measure real power drawn by the equipment, while volt-amps are the product of the voltage applied to the equipment times the current drawn by the equipment.
For computers and UPS units, watt and VA ratings can differ significantly. The ratio of watts to VA is called the power factor and is expressed either as a number or a percentage. When sizing a UPS for your specific requirements, the power factor matters most. Generally, your UPS should have an output watt capacity 20-25% higher than the total power drawn by any attached equipment.
Three-phase power protection, with fully integrated solutions, is needed for enterprise-wide networks, data centres, mission critical systems and industrial manufacturing processes.
How much runtime do you need to support your attached equipment?
That depends on what you intend to backup with your UPS. Runtime refers to the amount of time a UPS will be able to power its attached equipment in the event of a power disruption. The more equipment you have plugged in to your UPS, the less runtime you will have, so it is important to make sure your UPS is only providing backup power to your most critical equipment.
Selecting features
Schneider Electric offers the following features on its range of APC UPSs:
• Basic: user-replaceable batteries; surge-only outlets; building wiring fault indicator; transformer-block spaced outlets; automatic self-test.
• Enhanced: automatic voltage regulation; pure sine-wave output on battery; SmartSlot; scalable runtime; power conditioning.
• Advanced: adjustable voltage transfer points; temperature-compensated battery charging; intelligent battery management; predictive failure notifications; plug-and-play external batteries.
Schneider Electric South Africa is leading the digital transformation of energy management and automation in homes, buildings, data centres, infrastructure and industries. It provides UPS power supply for home, data centres and industrial environments. UPS power supply provides protection from power surges, blackouts (load shedding) and unpredictable weather conditions.
For more information contact Prisca Mashanda, Schneider Electric South Africa, +27 11 254 6400,  prisca.mashanda@se.com,  www.se.com/za
Credit(s)
Further reading:
How the food and beverage industry could benefit from blockchain
Technews Industry Guide: Industrial Internet of Things & Industry 4.0, Schneider Electric South Africa , IT in Manufacturing
Advances in blockchain technology could enable the food and beverage industry (F&B) to enhance traceability. In the US alone, food recalls and food-borne illnesses cost some $77 billion per annum, including 
...
Read more...
---
A new electrician rewards programme
July 2019, Schneider Electric South Africa , News
Schneider Electric, has announced the introduction of its mySchneider Electrician Rewards Programme for electricians. The programme is aimed at rewarding residential and small building electricians for 
...
Read more...
---
Quick transformer turnaround for KZN mine
July 2019 , Electrical Power & Protection
When a mining company in KwaZulu-Natal experienced a transformer failure recently, it was hoping for a quick solution. The mine got one from dry-type transformer specialist Trafo Power Solutions. It took 
...
Read more...
---
UPS for industrial networks
July 2019, Phoenix Contact , Electrical Power & Protection
The new Quint DC UPS uninterruptible power supply can be integrated into established networks, and continues to supply systems without interruption even in the event of a mains failure. It can be integrated 
...
Read more...
---
Smart Grid solutions enhance utility revenue collection
July 2019, Schneider Electric South Africa , Electrical Power & Protection
At African Utility Week in Cape Town, Johan Pretorius, business development manager, Schneider Electric South Africa, presented a paper on 'The Impact of Revenue Collection on Non-Technical Losses'. "The 
...
Read more...
---
Leonardo fitted with backup power by Zest WEG Group
July 2019, Zest WEG Group , Electrical Power & Protection
As Sandton anticipates the completion this year of the Leonardo, the top end mixed-use skyscraper being constructed by Aveng-Grinaker LTA, Level 1 BBBEE-rated Zest WEG Group has supplied generator sets 
...
Read more...
---
UPS with integrated power supply and USB interface
June 2019, Phoenix Contact , Electrical Power & Protection
Supplying critical DC loads safely, increased system availability, confined spaces, and tough ambient conditions present system designers and operators with a variety of challenges.
Read more...
---
Power analysis and energy saving evolved
June 2019, HellermannTyton , Electrical Power & Protection
Advanced power and energy consumption analysis is now available using a smartphone or tablet. The TPQA820 is a true RMS, self-powered 3-phase power quality analyser used to analyse and record the most 
...
Read more...
---
Zest helps farmers find good 'ground'
June 2019, Zest WEG Group , Electrical Power & Protection
According to Zest WEG Group, there are misconceptions around what constitutes 'earth' and 'neutral' connections, and not understanding the differences can create serious problems when connections are 
...
Read more...
---
BMG enhances efficiency of solar tracking system
June 2019, Bearing Man Group t/a BMG , Electrical Power & Protection
BMG has extended the supply of Varvel gearboxes for small and medium power applications to include customised worm gearboxes for installation in photovoltaic solar tracking systems. "As part of BMG's 
...
Read more...
---