printer friendly version
New KUNBUS range includes Raspberry Pi-based solutions for IIoT markets
Technews Industry Guide: Industrial Internet of Things & Industry 4.0
System Integration & Control Systems Design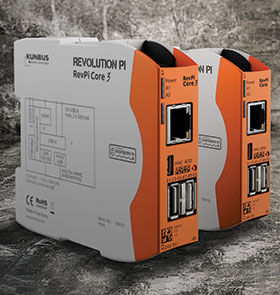 The KUNBUS range of products includes 14 new lines, including industrial computers, PLCs and data acquisition and human-machine interface (HMI) devices. A key series from KUNBUS is the Revolution Pi series of open-source and modular industrial PCs, based on the well-established Raspberry Pi platform.
This innovative and reliable modular system, which meets the EN61131-2 international standard for PLCs, offers a series of central processing units including the RevPi Connect, RevPi Core and RevPi Core 3. Installed in DIN-rail housings, all the products come with USB, Ethernet and HDMI connections and are based around the Raspberry Pi Compute module, making them highly compatible with the Raspberry Pi model 3 or Raspberry Pi B+. Depending on application requirements, these base modules can be expanded seamlessly using the appropriate digital or analogue I/O modules, as well as fieldbus gateways to connect them to an industrial network.
For example, due to its open platform concept, the RevPi Connect gateway provides users with maximum freedom when implementing IIoT projects, including full root rights. Implemented as a DIN-rail PC, or purely as a small control unit, the system uses a specially modified version of the Raspbian operating system with a real-time patch, as well as supporting common IIoT protocols such as MQTT and OPC UA. Individual applications can be programmed using a range of languages including Node-RED, Python, or directly in C.
For more information contact RS Components SA, +27 11 691 9300, sales.za@rs-components.com, www.rsonline.co.za
Credit(s)
Further reading:
SCiBOTRON's quality culture the key to success
May 2020 , System Integration & Control Systems Design
The company was founded on lean principles and quickly grew into a QSE (Qualifying Small Enterprise). Ricardo Paddy, managing director and founding member, attributes one of the reasons for the company's 
...
Read more...
---
GirlCode and RS inspire the next generation of female coders
June 2021, RS Components SA , News
More than 50 female learners and their teachers were recently invited to attend a day of inspiration, technology and fun.
Read more...
---
Visualisation using vision-specific controls
June 2021, Beckhoff Automation , System Integration & Control Systems Design
TwinCAT Vision combined with TwinCAT HMI.
Read more...
---
Modularity boosts performance
June 2021, SEW-Eurodrive , System Integration & Control Systems Design
Integrated technologies automate, upgrade and streamline existing production processes, while still allowing for future technology to be incorporated.
Read more...
---
Changing negative attitudes towards alarms
June 2021, Omniflex Remote Monitoring Specialists , System Integration & Control Systems Design
Why technology is only as good as the people using it.
Read more...
---
Wearable device keeps workers safe during the pandemic
June 2021, RS Components SA , Industrial Wireless
Maintaining social distancing is key to limiting the spread of coronavirus, but it can be a real challenge in busy workplaces such as manufacturing facilities, warehouses and construction sites.
Read more...
---
Smart traffic management for Syntell
April 2021 , System Integration & Control Systems Design
Syntell is a leading South African technology company. One of its key projects is the running and management of one third of Johannesburg's traffic lights. Syntell's system is a full traffic management 
...
Read more...
---
PCS Global implements 5-phase control system upgrade at Kiara Health
May 2021, PCS Global , System Integration & Control Systems Design
Kiara Health is the first African company equipped with a fully-scaled server deployment in the AWS Cloud, as well as the first South African company to implement the AVEVA Flex Model.
Read more...
---
Intrinsically safe robot for tank inspection
March 2021, RS Components SA , IS & Ex
Electrocomponents collaborates with industry specialists to develop revolutionary new method of inspecting petrochemical storage tanks.
Read more...
---
Extensive range of test instruments from RS Components
March 2021, RS Components SA , Maintenance, Test & Measurement, Calibration
The RS range includes digital multimeters, voltage/current calibrators, insulation testers, temperature calibrators, and voltage indicators.
Read more...
---