printer friendly version
Cisco IIoT solutions meet the needs of industrial organisations
Technews Industry Guide: Industrial Internet of Things & Industry 4.0
Fieldbus & Industrial Networking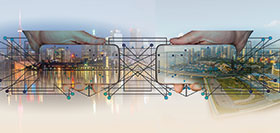 Networking technologies are abundant in the industrial arena, but the nature of industrial networking deployments is vastly different to networking for consumers or corporates. The requirements from applications on industrial networks are incredibly diverse and can span a variety of industry sectors such as utilities, critical infrastructure, transportation, manufacturing and healthcare.
Technical requirements can vary, from light, to incredibly demanding, and at the same time, deployment scenarios are widely varied. For example, the physical conditions found in a mining operation are different to those found in healthcare. There are a host of operational factors that need to be taken into account, such as whether connected machinery will be static, or moving, such as with robots, or whether it might need configurability, such as found with adaptable manufacturing cells. In addition, the lifecycle of technology in industrial applications tends to be decades, rather than a few years, and has to be kept in mind when formulating an effective technology strategy.
Technology is constantly evolving, and so are the networking infrastructures that support industrial entities. As new technologies come to market, capabilities evolve too, and alongside this, new risks and threats are introduced into the mix. So the question is what can be done to manage and protect these systems?
Manageable secure networks
It is critical for administrators to have control of the systems and networks in industrial environments, and that includes an understanding of each and every device that is communicating within it. Successful IIoT protection strategies need to offer users a manageable, secure network that will let them deploy IoT at a massive scale.
Cisco, realising the need for secure industrial networking and IIoT, has developed a family of solutions that includes switches, software, developer tools and blueprints to combine industrial networking with intent-based networking and IT security. IIoT devices are driving new requirements on industrial control network infrastructure. These entities are dependent on high-speed connections and at the same time, low-latency application response. Industrial organisations require wired and wireless network infrastructure, which is both flexible and scalable, in order to deploy applications from the cloud all the way to the edge.
Cisco IIoT network connectivity solutions bring resilience at scale, combining reliability with simplicity to help industrial organisations quickly scale to meet the expansive networking needs of the IIoT without sacrificing any current infrastructure availability. The solutions also feature integrated security, with a network-as-a-sensor approach, to integrate cyber security throughout the network, vastly boosting visibility and control. Cisco networking solutions also support IT and operational technology standards and protocols, enabling a consistent solution to be deployed across the extended network. Moreover, convergence is at the heart of solution design, as the company understands that industrial entities must have IT and OT networks that can converge and offer seamless connectivity to support current and future business applications.
Platform solutions for all industries
Cisco IIoT network solutions were designed with the needs of industrial organisations in mind, across petrochemical, manufacturing, oil and gas, utilities, transportation, mining, and many other industries.
But it is not all about the technology. Any successful IIoT implementation starts with a good team that includes representatives from the IT, OT, security, production, logistics and finance departments. Finding the right partners is crucial, particularly when it comes to integration. Remember, the vast majority of industrial projects requires a networking partner that can work across the board and truly understands the integration that is required. Axiz has the specific expertise to meet the needs of customers in a slew of industries that are investing in IIoT solutions.
Axiz is about building ecosystems. The company identifies and delivers outcomes that its customers want. It believes in injecting real value and transcending the technology by bringing in complementary vendors and building diverse systems with them. It offers integrated products, software, services and capabilities to provide a wide range of platform services and solutions, which differ vastly from the traditional distribution approach.
For more information contact Evette Wessels, Axiz, +27 11 237 7000, evette.wessels@axiz.com, www.axiz.com
Credit(s)
Further reading:
Interference-free Ethernet media converter
October 2019, Phoenix Contact , Fieldbus & Industrial Networking
The new FL MC EF 660 SCRJ media converter from Phoenix Contact enables the connection of cost-effective polymer and HCS/PCF fibre technology. The optical transmission of data via fibre optics is free 
...
Read more...
---
I/O solutions with Profinet redundancy
October 2019, Turck Banner , Fieldbus & Industrial Networking
Turck's Simple IO-Link Device Integration, SIDI for short, simplifies the handling of IO-Link. As its first fieldbus module with Profinet S2 system redundancy, the company has introduced the TBEN-L5-8IOL. 
...
Read more...
---
Tektronix simplifies automotive Ethernet testing with new software
October 2019, Comtest , Fieldbus & Industrial Networking
Tektronix has released two new software packages that greatly simplify Automotive Ethernet testing, debug and protocol decode, for use with its 5 and 6 series mixed-signal oscilloscopes (MSO). Using the 
...
Read more...
---
How fieldbus systems are really selected
September 2019 , Fieldbus & Industrial Networking
The majority of users do not actively select their fieldbus at all – they select the control system vendor and whatever bus system this vendor provides will 'do the job.
Read more...
---
Fibre optic distributor for network expansion on demand
September 2019, Jasco Trading t/a Webb Industries , Fieldbus & Industrial Networking
Jasco's Webb Industries has introduced Telegärtner's new, modular rail-mount fibre optic distributor, which can be extended according to actual needs. The stackable modules allow quick and easy additions 
...
Read more...
---
Integrate IO-Link devices in Profinet
September 2019, Turck Banner , Fieldbus & Industrial Networking
Turck's simple IO-Link device integration (SIDI) simplifies the handling of IO-Link devices in Profinet engineering systems. As the devices are already integrated in the GSDML file of the master, users 
...
Read more...
---
AS-i signal transmission via fibre optic
August 2019, ifm - South Africa , Fieldbus & Industrial Networking
The new AS-i fibre optic repeater from ifm electronic enables AS-interface signal transmission via an optical medium and vice versa. This allows for considerable cable length extension in the AS-i network. 
...
Read more...
---
Next-generation IIoT gateway solutions are transforming manufacturing
Technews Industry Guide: Industrial Internet of Things & Industry 4.0, RJ Connect , Fieldbus & Industrial Networking
Smart manufacturing and digital transformation, coupled with edge intelligence, are enabling manufacturers to increase productivity, reduce downtime, and increase product quality.
Read more...
---
Big Data enabled by Omniflex IIoT solutions
Technews Industry Guide: Industrial Internet of Things & Industry 4.0, Omniflex Remote Monitoring Specialists , Fieldbus & Industrial Networking
Omniflex specialises in 'out-of-the-box' remote monitoring solutions based on years of industrial plant networking experience, from last mile connection to mainstream Ethernet backbones. The Teleterm 
...
Read more...
---
New PoE tester
July 2019, RS Components SA , Fieldbus & Industrial Networking
RS Components now has available the MicroScannerTM PoE from Fluke Networks, a worldwide leader in troubleshooting tools used in the installation and maintenance of critical network cabling infrastructure. 
...
Read more...
---